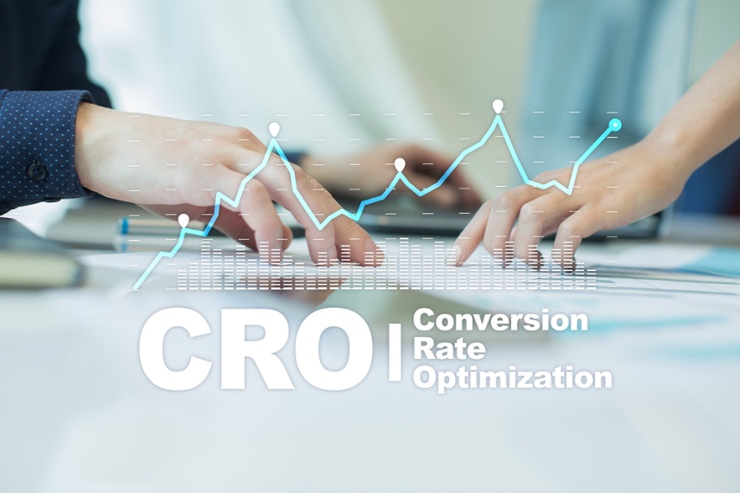 If you're investing your marketing budget to drive traffic to your website, you also need to make sure that as many visitors are converting as possible (e.g., turning into leads and/or customers) so you can maximize your ROI.
In particular, with the increasing costs associated with online advertising (e.g., PPC,) you can't afford to pay for clicks that don't convert if you want to generate more profits.
To get the most from your marketing efforts, you need to make sure that your landing pages and website are designed to drive conversion. Here's where conversion rate optimization (CRO) comes in.
What is CRO?
CRO stands for conversion rate optimization. In this context, "conversion" could refer to "macro-conversion" events (e.g., purchasing a product, subscribing to a service, or requesting a quote) or "micro-conversion" events (e.g., signing up for email lists, creating an account, or adding a product to the cart.)
CRO is achieved by creating a seamless user experience (UX), improving landing page design, crafting compelling content, and streamlining the flow on your website to entice visitors to take the desired actions.
It also involves testing different versions of the content and page design to see which one works best for your visitors so you can optimize the visitor's experience.
Why Should Marketers Make Conversion Rate Optimization a Priority?
CRO isn't a magic bullet and needs constant monitoring and experimentation to maintain the best results. While you can't simply "set it and forget it," CRO offers a myriad of benefits. Here's why you should invest in CRO and make it a priority:
Understand Your Customers Better
The research and analysis involved in CRO allow you to become more familiar with your leads, prospects, and customers. Meanwhile, the ongoing testing and monitoring help you stay current with customer behaviors and expectations.
The insights you gain about your prospects and customers will not only help you improve website conversion rate, but you can also apply them to other marketing activities to improve your marketing ROI in other areas.
Increase the ROI of Your PPC Strategy
PPC is increasingly expensive and competitive, so it's essential to turn visitors on your site into leads or customers as often as possible. Otherwise, you'd be paying for clicks but have little to show for your efforts!
Optimizing your conversion rate means you can turn more prospects into customers without increasing your ad spend so every visitor will become exponentially more valuable to your business.
Boost Sustainable Profits
Since the fixed cost involved in maintaining a website and running PPC ads will stay pretty much constant, your revenue will increase when you convert more visitors to customers. In turn, your profits will increase.
A small tweak here and there may not look like much, but if you consider the implication of just a 1% lift in revenue, multiplied by many, you can create a substantial increase in profit. Also, once you lock in the improvement, you can benefit from the higher conversion rate for a long time.
Grow Your Customer Base
With more visitors turning into buyers, you can grow your customer base and increase profitability. When you generate more profits, you can reinvest some of the money into your PPC bids to gain more exposure and widen your target audience to attract more traffic.
In addition, a conversion-optimized website delivers an engaging experience that builds brand affinity. Visitors will be more likely to tell others about your company (e.g., through social sharing, word-of-mouth etc.) which helps generate high-quality leads with a better chance of converting into customers.
Increase Customer Lifetime Value
CRO improves your user experience, which includes everyone from visitors, to leads, to customers. If you optimize your website to convert someone, regardless of where they are in the marketing funnel, this will boost retention rates and customer lifetime value.
A higher retention rate means that you can spend less on marketing and advertising to acquire new customers while maintaining the same amount of sales. When compared to new customers, existing ones are 50% more likely to try new products and spend 31% more.
Stay Ahead Of Your Competition
CRO involves improving the functionality, user experience, and content of your website to meet the needs of your audience. To do so, it's important to gain insights into visitor behavior through various tools such as heat maps, click maps, and form analysis.
By understanding your customer's preferences and expectations, you can focus on making the improvements that matter most. In turn, you'll deliver more value to visitors and leads, enticing them to make a buying decision, as well as stay competitive.
Implementing an Effective Conversion Rate Optimization Strategy
There are many moving parts when you execute a CRO strategy. You need to make sure that the different components work together so the incremental improvements can accumulate to create impactful results for your website conversion rates and ultimately, bottom line.
Some key aspects to cover in your CRO strategy include offering relevant content, creating clear messaging, testing various page design options, streamlining the post-sale experience to increase customer delight, and more.
Important steps involved in the process include understanding your customers, defining your priorities, establishing baselines, building your hypothesis, and validating them using methods such as A/B testing and multi-variable testing.
CRO isn't about finding quick fixes -- it involves making improvements over time using various tools (e.g., analytics and customer surveys) as well as developing hypotheses and testing them to fine-tune user experience continuously so you can improve conversion rates.
At Spot On, we focus on CRO because it has a direct impact on every company's bottom line. It delivers immediate results while building a solid foundation that supports long-term marketing objectives.
If you're ready to make your marketing dollars count by getting more clicks, generating high-quality leads, and increasing sales, schedule a time to chat with us to see how we can help you improve your conversion rates.