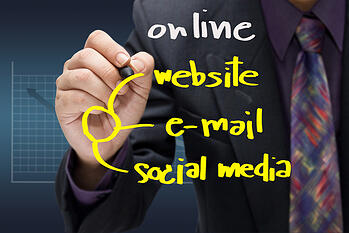 It is no secret that in the modern world, inbound tactics on the Internet are at the head of the class when it comes to healthcare marketing. Any healthcare office that wants to make the transition away from traditional outbound marketing like billboards, television commercials, or direct mail might not immediately know what to expect. When your practice decides to transition to inbound healthcare marketing, there are a few things to understand to ease the difficulty of this adjustment.
Inbound Marketing Is A Long-Term Strategy
Do not look at switching to inbound marketing as a quick fix that will provide an immediate, temporary boost to your traffic. Instead, think about it as a permanent adjustment that will bring you more success with your marketing in the long run. Consider the results of a HubSpot study on inbound marketing: although it took 45.54% of companies in the survey between 2 and 4 months to see an increase in leads from their inbound marketing, less than 2% of companies surveyed reported that it took more than 12 months to see an increase in leads. It will most likely take months as opposed to days or weeks, but you will see an increase in leads if you keep at it and are consistent with your efforts.
Your Success Depends On You
The amount of new leads and sales that you get from your inbound healthcare marketing efforts greatly depends on your efforts. As the saying goes, you cannot expect a marriage without the courtship first. It takes time to build up a sufficient base of followers and fans on social media, and the only way to do this is to either devote time and focus towards making content that will attract people or pay someone else to create such content.
Successful inbound healthcare marketing also requires diversification. It is imperative that you pay attention to a variety of areas like organic search engine ranking, social media presence, blogging, landing pages, and call to action buttons and graphics, among others. If you neglect any areas of inbound marketing, your numbers will not be robust as they could be.
Inbound Marketing Requires Constant Tweaking
If you are looking to find success with inbound marketing, it is crucial that you have a way to track your sources of new patients to determine which methods are working the best. Once you determine what works, keep doing it. In areas that you are not seeing sufficient success in, you will have to revise your strategy until you find something that does bring you success.
It is also important to remember that because of the rapid pace with which the world of online marketing changes, even successful marketing practices require monitoring and assessment. Take search engine ranking for example: in a video interview, Google's Matt Cutts reports that Google rolls out 350-450 algorithm changes every year. To be successful with inbound healthcare marketing, it is crucial that you constantly monitor strategies that are succeeding and strategies that are failing for your marketing efforts and take active steps to convert the latter into the former.
Maximizing your inbound marketing success requires a high degree of focus, execution, and consistency. The good news is, inbound marketing has been proven time and time again as a successful tool for generating new leads and increasing sales. Take time to flesh out and execute an inbound marketing plan that works for your healthcare office or hire someone you trust to do it so that you can maintain a steady flow of new patients and revenue for a very long time.