What's New with HubSpot? Recap from Inbound 2018
Were you one of 24,000 to attend INBOUND 2018 last week? An exciting time to learn from sessions, get inspired by keynote speakers, and network with fellow marketers, we highly recommend any HubSpot customer attend at least once.
Keeping pace with previous years, there were many exciting announcements for HubSpot users at this year's conference, from HubSpot Video, to Slack integration, to call transcription and recording.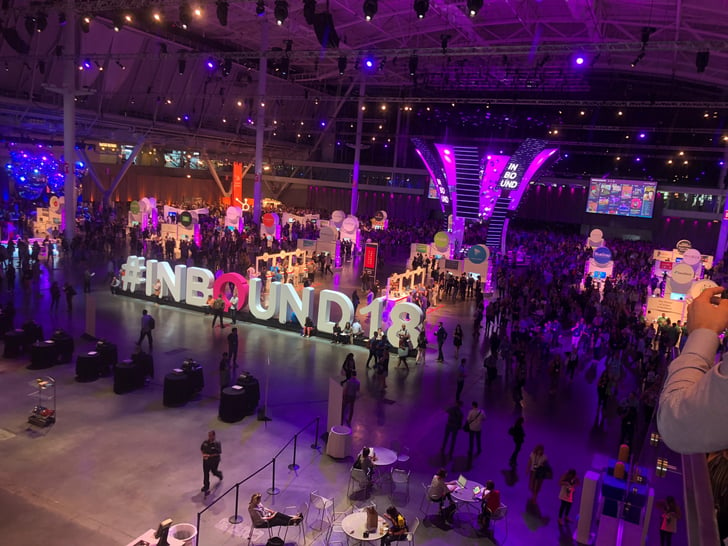 As a HubSpot Partner, Spot On is excited to share the latest product announcements and features announced last week.
Susie will be sharing her favorite new products and features in an upcoming blog, but until then, take a look at a recap of the latest from HubSpot. Here's what we'll cover:
HubSpot Growth Suite
HubSpot Video
Marketing Hub
Sales Hub
Service Hub
Introducing HubSpot CMS
HubSpot Growth Suite
In essence, the HubSpot Growth Suite offers 25% off standalone prices of Marketing Hub, Sales Hub, and Service Hub when purchased together. This is available for Starter, Professional, or Enterprise editions. To learn more about plans and pricing, learn more information from HubSpot here.
HubSpot Video
In step with the need for marketers to include video marketing in their overall strategy, HubSpot's announcement for the ability to create, host, and measure video results within the platform is particularly exciting.
With this new offering, your whole team can act on a video strategy. Sales can build stronger relationships with one-on-one video emails. Your service team will be able to help people faster with one-on-one video tickets. Marketing will have all of the tools needed to create actionable and automated video campaigns.
This is available for all Hubs for the Professional and Enterprise tiers.
Marketing Hub
These features are aimed toward larger and more sophisticated teams.
Platform-Level Enterprise Features That Support Growing Teams
Teams – This provides the ability to organize users on your HubSpot account on multiple levels based on teams, region, business unit, product line, or another dimension. This is available for Professional and Enterprise teams.
Custom Analytics Filtering – Create segments based on country of the session, domain, or specific URL.
Additional Dashboards – Enterprise customers now can have up to 25 custom dashboards and 500 custom reports.
Single Sign-On – Available in beta, you can configure a custom authentication provider to gain more control over your team's access.
Custom Property Search – Unlock more data in custom properties.
Custom Bots – Deploy useful bots that can route inquiries to the right team, book appointments, and more.
Slack Integration – Trigger notifications in Slack based on conditions and using workflows.
Relational Imports – Available in beta, you can import contacts, companies, deals, tickets, and products with relationships across objects.
Calculated and rollup properties – Create fields in HubSpot for useful calculations and roll up data from other fields, such as sales commissions and splits.
For teams using the Marketing Hub Enterprise, HubSpot has developed tools to provide greater control, flexibility, and deeper integration. Here are the new and improved capabilities.
Enterprise - Advanced Teams
Content Partitioning – Coming soon, this will allow Teams to segment content within HubSpot to give the right users easy and uncluttered access to content.
Membership-Driven Content – Another feature that is coming soon, you will be able to restrict content access to internal audiences, paying customers, or other groups.
Send Frequency Cap – To avoid sending too many emails to contacts, this will be a safeguard that will soon be available.
Continuous Optimization – Automatically and continuously test assets, without creating multiple A/B versions.
Enhanced Social Permissions and Approvals – This will allow certain members of your team to draft posts and have them ready for review before being published.
YouTube Integrations – Available in beta, you'll be able to view statistics of video content you've uploaded to YouTube.
Predictive Lead Scoring – Currently available, you can automatically score and rank leads based on their likelihood to close as customers based on a number of factors.
Professional
For those using Marketing Hub Professional, there are a few new features.
Company-Based Workflows – Run account-based marketing campaigns with company-based workflows. While this is not yet available, you will be able to trigger actions based on a company name and see who is interacting with your content in reporting.
Smart Content Reporting – Available now, tailor your content to specific visitors by seeing how it's performing within HubSpot.
New Custom Report Builder and Cross-Object Reporting – Using the new report builder, you can create reports on your contact, company, deal, and engagement data.
Sales Hub
To help your sales team simplify the process, HubSpot announced a few tools to help on the Enterprise level, including:
Playbooks – Available for your sales team, create a library of sales best practices and resources as well as rules-based automation.
eSignature – Collect signatures within HubSpot for quotes and documents.
Approval Management for Quotes – Available in beta, you have the ability to require approval for quotes that meet certain criteria.
Call Transcription and Recording – HubSpot can transcribe and record any call within your CRM.
Quota Management – Available in beta, measure your sales and service teams' performance.
Recurring Revenue Tracking – Manage recurring revenue and renewals within HubSpot.
Relational imports – Easily import data in HubSpot across contacts, companies, and deals.
Calling API – Available in beta, integrate a third-party telephone provider in HubSpot.
Multiple currencies – With the ability to handle exchange rates, you can track and manage multiple currencies across deals and reporting.
Service Hub
The Service Hub Enterprise was built to grow your team. Updates include:
New Enterprise Features – Platform-wide enterprise features include calculated fields, custom bots, and teams.
Goals – Available in beta, individuals and teams can report on metrics related to a specific customer goal, such as response time, ticket volume, resolution time, and customer metrics.
Health Scoring – With insights into how your customers are doing, you can identify customers at risk for churning or who need intervention. This feature will be coming soon.
Playbooks – Create a library or best practices and resources for your team. Use rules-based automation to find recommended content.
Conversations: Free Live Chat, Team Email, and Bots
Also worth mentioning is the availability of HubSpot Conversations, which includes free live chat, team email, and chat bots in the HubSpot CRM.
Introducing HubSpot CMS
Another major announcement this year was the launch of HubSpot CMS, the first deeply-integrated CMS and CRM combination.
In the Content Management System, websites can be optimized for every device, personalized for every visitor, and integrated with all marketing tools.
Did any of these product announcements or features pique your interest? Reach out to Spot On and schedule a time to discuss how we can partner with you to best utilize HubSpot.