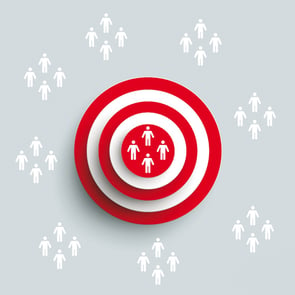 How many customers do you need?
Everyone? Almost everyone? Enough to generate revenue and (gasp!) become profitable? Can you ever have too many customers?
The "customer question" can be vexing for people responsible for SaaS software marketing. The business is often all about renting software that's hosted in the cloud. Customers pay as they go, and the upfront cost of acquiring users can be staggering.
But you're supposed to make up for the high cost of acquisition in the long run, right? And doesn't that mean getting anyone and everyone to subscribe to your service?
Not necessarily.
Here's a look at why you should target your software marketing towards the people who really need it. In other words, you should focus on "enough" instead of focusing on "everyone."
Acquisition and on-boarding
It's never easy to land a customer, and it's always expensive. There's marketing, sales, legalities, technical training and account management costs associated with every customer acquisition. It all adds up quickly. Then, more often than not, you wind up losing the customer anyway—because the customer didn't really need the software.
The payback period
SaaS companies don't get a big, fat check when they sell their services; they earn their revenues over long periods of time. This means that it takes longer for them to earn back their on-boarding costs. And if a customer doesn't stay actively engaged with the program long enough to pay back the on-boarding costs and become a profit-generator, the company essentially loses the money it invested in courting the customer in the first place.
To make matters worse, once a customer does cross the profitability threshold, there's really no guarantee they're going to stick around. They can leave in an instant—and then, poof, there go your profits.
Up-sells are less expensive
In the SaaS business, it's much less expensive to up-sell a current customer than it is to acquire a new one. Once you have customers who are happy with your software and service, all you have to do to maximize their profit potential is up-sell them.
That's something you can probably accomplish if you:
Listen to their questions to find out what they really want and need
Develop new product features to meet their needs and desires
Integrate information about your upgrades into your software marketing materials and overall inbound marketing strategy
Up-selling is a great way to keep current customers engaged since you're also continuously adding more value, meaning they'll be less likely to cancel.
Going viral cancels cancellations
Imagine what would happen if word about your SaaS software spread through cyberspace like a virus. Prospects who are actually looking for a solution like yours would hear about your company organically, from people they know and trust, and you'd probably wind up growing without spending so much money on marketing and sales. You also wouldn't have to worry so much about cancellations, which are the bane of SaaS software companies growth strategies.
Make your marketing materials worthy of being spread like a virus across the internet.
Excellence begets excellence
At the end of the day, if you target your SaaS marketing toward the prospects who are most likely to benefit from your services, you're more likely to have happy customers. And happy customers stick around, upgrade and tell their contacts about how much they like working with you. Those contacts are likely to become clients.
Get enough
The answer to the "customer question" isn't all that hard to find. "Enough" is better than "everyone." Keep enough customers by doing the front end work of building a strong inbound marketing plan that has you delighting each and every one of them.