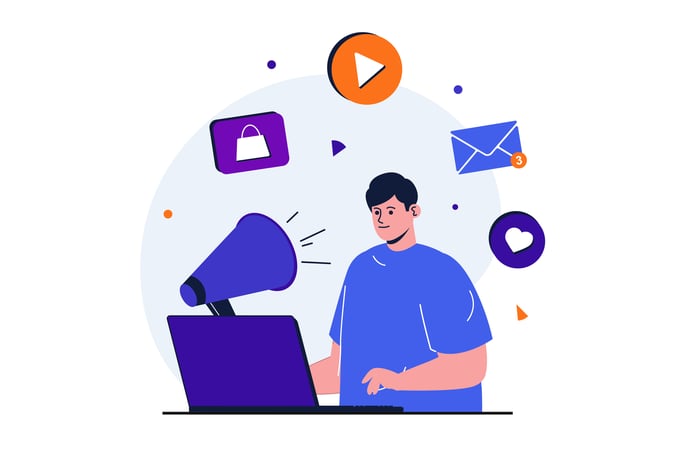 Recent shifts in the healthcare industry are causing many providers — from small practices to large hospitals — to jump onto the digital bandwagon and to seek new healthcare software services. For example, Binary Fountain found that 50.3% of providers are investing in telehealth initiatives, while 42.8% of healthcare marketing teams are using online appointment software.
This trend offers tremendous opportunities for healthcare software providers as practices and hospital systems are seeking support to digitalize their practices and implement online tools. The question is, what's the best way to find high-quality prospects and progress them down the sales funnel when virtual interactions and remote services have become the norm? Not only that, but how do you carefully choose an agency that can provide digital marketing for healthcare software in a crowded market?
To meet the latest customer expectations and make wise agency selections, you need to focus on how the agency interacts with clients through digital channels. That's because healthcare SaaS marketing has undergone a sea change recently –moving from traditional channels to digital platforms – and the trajectory will continue as we go into 2021 and beyond.
It is, therefore, important for healthcare software providers to incorporate digital and inbound strategies into their marketing arsenal.
The Benefits of Digital Marketing for Healthcare Software
Let's examine the key reasons why healthcare software providers should invest in working with a digital marketing agency and review how to assess if your agency choice is up for the job:
1. Get Found by High-Quality Prospects
Customers are accustomed to searching for products and services online. As such, getting ranked on the first page of search engine results offers a great opportunity to reach prospects seeking the exact products or services that you offer.
Search engine optimization (SEO) strategies can help you drive organic traffic to your website and increase your brand presence. Meanwhile, online advertising formats, such as pay-per-click (PPC) ads, allow you to target specific audience segments with high purchase intent.
In addition, many online advertising platforms give you the capability to leverage their vast user database to inform your audience targeting. For example, you can show a LinkedIn sponsored post to healthcare providers in a specific field by narrowing down targeting based on the job title. Look for a healthcare software marketing agency that can provide case studies that demonstrate their track record with these methods.
2. Build Trust and Credibility
It's more challenging to build rapport with prospects when in-person interactions are limited. Yet, trust is an important factor that affects prospects' purchasing decisions when choosing a healthcare software provider. As such, it's important to stay on your audience's radar and nurture customer relationships.
An omnichannel marketing strategy allows you to gain ongoing exposure to your audience via multiple touchpoints such as email, website, social media, etc. Content marketing can help you drive website traffic and build credibility by sharing relevant and valuable information. It's worth the time to investigate the experience level of your agency choice with customers who are similar to yours. Look for partners who can provide the depth of experience in healthcare software – this means you'll have a better chance at gaining your customers' trust with solid content and you'll benefit from their prior knowledge.
You can also use webinars, live chat, messaging apps, and more to facilitate two-way communications. This type of interactive communication can help you better understand your audience so you can address their concerns and objections in real-time to increase conversion. Furthermore, you can use videos to show your products in action and while delivering an engaging experience.

3. Facilitate the Customer Journey
Today's online marketing technologies can help you create a highly-personalized experience based on where each prospect or customer is in the buyer's journey so you can deliver the right content or offer in the right place and at the right time to facilitate conversions.
For example, AI-driven data analytics can help you process a large amount of information to identify prospects that are most ready to convert so you can focus your resources on pursuing those relationships.
Meanwhile, machine learning and natural language processing technologies can power chatbots to streamline the customer experience, e.g., by providing quick answers to simple questions and routing complex inquiries to the right rep. They can also facilitate conversational selling to help you generate leads and progress prospects down the sales funnel at scale. Make sure you choose an agency who is consistently and regularly reporting on important metrics like customer conversions.
4. Improve Customer Retention
Many healthcare practices and hospitals are currently reassessing their healthcare software spending. This is not the time to lose a customer just because you overlook your existing client relationships! Since acquiring a new customer can cost five times more than retaining an existing one, you can make your marketing dollars go further if you invest in client retention.
You can support a comprehensive inbound strategy that addresses the entire customer lifecycle – including their relationships with your brand post-purchase – through various digital marketing channels.
For example, you can offer client-exclusive content and webinars, a self-service portal to streamline the customer experience, and AI-powered chatbots to facilitate customer inquiries and reduce wait time. By providing outstanding customer service that adds value to your clients' relationships with your company, you make them more likely to stay with you.
How Healthcare Software Providers Can Optimize Digital Marketing
Implementing a well-designed inbound marketing strategy can help you identify the appropriate digital marketing platforms to reach the right prospects in the right place at the right time and with the right content.
To optimize your digital marketing strategy, you need to stay on top of the latest healthcare SaaS marketing trends and leverage the right technologies to deliver an outstanding online experience. Also, working with an inbound agency that specializes in digital marketing for healthcare software providers helps you avoid pitfalls, increase conversion rates, and maximize your ROI.
Make sure you look beyond their experience too: You'll want to find an agency with a good track record of account management, including one reliable point of contact who is an active member of their team. Also, look for a partner who is willing to provide regular reporting on more than just vanity metrics and provide transparency around how they budget. These key differences set the leaders in healthcare software marketing apart from the rest of the pack.
Our free ebook, "How to Build a Successful Digital Marketing Strategy for Healthcare Software," shows you how to reach your audience in a tough industry during this critical time of transition. Learn more and download your copy here.