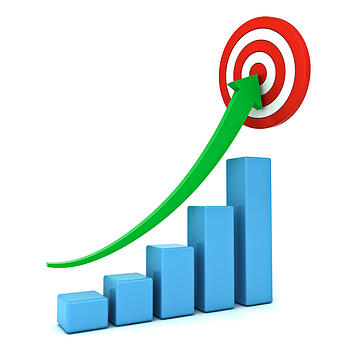 In every business in every city around the globe, CEOs, CFOs, directors, managers, sales people (and possibly YOU) are responsible for setting a sales and revenue goal for the next year, quarter or month. It happens on a daily basis. (We do it here too, for ourselves as well as our clients.)
But is equal time spent taking a hard look at planning how to reach that number? Is it based on a percentage increase over the last period? Is it based on previous trends? What happens if it is a downward trend and something has to be done quickly?
Here's what we see happen often: Sales and revenue goals are often set based on what you would like to achieve. This may be based on what you've done in the past or what you need to do to return to profitability; sometimes, it's just a random number with no real thought other than "we've done it before, we can do it again." Regardless, what is behind this number should be a solid foundation of how you're going to get there.
When I say this, you may be thinking "getting there" means trade shows, direct mail, cold calling, etc. but unless you have some idea of the number of clients you need to reach that revenue number then you're simply planning marketing activity in a vacuum.
Look at it another way. If we were sitting at your conference room table right now, here are a few questions I would ask you:
What is your revenue goal?

How do you plan to achieve that goal?

How many clients do you need to achieve that goal?

How many leads do you need to get those clients?

What does it cost you to get those leads?

How long is your sales cycle?

How are you capturing leads? (All of those people trying to find out more about your products or services that you've been touting through direct mail, trade shows, or social media.)

How do you measure what's working? (What do you do if it's not?)
(By the way, this would seem a little less like an inquisition if we were having this discussion in person.)
Are you starting to get the idea?
Here's the problem: Many times we are focusing on the end number and not the actual path of how to get there. If you tell me you want to reach X number in sales or revenue, then you should know how many clients you need to achieve that as well as how many leads you need to gain those clients. (In other words, what's your conversion rate?)
Once you have all of these figures put together, it will be much easier to put a plan in place for reaching the audience that will provide the leads for you to convert to clients. It also gives you a way to benchmark your goals instead of just looking at sales reports.
So, before you write that goal for the record number of sales you're planning to make next month or quarter, spend a little time working through some of the questions above. Once this is done, you can back up your goal with the right plan to get the lead make them a prospect THEN convert them to a client.
Knowing the numbers makes it a whole lot easier to stay on track!