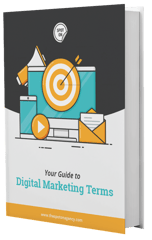 Whether you're an amateur advertiser or a seasoned marketing professional, you have heard a slew of specialized terms that explain the key strategies, best practices, and metrics in the industry. To do your job well, you must not only know the definitions of marketing terms but also the importance they hold in your overall marketing strategy.
To help you get a hang of the jargon used by marketers and web designers, we've put together a guide to digital marketing terms. We cast a large net over the technical terms and abbreviations used daily to get you on the path to speaking like a true digital marketing professional.
Download, Your Guide to Digital Marketing Terms, now!