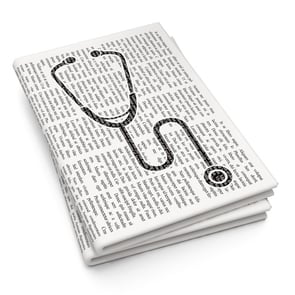 Remember the newsletter? Printed and mailed on a monthly basis. Then bimonthly. Now quarterly. It's filled with useful information – clinic hours, new hires, and maybe a feature story about a new service. And then there's the canned content that you were forced to purchase because you simply didn't have enough time to pull together enough content to fill last quarter's newsletter... which serves as a reminder that the next one is right around the corner, so you'd better get busy.
If you only think about your healthcare newsletter once a quarter (and always at the last minute), your audience is probably thinking about it even less often.
This begs the question: When it comes to healthcare marketing, is your healthcare newsletter even worth all the effort?
The answer might surprise you. Here's a look at three interesting healthcare marketing facts and trends and how they relate to the effectiveness (or ineffectiveness) of your newsletter:
Real-Time Research is a New Reality
The internet has changed absolutely everything. Gone are the days when patients had to wait for your printed newsletter to find out about a new service or whether or not you offer allergy care. Today all they have to do is log on, fire up a search engine, and get the answers and information in an instant.
And that's nothing to sneeze at.
People simply don't have the patience to wait for a newsletter – especially when they can conduct their own real-time research instead. In fact, 72 percent of all Internet users say they have gone online to look for health information, according to the Pew Research Center.
Online Content is the New King
There was a time when printed mediums were the primary sources of information. Newspapers in the morning (and maybe in the evening) to find out what's going on in the world. Newsletters every month for information about all of your favorite organizations. Books for entertainment. Yes, print was primo.
Today, however, online content is king – especially when it comes to healthcare marketing.
According to Think with Google's publication, entitled The Digital Journey to Wellness: Hospital Selection, 77 percent of all patients use search engines to look for healthcare information before booking doctor appointments. In addition, 44 percent of patients who use their mobile devices to research a hospital or clinic wind up making appointments.
When people have been conditioned to turn to digital content for healthcare information, the printed product probably doesn't have a chance.
Digital Healthcare Marketing Can Cost Less
Writers. Designers. Printers. Postage. Each of these words represents a cost associated with publishing a newsletter.
It's no wonder, then, that more and more clinics and hospitals are shifting marketing resources away from printed newsletters and towards online advertising, social media, video development, and inbound marketing offerings.
Digital healthcare marketing offers many more channels for reaching targeted members of your key audiences – without investing as much money in one medium.
So is it worth the effort?
At the end of the day, whether or not your healthcare newsletter is worth the effort comes down to whether or not you are seeing (and maximizing) a return on your investment.
Is your audience consuming your marketing materials? Is your audience taking action? Are the people you need to reach remembering to pull the newsletter out of the mailbox and read it? Do you remember to get it done monthly, bimonthly, or quarterly?
If not, your healthcare newsletter probably isn't worth the effort, and it might be time to look online for more effective opportunities to connect with consumers.