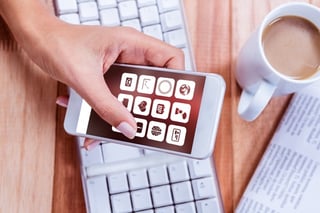 Modern healthcare marketing demands that you are just that - Modern. In the midst of the great SEO and inbound marketing strategies marketers employ, they must also keep up with the mobile era. Separate from texting and searching, consumers love their mobile phone apps.
Stats for you to consider:
89% of consumer media time is spent in mobile phone apps (Nielsen).
80% of physicians use smartphones and medical apps (research2guidance)
93% of physicians feel mobile phone apps can improve patient health (greatcall.com)
5 Ways Mobile Apps Will Benefit Your Healthcare Practice
What does this tell you? Hopefully, that it's time to get app happy with your own healthcare marketing. The following are 5 ways mobile apps will benefit your healthcare practice.
Use referral apps and get patients to the right specialists
Imagine referring a patient with a serious health condition to the wrong specialist, or even the right type of specialist, but not one who doesn't handle patients with cases like yours. Sadly, it's more common than you might think. According to Kyrus, 19.7 million patients per year wind up at the wrong specialty doctor - including those referred there by their own doctor.
More than 60% of the time it's because doctors lack updated, relevant information about specialists - even in their own network. Another 63% of the time it's because referring offices and/or call centers lack accurate information. The fallout list resulting from an erroneous referral includes everything from a waste of patient and provider time and money - to delayed treatment, poor patient outcomes and patient dissatisfaction.
Referral apps provide accurate information your healthcare team needs to make clinically appropriate referrals.
More accurate information = better clinical decision-making
As long as we're focusing on physicians, it's worth pointing out that there are several provider-centered apps that help clinicians make better, in-the-moment decisions. In addition to improved health record maintenance and access (think patient portal access, more on that next), health care professionals make more appropriate diagnoses and better treatment decisions when they use high-quality medical apps.
Give patients easier access to the patient portal
Expecting clients and patients to access the valuable patient portal via your website requires multiple steps. Give them a mobile app that provides instant access to the portal and now you have a win-win for everyone involved.
Patients and their healthcare team can be in closer and more regular contact, prescriptions can be filled while the patient is running errands and then picked up on the way home, appointments are made and canceled with just a few simple taps, and the list of benefits continues.
Facilitate more timely bill paying
In, Can Effective Marketing Improve Healthcare Billing, we referenced a medical clinic in San Diego who installed kiosks in clinic waiting rooms as a way to comply with recent government mandates. Instead, the most notable improvement was that those clinics started seeing improved, liquid revenue streams.
It turns out that routine access to bill pay reminders instigated more frequent patient payment, making a dramatic difference in the accounting books. Your medical apps can work in a similar fashion. Along with instant access to the patient portal, patient use can also trigger outstanding bill reminders and suggestions about payment plan options, or it can provide patients with a convenient, direct payment link.
Patients will lose weight
Obesity and excess weight are associated with countless medical conditions. Thus, losing weight is one of the single, most powerful things a patient can do to improve their health, which reflects well on your healthcare brand.
Weight loss and exercise apps are the most regularly used by consumers (50M and 26.5M, respectively).
The most popular versions include many hidden perks - tracking food consumption and calories, reporting daily eating/movement habits and tracking exercise, weight and other stats - some of which can be directly connected to patient portals.

When doctors are part of the healthcare marketing and mobile app equation, it becomes one more way to increase patient engagement - and that's always a benefit for your healthcare practice.