5 New Year's Resolutions for Your 2018 Digital Marketing Strategy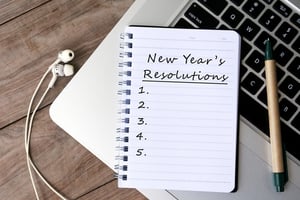 The holidays are over and as we begin to settle into our regular work routines again, we're looking forward to the new year ahead. As we reflect on the last year, there have been a number of shifts in marketing as well as in our business.
According to Hubspot, there are several marketing trends due to expire this year, including:
Drip Campaigns without Personalization
Long, Text Heavy ebooks
Quantity Over Quality blog posts
Overly complex lead scoring
Overloading on marketing automation
Organic Only Facebook Strategies
Using only email to reach the C-Suite
Text-Based SEO Strategy
We wanted to take a few moments to share a bit about our resolutions for the new year, which we hope you can apply as well.
1. Nurture Collaborative Relationships with Clients
Spot On is fortunate to work with clients in industries that not only challenge us every day, but also provide meaningful relationships that go deeper than business conversations and marketing strategy. As we continue to develop these relationships, it helps us to better understand their needs in the future. When we know our clients, we are better equipped to deliver the results they're seeking.
All of this to say, client relationships really are the foundation of a business – at the end of the day it isn't only the solutions, skills, or tools you offer, because more likely than not, someone else has your company's skill set – but only you can deliver a personal, but professional relationship with your customers.
2. Focus on the Leads You Know
Rather than pursuing every lead that comes your way, consider focusing on the highest quality leads for your business. Which leads are the best fit for you? It's important to focus on reaching your audience. But who is your audience?
For example, we've found success by partnering with organizations in the EdTech, Healthcare, and SaaS industries. Through building and implementing successful digital marketing strategies, we are continuing to focus on the industries we know best and are excited to continue building relationships with businesses in these industries throughout the year.
3. Improve Your Content Strategy
People are searching differently than they were a few years ago, which means that not only do search engines need to adapt, but marketers should as well. With an increased use of voice search, terms are no longer focused on specific keywords. People are searching more conversationally, which means that marketers must be more agile when developing a content strategy. We're already starting to see results using Hubspot's content strategy tool for our clients and are excited to see more soon.
4. Build a Video Marketing Strategy
You've likely heard that video marketing is one of the best ways to reach your audience. However, you shouldn't simply create videos, post them on YouTube or Vimeo, and leave them. Creating a strategy is key for ensuring that you're not only reaching your audience where they are but also communicating the right message at the right time.
5. Implement Paid Ads for a Well-Rounded Strategy
Lastly, while we use digital marketing for all of our clients and believe it's a crucial component to helping companies find higher quality leads and customers, there are other methods that can help you develop a well-rounded marketing strategy. Paid ads on Facebook, Google, and Bing have become essential for brand awareness, building your audience, and more quickly reaching potential customers than organic methods. Believe it or not, your digital marketing strategy can work alongside paid marketing.
Prepare your company for success this year and start implementing these resolutions in your digital marketing strategy. If you need help developing an digital marketing strategy for your company, schedule a 30-minute call to prepare for the year ahead.