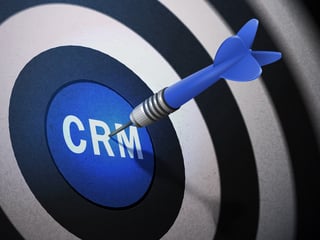 How often have you chosen not to try something new due to fear of the learning curve? And yet, so many of the most important skills we acquire in life - walking, running, reading, driving - are the result of our willingness to try something new.
Why, is it then, that we hedge when it comes to implementing new tools that will help us do a better job? And more efficiently too!?
Typically, it's because we've experienced scenarios where that "best new tool," wound up hindering rather than helping us (cheap SEO tools, ring a bell...).
CRM Really Does Help Salespeople - Honest!
We find CRM is one of those things salespeople either love, or haven't tried. If you fall into the latter category, please ask yourself the following:
Are you a moderately successful salesperson?
Do you fear time spent learning a new system would detract from those moderately successful sales?
Are you cruising in a comfortable routine?
Are you worried a new system will gum up the wheels of your well-oiled sales machine?
Is your biggest concern that CRM will hinder, rather than help, your process?
If you answered yes to two or more of these questions, you're primed to reap the benefits of CRM.
The great news? Serious CRM launched back in the 90s. That means today's systems capitalize on decades of trial and error. They've learned what works, and work it - for your benefit.
6 Ways CRM Helps Salespeople
Here's a sampling of what works when you choose the right CRM for your business:
It does the data entry for you. When your CRM integrates with the existing automated marketing system, you'll save hours of data entry time. If data entry is a teeth-pulling experience for you or - worse - if it's something you back burner for lack of time (potentially missing out on qualified lead opportunities), look for a CRM system, such as HubSpot's, that has an "add to..." type option, automatically populating the contact fields.


Find high-quality prospects who didn't know they needed you. When you work for an innovator, your most valuable prospects might not know they need you. This makes for tricky inbound marketing. With the right CRM, you can set highly-specific search parameters. Then the system will do the work, searching online for companies that fit the ideal profile(s).


Communicate with context. Cold calling stinks. You don't know much about a contact at that point, so the initial conversation is akin to playing darts in the dark. With CRM-gathered data on hand, you can view what their latest online interactions were, giving you intuitive context with which to frame the next sales email, call, offer or outreach.


Keep what works at the ready. Remember the awesome email you wrote last year that generated a record response? Shoot! You could've sworn you saved a copy of that thing...If you had CRM working for you, that template would be archived along with other winners, ready to be customized for other "just right" prospects down the road.


Connect, already! If you don't have time to touch base with qualified leads as often or regularly as you'd like, valuable leads can languish indefinitely. CRM takes care of that for you, ensuring leads get the right information at the right time - nurturing them from bottom-to-top of the sales funnel.


Unify sales and marketing. You have a problem when sales and marketing disseminate disparate information - common when there isn't a unified repository of information. Use your CRM as THE hub for both sides of the equation, and your brand will feel more consistent.
So, we're genuinely curious? What's your excuse now?