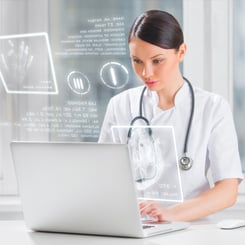 Decrease your costs, increase your revenues and adopt patient portals.
This is the Meaningful Use mandate aimed at improving patient access, engagement and care—and it's working.
The Internet is flush with stories about healthcare systems that have successfully leveraged the secure online websites to give patients around-the-clock access to their personal health information.
An Orlando-based physician says patient portals helped his pediatric practice grow three-fold in just two-and-a-half years while minimizing staff costs. A physician group in New Jersey has used portals to improve patient pay yields because 30 percent of their payments are now made online. And there are countless stories about how patient portals improve engagement and retention, which lead to bigger profits.
Yes, patient portals have the power to decrease costs and increase revenues. But you have to get patients to use them, and that comes down to integrating the portals into your healthcare marketing efforts. Here's how:
Put it on paper
Sometimes it takes old-school marketing techniques to get people to use new technology. This can be especially true when it comes to marketing your patient portal.
Many patients—especially seniors—won't immediately start using your portal. They'll want a brochure or letter sent via snail mail before they trust anything online. Consider going back to a tried and true healthcare marketing formula, and put it on paper or enlist a patient's family to help explain how it all works.

You might not be able to explain it and your older patients might not trust the Internet, but their family and a brochure might do the trick.
Leverage the link
It's a well-documented fact that people have incredibly short attention spans. And why wouldn't they? Everyone is busy, and everyone with an email account gets inundated with messages from family members, friends and people they don't even know.
So you're going to have to make it as easy as possible for your patients to use your patient portal. This means leveraging the link.
Make sure links to your portal are everywhere—in your emails, in your e-newsletters, on your website and social media accounts, and yes, even in your printed materials. Choosing an easy-to-remember URL and then putting it everywhere will make it much more likely that your patients will take the time to see it, click it and use it. Effective online marketing includes monitoring and measuring which links are being clicked, how, often, and why—and then adjusting tactics accordingly.
Get personal
Information is power, and patient portals are all about empowerment. If you're not seeing the adoption you'd like, run reports to find out who's not using the technology—and why they're not using it.
Once you have answers, create personalized messages that address their concerns, confusion or consternation and use your inbound marketing tools to speak directly to them.
Maybe your patients aren't all that tech-savvy. That's fine; you can walk them through the process on their next visit. Maybe they don't understand the incredible convenience that patient portals deliver. No problem; you can educate them. Maybe they don't trust anything on the Internet. OK; make sure everything you send is incredibly trustworthy.
Using the information your patient portal provides allows you to refine your healthcare marketing efforts to reach patients on a more personal level.
Don't delay, market today
The mandate is clear: Use patient portals. And why wouldn't you?
They are incredibly effective tools for patients. Portals have the power to improve access, engagement and outcomes. But they also have the power to decrease your costs while increasing revenues.
If you market them correctly, that is.
So start marketing your portal today and you'll reap the rewards tomorrow.