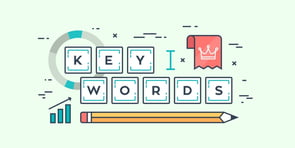 "The difference between the almost right word and the right word is really a large matter—'tis the difference between the lightning bug and the lightning."
These wise words were written by Mark Twain in 1890, but they may be more important than ever today as companies focus on keywords and search engine optimization to drive their inbound marketing strategies.
There is no way Mr. Twain could have ever imagined a world in which billions of words would be available to anyone, anywhere at the click of a button. But somehow he was able to perfectly capture the essence of the SEO struggle with a clever play on words.
To ensure that your website shows up among the first-page results after a Google search for those best suited for your content, you have to choose your keywords carefully—even more carefully than you would have just a year or two ago.
After all, search engine marketing has become extremely complex as the experience becomes more personalized to the unique context of words being used by each individual conducting a search. In this setting it isn't even just limited to choosing the right word instead of the almost right word. It's also extending into taking care to use collections of words that signal the context best suited for those you're best able to help.
Here's a look at five software marketing tips to help you optimize keywords and titles:
1) Know your audience
It's not a new concept, but it's never been more important than it is today. Today's search results are tailored to each individual Internet user. They're based on users' tendencies, preferences, search behaviors, and geographic location.
You'll need personas for the people you're trying to reach. Then you'll need to optimize the content to align with the things they seek on from search engines. This goes well beyond repeating the same term over and over in as many places as you can fit it into your page copy. It means being detailed and human in your approach. Most of us do this naturally when we're talking to someone in person and the engines are looking for marketers, to extend that same courtesy to the online environment. When someone needs something online, though, it can be a pretty intricate process to have website functionality that goes along with the words to deliver an experience that matches the site visitor's expectations.
2) Context matters as much as words
The days of loading up your webpages with industry-specific terms and jargon are long gone. While you will still need to use commonly searched words and phrases as part of your page copy, you also need to put them in context. This means including a mix of other terms and phrases that naturally support the topic on any given web page just as you would if you were discussing it with the site visitor face to face.
In addition to the common search terms, you will need to use language that connects with the personas you have created for your prospects. It needs to be human. It needs to be relevant. It needs to help them understand how your products and services will solve their problems.
3) Optimization is going mobile
Mobile now represents 65 percent of all digital media time. That's huge, and it's made a big impression on Google, which updated its algorithm in May of 2016 to ensure that mobile-friendly websites get a search ranking boost for mobile users.
Making sure mobile optimization is a key element of your marketing strategy will be crucial to online lead generation efforts.
4) Write like a user on the move
As more people are using their mobile devices to search and surf the internet, the popularity of mobile apps has exploded. In fact, mobile apps make up more than 50 percent of all time spent online.
You're going to have to get in the app game. Make a mobile app, and then write your headlines for people on the move—concise and clear.
5) Get social
Google isn't the only game in town anymore. Social media is playing a larger role in delivering search results, which means you need to use keywords on your social media channels. Do this by using the right words on the right channels. For example, your keywords on Facebook should be commonly used terms, not industry jargon. On the other hand, the words you choose for LinkedIn should include keywords that will attract industry insiders.
At the end of the day, getting social is all about effectively communicating with your audience in their preferred parlance.