There's little doubt that building a SaaS business with closely aligned marketing and development is one of the secrets of success. This is especially the case in a complex industry like healthcare. Building a clear and consistent message, backed up by a product carefully designed to fit the needs of your niche; carefully communicating the value provided by the software, and understanding precisely how its value is delivered to the end user; describing the product in language that speaks to the customer - all this depends on close integration between product marketing and product development.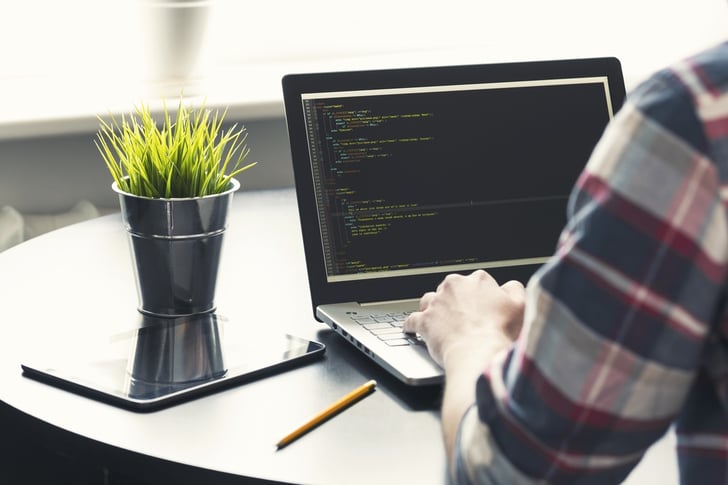 And yet, that can be one of the hardest things to get right, especially in smaller SaaS companies. Many healthcare SaaS companies find themselves leaning toward marketing or development. Both scenarios have their own challenges.
Development-led businesses tend to think of marketing as something to tack on to the end of the development cycle - first, build a great product, and then tell everyone about it. This can make it hard for marketers - once the product has been built, it's tougher to nail that critical product-market fit or explain the decisions behind key features to end-users.
On the flip side, some software companies focus on the marketing-led model, especially in the healthcare industry where the number of end users and high stakes make for a heavy emphasis on market research. Again, marketing-led decision-making has its own challenges. For instance, marketers, no matter how knowledgeable, may not be aware of the full technical implications of their requirements or be able to translate them well into development terms, and the product may suffer as a result.
Top-performing healthcare SaaS companies build a strong alignment between product development and product marketing. Here are some suggestions on how to achieve that:
Set common goals
Integrating product development and product marketing starts before you've written a line of code. Martin Suntinger of Atlassian makes the case for aligning the whole company around common "themes" - broad work areas focusing on a particular outcome. Individual teams can then be assigned specific SMART goals, with a common unifying theme keeping both product development and product marketing aimed toward a shared and clearly defined objective.
Include marketing in your stand-up meetings
Most software teams these days follow an Agile methodology, or some variant thereof. We'd make the case that much can be achieved by simply including a representative of the sales or marketing division in your morning stand-up or bi-weekly sprint meetings, rather than just sending in customer stories. This can be a simple but very effective way of keeping all parties focused on common goals.
Conduct joint research before you code
One of the areas in which marketing teams can provide the most support is in building clear user personas, conducting focus groups, and getting a precise idea of what the product needs to be - before the product goes into development. This is particularly important when building healthcare software. In order to succeed, healthcare software products must be carefully integrated into the workflows of a wide range of clinical users.
As Didier Thizy of Macadamian puts it, "Software teams don't always realize the extent to which requirements depend on the specialization or generality of the clinical users. A general practitioner, for example, will not have the same requirements as a physician specializing in cardiology."
Use cases
In fact, building products around buyer personas can be a highly effective way to build a great product while simultaneously developing a convincing marketing strategy. For instance, creating specific use case scenarios for each buyer persona - and asking for feedback from real-world users - not only helps developers optimize software usability. Those same use cases can form the basis of highly effective video content, online case studies, or social media narratives, which will resonate effectively with your market.
Model customer business processes
Similarly, involving both developers and marketing professionals to work closely with potential customers to model business processes is critical to building software that customers will actually use. In healthcare software, there is a growing trend toward building products that address only one customer problem to meet, "a wider range of needs across the hospital or health system in the face of increasing competition", writes Jeff Lash of Sirius Decisions."
Mapping software to the business process models will create user-friendly products, keep ahead of your competitors, and also help both sales and marketing team members fully understand the usage of the software and know the product inside and out.
Think validation more than verification
Software development teams are always mindful of software verification - testing the software for technical issues, fixing bugs, and ensuring compatibility on multiple platforms and hardware set-ups. However, we'd make the case within the healthcare industry, that validation of the software in real-world use is even more critical than technical benchmarking. Users may be more likely to forgive a crash or bug than they are software that fails to take into account issues like tight time restrictions in clinical settings. Looping in marketing to gather user feedback and conducting ongoing product iterations can be invaluable for keeping your product in line with the changing needs of your users.
Consider your org chart
If alignment between marketing and development is currently a struggle, it would be worth considering building teams around a product or even a buyer persona, instead of separating your personnel into technical and commercial roles. To keep all concerned focused on end-user needs, you can consider rotating customer support throughout both teams, or setting up communication channels between QA, marketing, and support.
We hope you find these techniques useful when ensuring alignment between your software developers and your sales and marketing personnel. If you'd like to speak to a member of our team about taking your healthcare SaaS marketing to the next level, please schedule a free consultation call here.