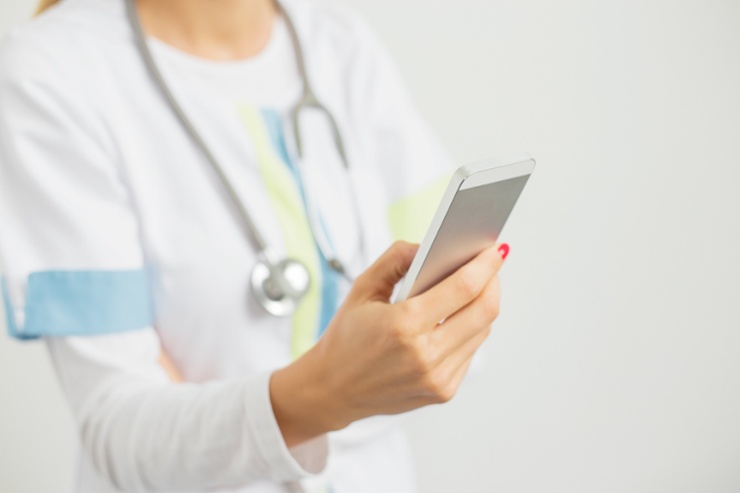 The jury's in – social media is no longer just for B2C companies. Any successful healthcare software marketing plan will need to include a strong social media strategy.
Don't just take our word for it, according to the IDC Social Buying Study, 72% of B2B buyers and 84% of C-level executives research buying decisions on social media. This holds true across industries, including healthcare. Hootsuite reports that 2 out of 3 healthcare marketers reach healthcare professionals via social media. And the trend is becoming more prevalent over time – social media is now the most relevant advertising channel for more than 50% of Gen Z.
Your target market will be checking software reviews, verifying their purchase decisions, and finding new software brands, all via social media – so, without a solid strategy, you risk being left behind. But what does social look like for healthcare marketing? After all, the healthcare market is notoriously challenging, complex, and slow to adapt.
Here are our top six tips for building a successful social media marketing strategy for your healthcare software company:
1. Get SMART about your goals
In a competitive field like healthcare software, it's not enough to pick a couple of channels and start blasting out content. To build a social media strategy that will deliver real return on investment, you need to be very clear about what success would look like, and what your main objectives are. HubSpot recommends that you create SMART (Specific, Measurable, Achievable, Realistic, and Timely) objectives before you start on social. What are your main goals? Are you trying to increase brand awareness? Are you driving more traffic to your blog? Are you promoting your gated content? Is social media an acquisition channel for you?
Once you've defined your objectives clearly and worded them as SMART goals, you need to decide on which channels will be most appropriate for your business. For B2B software marketers in any industry, including healthcare, LinkedIn is a no brainer – 63% rate it as the most effective social channel. But it's worth considering multiple channels to broaden your reach – Facebook and Twitter are also popular options.
2. Create content that converts
When it comes to social media, people have clear preferences on the kinds of content they want to see. Avoid anything that sounds like sales, and don't bore people with lists of features. Basically, try not to talk about yourself too much. Healthcare professionals want to see social content that is both helpful and engaging. Consider the interests of your target customers, even if they don't directly relate to your product. Many medical professionals use social media to keep up with the fast-changing world of healthcare, so develop content that will help them find useful industry information.
In terms of the format of your content, the 2018 Sprout Social Index found that posts with links to more information are the most preferred type of content on social media. Multimedia posts can also attract your audience's attention – Sprout Social showed that 18% of social media users prefer graphics and 17% like to watch videos.
3. Listen to your customers
Social media isn't just a great way to talk to your customers – it's also an excellent way to listen. "Social listening", as it's called, involves tuning in to what people are saying online – about your company and products, about your industry, about your competition.
For healthcare software marketers, social listening can be a game-changer. For one thing, building trust is imperative in healthcare, and social listening can help you catch any negative posts that might put potential customers off your brand. For another, in a fast-paced field like healthcare software, you need to keep up to date with the latest industry news that will be at the forefront of your customers' minds. Finally, social media is an easy and accessible way to keep an eye on what your competition is up to and what your customers will be expecting from your software.
Social media is not only a way to find new leads and customers – but it can also be a great way to retain existing ones. Today's customers expect to be able to get hold of you through their preferred social channel, rather than tracking down your support service. As HubSpot puts it,
"Keeping an eye out for these issues and replying to them right away is a good chance to rectify your customer relationship - and shows future customers that you're there for them if a future problem arises."
4. Establish your authority
Harnessing the power of social media to establish your company's expertise is key to building a reputation as an authority in your field, which in turn is critical for getting in front of healthcare decision-makers.
Major healthcare brands like the Mayo Clinic use social media to connect with broader public health issues, communicating educational information about health events, and global crises. Follow in their footsteps by sharing your industry expertise and join in more extensive healthcare discussions to attract attention from your target audience, while demonstrating your understanding of their concerns and challenges.
5. Find your voice
In social media marketing, it's more important than ever to create a clear, conversational, and relatable brand "voice". This can be as simple as using "we" and "our" to speak about your company, rather than writing in dry corporate-speak.
Don't be afraid to be bold or playful – as Sprout Social points out,
"Social media wasn't created for businesses, it's for humans. Social networks are where people can have fun, share content, and converse. So why not let your hair down a bit with your social media content? Just make sure not to go over the top."
Even in healthcare, brands that find the balance between light-hearted and professional will stand out from the crowd.
6. Don't forget about data sensitivity
It's worth bearing in mind that, as always with healthcare marketing, you must be careful to respect your user's privacy and maintain HIPAA compliance. This should be fairly straightforward – just make sure you don't share any personal patient information or end-user data.
If you'd like to learn more about how we've helped other healthcare software companies improve their social media strategy, click here to set up a time to chat with our team.