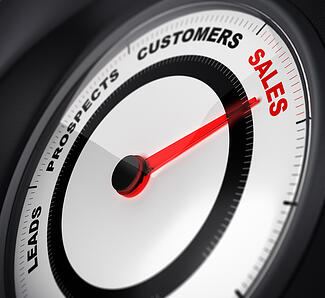 There is a lot of buzz these days about online lead generation and using websites to boost the bottom line of a business. Exactly how should a website support closing more sales?
Obviously, the first step is having qualified lead generation from your website in the first place using content and levers strategically placed throughout your website. We have explained this method elsewhere if you need details.
What often gets overlooked is having a mechanism in place to continue to nurture qualified leads into becoming actual sales. This part can be tricky since there is no one-size-fits-all recipe to be followed and because of that many businesses won't ever find their own secret sauce.
Once a website is generating contacts - people are exchanging their contact information for content you provide on your website - a database is being built. A value should be assigned for every lead that comes in to determine what should happen next for that contact. Simply having their contact information won't make the sale.
Segmenting Your Leads
Do you have staff evaluating and following up the leads generated by your website? You should be using inbound marketing software to help manage this process. We use HubSpot and we support our clients' use of this tool. Within the software you should be able to organize contacts into lists. Label them according to their value, their geographic location, where they might be in the sales cycle (researching, sorting options or ready to make the purchase), etc. The types of lists you have in play will be unique to your business and your follow up strategy.
Email Workflows
The next step is to create workflows for each list of contacts. Someone in the top of the sales funnel - researching a problem they need to solve, potentially with your product or service - would be a candidate for nurturing with a workflow. When they fill out a form on your site to become a lead, a series of actions should be automatically put in motion. The most frequently used type of workflow is an email series designed to nudge the lead further into the sales process by providing access to the right kind of information that is designed to help them by answering questions and encourage deeper engagement with you. The number of emails, how far they are spaced and what they should say must be carefully planned and some testing will likely come into play to get the right formula.
Old Fashioned Sales Efforts
Depending on how a lead engages during the lead nurturing campaigns put into place in the workflow stage will guide in how your sales staff should pursue the leads. The website's job is to generate sales qualified leads. How leads are managed by your sales staff is a separate consideration and will impact whether you make sales. A website can generate hundreds of leads but if there is no process in place to manage them you won't see any impact to your bottom line. Approach online lead generation with a well thought out strategy and if you're starting at the beginning, expect it to take up to a year while you work out the processes that need to be put in place.
Failure
Don't expect your early attempts to be very successful. Most businesses learn a lot about their business in the course of this process and have to move backwards to correct some things before they can continue to build the entire process. Often basic things are missing from their internal structure for sales and lead management that need corrected along the way. Of course this slows things down but these issues need fixed one way or the other. Early efforts will need a lot of trial and error to see how people engage with your efforts and how your staff is managing them. You might stay stuck in the early stages for quite some time before you can move on and actually start seeing success. Don't give up and be prepared to set aside ego and attachment to processes that just aren't serving your business interests.
Understanding how to use content for all of your online efforts will help you get started in setting up your online lead generation efforts.