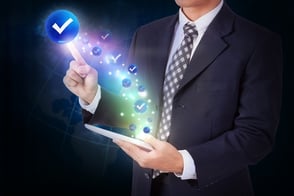 Instead of calling a family member, people are now heading online first to learn more about their healthcare concerns. The inbound marketing methodology gives medical practices in the healthcare industry a platform to naturally attract patients and build their online reputation.
Time is a finite resource for all of us, but especially for healthcare professionals. Thus it's necessary to refine your medtech marketing strategy from the beginning. There are three fundamental criteria to center your approach around: specificity, directness, and thoroughness.
Tip #1: Keep It Specific
Healthcare is about the last area where people want a one-size-fits-all approach. Despite the fact that everyone's healthcare needs are different, too many blogs focus on common knowledge. You've likely seen several giving the same advice: drink lots of water, exercise, eat your veggies.

Sure, this advice is true and may even be new to some patients. But the grand majority of the patients at your facility are coming in with more specific concerns. So while telling them to exercise more in a blog post may be good advice, it does little to respond to their greater need: guidance regarding how to deal with the particular health concern they're facing at the moment.

While your advice should be targeted to your audience, you should avoid sharing individual patients' information at all costs. Instead, think about the most frequently asked questions at your practice for starter topics. As you build up ideas, check out social media to see what your audience is talking about.
Bottom line: The content in your medtech marketing strategy should deep dive. Think about answering the questions a person with a broken leg, pregnancy or skin cancer diagnosis needs to know. They will certainly be more meaningful to those patients at that time than more generalized health advice.
Tip #2: Stay Direct
Your patients don't read your blog posts like they would a physical newspaper article. In fact, most of them won't read more than 20% of the words on the page. But that doesn't mean you have to give up content marketing.
Instead, work with the way your readers find information online by making it easy to skim and scan. This will help readers zone in on those nuggets of valuable information in your posts and leave them feeling like they learned something new or useful.
Here's how to keep things direct:
Use keywords in headlines and posts to make it easy to be found
Break up text with bold subheadings
Make use of bullets and italics to increase the readability of your posts
Offer in-depth guides to patients with more specific concerns
Tip #3: Be Thorough
Of course, your ultimate objective is to develop a more lasting relationship with your patients and improve your overall reputation. While your medtech marketing content should be specific and direct, there are plenty of opportunities to delve even deeper.
Video content, for example, provides an interactive platform to go step-by-step into topics with visitors. The audience is there waiting for it, with a reported 78% of online users watching videos online weekly.
The content will clearly depend on your practice and patients, but make the most of the interactive nature of video content by getting as detailed as you can. For instance, a cardiologist might develop videos around:
Heart healthy recipes and grocery lists for at-risk patients
Ideas for raising heart disease awareness in February's Heart Month
Heart attack prevention tips
Common misconceptions about heart disease and prevention
As you build your inbound marketing strategy, don't forget the importance of bringing your patients closer. Learn how to encourage your patients to feel positive about the care your practice provides.