Even with the best strategy in place, websites are built on initial assumptions. The only way to know if yours indeed supports your healthcare marketing strategy is to monitor its performance after launch by tracking the right SaaS marketing metrics.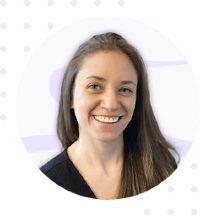 But what should you measure to ensure you focus on the right things? In this article, Spot On partner and creative director Erica Pierce discusses how to analyze your SaaS marketing metrics and how to use the insights to tune up your website and support your B2B SaaS marketing strategy.
To see if your website supports your healthcare marketing strategy, you should perform a user experience (UX) audit, a metric/performance-based audit, and a technical SEO audit.
What is a UX audit, and why do you need one?
UX design is defined as the process design teams use to create products that provide meaningful and relevant experiences to users. When applied to websites, UX design focuses on much more than just functionality — a UX designer is concerned with integrating all the interactions a user has with the site, including aspects of branding, design, usability, and function. A UX audit looks at all of these functions.
"Our team reviews every page type and provides suggestions at a granular level. We also rank these recommendations to help our clients prioritize their efforts and achieve quick wins," says Pierce.
Let's explore how it can help you evaluate if your website is easy to use so visitors can find the information they need.
Here are just a few of the key items Pierce examines during an audit:
Is the background video distracting the audience?

Are the navigations on the header and footer easy to use?

Are links or buttons on the header emphasizing the right content?

Are there big blocks of text that impede readability?

Are the text size and color legible?

Do the calls to action (CTAs) stand out?

Is the website mobile-responsive? Are the most critical elements close to the top of the page when viewed on a mobile device?

Is the website accessible to visitors with vision or hearing impairments?
How can you
use
SaaS
marketing
metri
c
s
to evaluate your website's performance?
Pierce also recommends analyzing a range of website performance metrics in conjunction with a UX audit to understand what works and what doesn't. In order to get a clearer grasp on how visitors are using your site, she recommends looking into some of these key metrics to guide design choices:
Page views

- the number of times a page is loaded by a browser

Time on a page

- metric that measures the average amount of time spent on a single page by all users of a website

Bounce rates

- the percentage of people who land on a page on your website, then leave

Device type

- how many visitors are on desktop or mobile and which browsers they use

Conversion rates

– the percentage of users who took the desired action

Exit rates

- how many people leave your site from a particular page
You can then use these metrics to make informed decisions about how effectively your design and content are working to drive web users to take desired actions.
"If visitors spend little time on a page with high bounce rates, it could mean that the content doesn't match the page title on search results, the load time is too long, users can't find what they need, or the content is poor. However, if they spend a lot of time on a page and then leave, it could mean they found what they wanted and read the content. In that case, you should focus on driving conversions," says Pierce.
Conversion rates are one of your most important SaaS marketing metrics. You should add trust indicators (e.g., testimonials,) create content that aligns with the CTAs that bring people to the page, and improve the UX of the lead generation form to create a converting landing page.
A/B or multivariant testing shows you what works on a webpage. You can find out what headline attracts more readers, whether fewer fields in a lead generation form will increase conversions, what images resonate most with the audience, and what colors draw visitors' attention.
Pierce also recommends using a behavioral analytics tool like Hotjar to see how visitors interact with your content. The software generates heat maps to show you how far down people scroll, what links they click, how they move their mouse, and at which point they leave the page.
What does a technical SEO audit entail?
Technical SEO refers to the process of optimizing a website for search engines, but it can also include activities that will improve user experience. The first step to mastering technical SEO is to understand what search engines need to crawl your site — this can include things like sitemaps, indexing, tagging, and more. After all, the best content in the world won't rank if it's not accessible to search engines.
"We use a host of tools, like Semrush, Google Search Console, and Google Page Speed Insights, to perform monthly site health checks for our clients to maintain and improve their rankings," says Pierce. Here are just a few examples of how we use data to optimize a website for technical SEO:
Eliminate duplicate page titles, meta descriptions, broken links or images, and redirect loops.

Move

videos

to the top of the page for Google to

recognize

them.

Increase text size to ensure content is legible on mobile devices.

Ensure clickable elements aren't too close together (e.g., 48 pixels apart) on mobile to accommodate different hand sizes and dexterity.
Keep in mind that while most technical SEO experts will be able to make marked improvements, it's almost impossible to get a perfect score. We recommend continuously monitoring your technical SEO health to make incremental improvements. "The small changes add up over time," Pierce says.
What are the most common healthcare SaaS website mistakes?
In the rush to improve your site, it may be tempting to get ahead of yourself. Here are three common missteps that can delay progress despite the best intentions:
Not focusing on traffic first –

While it's important to focus on optimization, it shouldn't be your first concern. "Don't invest too much in website optimization before gaining enough traffic. If you aren't getting visitors, focus your efforts and resources on creating content to attract people first," says Pierce.

Jumping to conclusions

–

When testing elements on site, be sure to design your tests properly. It's crucial to allow enough time for adequate results. "Also, make sure your heatmaps have a statistically significant number of interactions, around 1,000 captures," Pierce cautions.

Forgetting the human element

–

While optimizing for SEO is important, don't forget to keep your design user-friendly. For example, use images to break up the text and don't add too much copy — keyword stuffing is a big no-no. "Fix the big issues, but don't pour all your resources into technical SEO," advises Pierce. "Prioritize your website content for human visitors."
Support your healthcare SaaS marketing strategy with an effective website
Healthcare SaaS is a competitive and crowded field, so your website must check all the boxes. Insights from UX, performance metrics, and technical SEO audits can help you gain a competitive edge.
Website optimization has many nuances. Your site must support your healthcare marketing strategy and align with your online ads, content, nurturing campaigns, and sales tactics to deliver the best results.
Spot On helps healthcare SaaS companies evaluate their website performance and design a holistic strategy that resonates with their audiences and nurtures leads to convert. Schedule a time to chat to see how we can help you create a website that attracts the right traffic and converts visitors into leads.