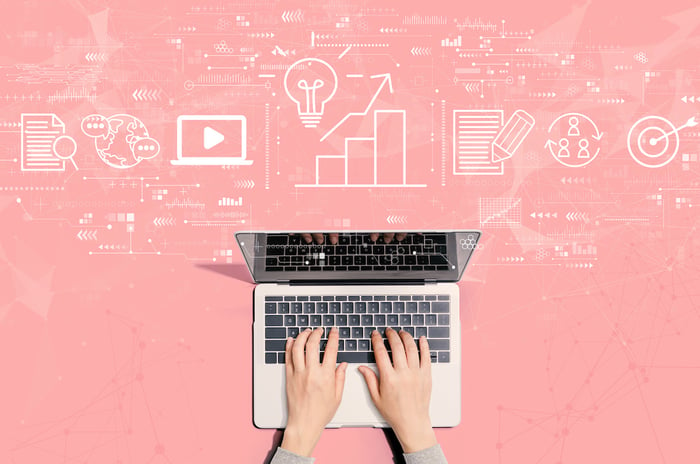 B2B SaaS inbound marketing is a highly successful strategy for healthcare software companies to attract and retain customers, and content marketing is a critical component of the plan.
Download our ultimate guide on developing and implementing your SaaS healthcare marketing strategy.
In fact, content marketing leaders experience a 7.8x higher annual growth in site traffic than laggers. Meanwhile, content marketing costs 62% less than traditional marketing strategies but generates three times as many leads.
Why Is SaaS Content Marketing So Effective for Healthcare Software Companies?
The B2B buying cycle in the healthcare sector is lengthy. Besides standing out from a sea of competitors, you have to navigate complex buying group dynamics. Plus, due to the nature of the industry, many buying decisions are made based on trust and credibility.
B2B inbound marketing that includes a content strategy helps software providers address marketing challenges unique to the healthcare industry and achieve the following goals.
1. Engage Prospects Early in the Buyer's Journey
Most B2B buyers start their buyer's journey by researching solutions online. In fact, many of them are 70% into their decision-making process before they contact a seller. It's more important than ever to meet your prospects where they're at when they start the purchasing process — on search engine result pages (SERPs.)
SaaS content marketing is one of the best ways to increase your site's SEO ranking so it can get found by prospects on relevant SERPs. For example, our keyword strategy helped Prevounce increase its SEO ranking to drive organic traffic. As a result, the company experienced a 2,000% rise in demo requests, an 8,600% increase in meetings, and a 1,600% boost in the number of deals closed.
2. Build Trust and Credibility
Healthcare organizations handle a lot of sensitive patient information. Decision-makers must trust your brand before they decide to buy your products. However, B2B buyers spend only very little of their meeting with potential vendors when they're considering a purchase — making it difficult for vendors to develop credibility through one-on-one conversations.
B2B SaaS inbound marketing focuses on building a brand's credibility throughout the entire customer journey to drive conversions. For example, our SaaS content marketing strategy for Prevounce included publishing informative and authoritative content to many reputable national publications in the industry (e.g., Becker's Health IT, Medical Economics) to establish the company's thought leadership positioning.
3. Navigate Long and Complex Sales Cycles
One of the main focuses of B2B SaaS inbound marketing is to address buyer's needs at different stages of the purchasing journey. This makes SaaS content marketing particularly suitable for healthcare software marketing because of the lengthy and often non-linear nature of the sales cycle.
SaaS content marketing also helps you address the priorities of different decision-makers within large buying groups. By creating blog content that covers a wide range of topics to address the concerns of various stakeholders, you can better navigate complex buying group dynamics. This will, in turn, help you build trust and relationships with specific audiences and deliver a personalized experience to drive conversions.
4. Boost Your Omnichannel Presence
A SaaS content marketing strategy covers various marketing channels for content distribution so the right message can reach the right people at the right time to deliver a seamless user experience. This can help you draw prospects to your website and generate high-quality leads cost-effectively.
The B2B SaaS inbound marketing strategy we implemented for Cureatr covered multiple channels and included a website redesign to support an ongoing content marketing plan. The initiative resulted in a 563% increase in marketing qualified leads (MQLs) and a 227% pipeline increase in opportunities within three months.
5. Improve Customer Retention and Advocacy
The subscription model of a SaaS business means the longer a customer stays on your platform, the more profitable the relationship is. B2B SaaS inbound marketing addresses the entire customer lifecycle — including building loyalty and advocacy post-sales — to improve customer retention and increase customer lifetime value.
By promoting customer success with relevant, valuable, and exclusive content, you can help users get the most of your products. When they see ROI from their investments, they're more likely to keep their subscriptions, upgrade their plans, or tell others about your software. Since trust and referrals have a significant impact on decision-making in the healthcare sector, having loyal customers vouch for your product can help shorten the sales cycle and improve conversions.
The Most Effective Types of Content for B2B SaaS Inbound Marketing
To reap the benefits of SaaS content marketing, you need to deliver the right information in the right place and at the right time throughout the customer lifecycle to nurture relationships and drive conversions. Here are some of the most effective content types for each stage of the buyer's journey:
Awareness Stage
Guides, e-books, videos, blog posts, and podcasts can help you get found by prospects when they're researching online. By providing informative and educational content that focuses on solving prospects' problems, you can establish relationships early in the purchasing journey.
Consideration Stage
You can use webinars, case studies, Q&A sessions, and datasheets to showcase your product and differentiate your offerings. The product-specific information can help your prospects evaluate their options without feeling pressured by heavy-handed sales tactics.
Decision Stage
Offer content such as ROI calculators, demos, free trials, video walkthroughs, and fact sheets to help prospects finalize their decisions. By being candid about how they can best benefit from your products and subscription plans, you can set the stage for a profitable long-term relationship.
Advocacy Stage
To retain more customers and get them to refer others to your business, you need to continue to provide value to subscribers post-sales. For example, you can foster deeper trust with them by offering product training, exclusive content, a knowledge base, and customer-only events.
Tap Into the Power of SaaS Content Marketing
B2B SaaS inbound marketing for healthcare software has to cover a lot of ground. You need to orchestrate all the moving parts along the entire customer journey to deliver a seamless customer experience.
Our team is here to help you design a solid marketing strategy, create high-quality content, leverage marketing automation, and devise a long-term approach to build relationships with your target audience. Get in touch to see how we can help you get the most from SaaS content marketing.