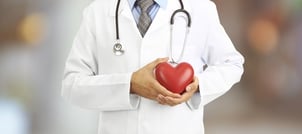 Medical marketing can be a bit tricky because, in many cases, you are talking about subjects that strike a sensitive chord for patients and potential ones. Thus, more than any other industry, your inbound marketing strategy needs to speak to your patients' hearts.
Consider that some of the most pressing health conditions in the U.S. – things like heart disease, diabetes, and obesity, which have diet and lifestyle choices at their core – and you can see why there is a delicate balance that needs to be struck when it comes to content creation, social media engagement and even the pictures and graphics that form your general online presence. Your motto should be "Sensitive, always; offensive, never."
Use Easy-to-Love Marketing to Draw New Patients Right to You
When formulating an inbound medical marketing strategy and creating new content, you always want to ask yourself, "Does this speak to our target persona's heart?" If so, move ahead. If not, step back a bit to determine what needs to shift or change.
Here are some tips on how to create online medical marketing that is attractive, engaging and sensitive – not only for prospective clients, but also for your existing patient base.
Keep it Simple
Author Dejan Stojanovic wrote, "The most complicated skill is to be simple." Truer words were never spoken, and they are very apropos in the world of digital marketing. The more complicated and fancy you try to make things, the more confusing it is for visitors and followers to figure out what's going on.
Everything, from your website design to your messages to your offers, should be as simple and focused as possible so that valuable information is never lost in translation.
Show Off Your Intuitive Side
Healthcare professionals are, for the most part, naturally intuitive. When you are on your intuitive game, eNewsletters arrive in a patient's inbox with exactly the information they were looking for. When visitors read your web content, blogs and social media posting, they think, "Wow! These people really get me."
Your sales and marketing team should be equally intuitive and well-versed in your patients' needs. They'll develop this skill outside of the office, analyzing marketing data and metrics to hone in on exactly what patients and prospective patients are looking for.
What post titles have the highest open rates?

Which topics seem to have the most click-throughs?

Do you ask for feedback to learn more about what your ideal patients want to know, learn and gain from their relationship with you?

Which CTAs, forms and offers are the most successful?
The more you and your marketing team learn from your website and social media metrics, the more intuitive you can be when creating future marketing content.
Out of Sight? Out of Mind
Use smart marketing techniques, highly tailored to specific niches, so patients never get the feeling that they are only relevant when they're inside your office or have an upcoming appointment.
Send delicious healthy recipes-of-the-week to patients who are at risk for heart disease or type 2 diabetes.

Use targeted emails as thoughtful follow-ups regarding how a new medication, diet change, or exercise program is or isn't working.

Create a seamless connection between website, social media and other online tech tools so you aren't duplicating messages, a less intuitive action that will create separation rather than engagement.

Don't forget to include regulatory guidelines about privacy and set up marketing tools and practices that safeguard against violating them.
The more intuitive your medical marketing approaches are, the more clients feel that you are speaking to them rather than around or through them. Information will always be tailored to exactly where patients are at in the buying cycle, and that is the essence of easy-to-love marketing.