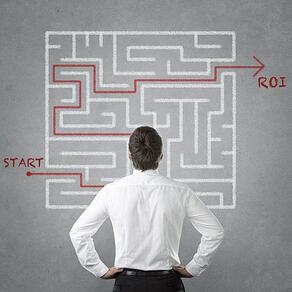 You've heard about SEO and keyword ranking – and their importance to your overall marketing strategy – but if you're still on the fence about inbound marketing, it may be because of a still- nagging question: how long until I see ROI?
In terms of getting customers via the Internet, it's no longer enough to just have a website. You must draw people to it. The catch: today's consumers and clients are largely immune to the sales pitch. The fast results of a coupon promotion largely may only serve to engage customers to pursue even lower prices elsewhere – with the entire Internet at their fingertips, what's to stop them?
Instead, your strategy is better served with the foundational tactics of inbound marketing: providing ideal, customer-focused content; building your presence on social media like Facebook and Twitter; and employing the best marketing automation to nurture leads into new customers.
Cold calls don't generate hot leads
The traditional outbound, or "interruption" marketing may have served you well as recently as five or ten years ago – mainly because display ads, broadcast, direct mail, pop-ups and cold calls were pretty much the only games in town.
But every one of the aforementioned short-term tactics has seen decline in this decade, and the reason is clear: people are going online for their B2C and B2B needs, and they're not looking for ads.
Your main incentives for allocating marketing budget to inbound tactics? HubSpot, the inbound marketing authority, provides a raft of recent statistical evidence:
44 percent of online shoppers begin by using a search engine;

77 percent of B2C and 43 percent of B2B companies acquired customers from Facebook;

Companies that blog have 97 percent more inbound links;

81 percent of marketers rated their blog as useful or better;

… and so on
You get as good as you give
A once-a-month blog or lonely Twitter feed isn't going to build the momentum you need. The best results are tied to consistently publishing high-quality content and maintaining a social presence based on valuable content sharing and not sales pitches. All these serve to build credibility and establish trust – no small claim when you're talking about the Internet.
You can measure mid-funnel ROI
Maybe it's been a couple of months since you started blogging and Facebooking, and you haven't netted tons of calls yet. Don't panic! Just consider that the ROI of middle-funnel activity isn't tied to how many visitors you get, but who those visitors are and how they behave with your content. "You have to track and test everything," says Square2 Marketing. "Despite your best efforts, certain nuances exist in every business (and in every industry) that contribute to differences in performance."
"In stark contrast to traditional outbound marketing activities, every single aspect of online marketing can be measured, tracked and analyzed," notes ITD Interactive. "A website doesn't guarantee increased business – that all depends on how persuasive the website is and how well it is used within your strategy. However, you will know exactly how many visitors you have had, what pages they looked at, and how long they spent looking at them."
An SEO services company experienced in analytics and reporting can provide you with the insight into keyword rankings and search engine optimization that contribute to ROI.
But how long …
The end result of your campaign – actual, paying customers – depends largely on the quality and frequency of your content. But "based on the length of a typical buying cycle," says Inbound Sales Network, "content engagement can take up to two years"
Sound like a long time? Consider the alternative: "Without lead nurturing via content, business to business buyers will engage with your competitors who have mastered lead nurturing process."
Stay the course
Inbound marketing isn't a quick fix – it's a long-term strategy. Seen from that perspective, you can appreciate the way customer-focused blogs, videos, whitepapers and other valuable content, integrated with strategically placed keywords, can boost your keyword ranking in online searches and allow not the most customers, but the best customers, to find you – again and again.