Lately, we've been sharing quite a bit about best practices when it comes to website design. From responsive design to building an effective website strategy, these articles have addressed questions and challenges specifically related to design and development.
While not exclusively a web design topic, search engine optimization (SEO) strategy isn't something that companies should ignore, especially as it relates to a new website design.
What are some signs that your website is in trouble, at least as far as SEO goes?
If you keep track of your website traffic (you should be if you're not already), have you noticed a decrease in traffic? Does your site attract the right kind of visitors that become leads, i.e. they fill out a form, download a content offer, or call your company? If you've seen a decrease in traffic, chances are your SEO efforts may be falling short.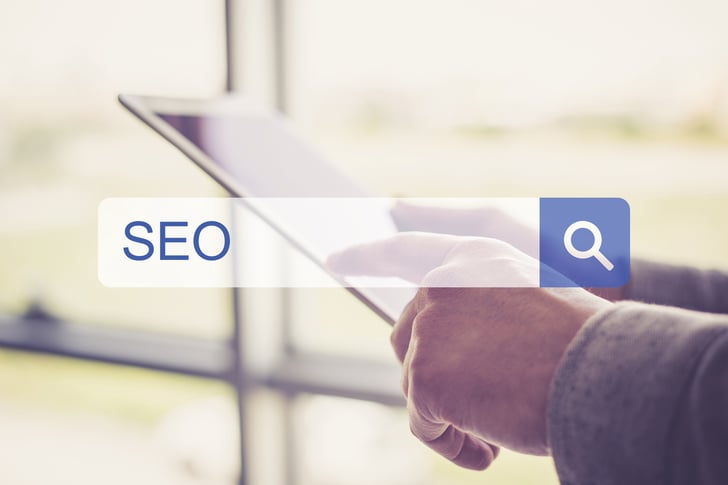 What's the Point of a Website if Nobody Can Find It?
The simple response to this question – there isn't a point. No matter how much time, money, and resources you spend to create a brand new website, if no one can find it, it won't help your company.
While current customers might already be familiar with your website and visit it directly, how can potential customers find you? You might think that word of mouth, using traditional marketing methods, or social media is enough. However, in order for your site to be as valuable as possible, developing and executing an SEO strategy is crucial to getting the right visitors to your website, generating high-quality leads, and eventually, converting them into sales.
What is SEO Strategy?
Before we dive deeper into why SEO strategy should be included when planning for a website redesign, let's define what it is. According to a definition from HubSpot, "Modern SEO strategy is the process of organizing a website's content by topic, which helps search engines like Google understand a user's intent when searching. By optimizing a web page around topics first, you can rank well for long-tail keywords related to that topic."
However, there are many more details that go into an SEO strategy. Beyond determining which topics you want your website to focus on – typically around the products and services you're marketing and selling – there are several areas you should be optimizing to ensure your site ranks well on Google and other search engines.
Areas to Consider for SEO Strategy
Knowing the importance of SEO to your website strategy is just the first step, let's dive into some of the areas that should be a necessary part of your strategy.
Keywords
While many marketers are advocating for the use of topics over keywords, that doesn't mean you can throw out keyword research altogether. Before we start working on other parts of SEO strategy, we make sure to review how a company's website pages are ranking and the keywords they are ranking for. From there, we can identify which keywords will be the most useful to help web pages rank better.
Page Titles
Optimizing page titles is an essential step to optimizing your website for search engines. Beyond choosing a title that accurately describes the page (in 60 characters or less), it should also include keywords that make sense for your company and that particular page. Try to make your page title as enticing as possible, since it will likely be the deciding factor for visitors when displayed on a search engine results page.
URL Names
How much do URL names matter? While not as important as choosing a title with the appropriate keywords, your URL should include keywords and pretty closely match the page title with some variances as needed.
When creating your URL names, make sure to use dashes between words. Search engines will read the dashes as spaces. For example, www.website.com/marketingstrategy is not as effective as www.website.com/marketing-strategy. Search engines will not register "marketingstrategy" as two words, but "marketing-strategy" will.
Meta Description
While a meta description in and of itself doesn't determine how well you're ranking, it does affect whether or not someone decides to visit that page. According to Moz, "Meta descriptions can however impact a page's CTR (click-through-rate) on Google which can positively impact a page's ability to rank. That said, it's important to create descriptions that accurately describe the content of the page and how the information will help visitors.
URL Map for Redirects
When it comes to developing a new website, a URL map is necessary so you can plan for any redirects your site will need. It's likely that you will have several pages that will no longer exist on the new site, but you wouldn't want them to go to an error page. It's for this reason that it's necessary to list out any existing URLs and determine if they will need a redirect.
Image Alt Tags
Alt tags are crucial for any images on your website for several reasons. Particularly for SEO purposes, it's useful so that search engines can crawl images and index them. This allows anyone searching for particular keywords to find images in search engine results.
Heading Tags
Heading tags are important for the structure of any site page and ultimately help search engines to understand the main topics of that page. Generally, the structure of a page should start with an H1 heading tag and continue with a top-down hierarchy. In a blog post for example, the blog title will be an H1, most sub-headers will be H2 and any numbered headings should be H3. It may also depend on the design and theme of your site, but optimizing your headings utilizing keywords is essential.
Also keep in mind that only one H1 tag should be used per page. This will make the primary theme of the page clear to search engines. Multiple H1 tags can cause confusion and may hurt your SEO.
Block Thank You Pages
This is an important aspect of your website as far as any content offers you may have – you wouldn't want the thank you page with the download for your case study, ebook, etc., available for anyone to download without providing their information, would you? Assuming your answer is 'no' it's vital to block thank you pages from being crawled by search engines.
After blocking thank you pages, make sure to remove them from your sitemap. Google Search Console will mark hidden pages as errors, which could negatively affect your SEO.
XML Sitemaps
Speaking of sitemaps, you should be submitting yours to Google Search Console. Submitting an XML sitemap to Google gives a clue that you consider the pages in the sitemap to be worthy of indexation. Note that Google will index all pages in the sitemap, including pages you've blocked using "noindex", so make sure to remove hidden pages before submitting. It is important to do so as Google will mark any inconsistencies as errors.
Google Search Console
Last but not least, marketers should be utilizing Google Search Console to monitor website performance. This tool offers insights such as search appearance, search traffic, technical status updates, crawl data and additional educational resources.
An SEO Strategy Isn't a One-Time Deal
If you've ever had an agency or anyone work on your website before, you might wonder why you can't keep the SEO strategy you already have in place. In short, much like a web design, things simply change over the years.
An SEO strategy that utilized best practices two years ago might even be out of date – as search engines and the way people search changes, so marketers must follow suit. So, if it's been awhile since your site has had an audit of any sort, including SEO, it might be time to have an expert check in and make recommendations for improvements.