From 360-degree videos to Facebook Live, marketers are responding to audiences' shorter attention spans by making content more interactive and visual -- and the ROI is astounding.
Video has become imperative for business growth: 78% of people watch videos online every week, while 55% watch videos online every day. In other words, if video isn't part of your marketing strategy, you're missing critical opportunities to reach, engage, and convert your audience. And this trend is growing exponentially.
Wondering if video marketing should be part of your toolbox? The answer is simple: Yes. Here are six reasons why you should hop on the bandwagon – not because everyone else is doing it (though that factors in as well), but because video is one of the most versatile and profitable digital marketing tools.
1. Video Has a Superb ROI
Though producing high-quality videos may seem daunting,
76 percent
of businesses indicate that it pays off in the long run. In fact, digital marketing guru James McQuivey surmises that one minute of video content is equal to 1.8 million written words. This reduces the need for additional content while also appealing to consumer preferences. Besides, video editing tools are always improving and becoming more affordable. Even a traditional Smartphone can create worthwhile videos, leaving the need for expensive equipment obsolete.
2. Videos Produce Brand Familiarity
According to
HubSpot
,
80 percent of customers
can recall a video they watched in the previous month. One of the reasons for this is that video is exceptionally visual and auditory, rendering it easier to remember than mere text-based information. After all, the sense of vision is the most dominant sense in humans.
As customers remember your video content, they also recall your brand. Such a familiarity leads to more sales and more leads. Moreover, people love to share entertaining video content, which often leads to greater reach than traditional marketing methods.
To help increase recognition, be sure to use your brand's voice, colors, images, and logo in all marketing tools. This means that your videos align with your blog content and your blog content aligns with your print ads. Though the strategies use different media, it's important that audiences associate each one with your brand.
3. Videos Increase Conversions and Sales
When push comes to shove, your ultimate goal is to keep the wheels turning on your business. This means that you need viewers to become buyers and buyers to become promoters. Adding video makes this happen.
Placing a product video on your landing page can increase conversions by 80 percent. These numbers are reflected in nearly every niche and industry, as shown by Treepodia.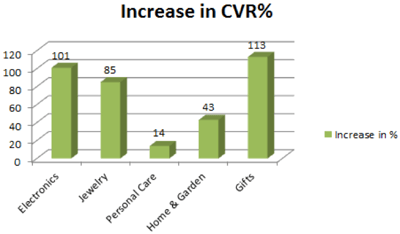 In a very direct manner, videos lead to sales. As reported by Wyzowl, 74 percent of people who watched an explainer video about a product or service followed it up with an immediate purchase.
4. Search Engines Love Video Content
Search engines look for content that engages viewers. When people stay on a page longer, it sends the message that there is good content and it builds trust. There are few things that capture and maintain interest better than videos.
Videos can also dramatically improve your site's SEO by driving people to your website. To be sure, HubSpot reports that 65 percent of business decision-makers visit a company's website immediately after viewing a branded video.
Besides that, YouTube is the second largest search engine. Now that Google owns YouTube, there is a huge jump in how much having video impacts a site's rankings. This means that placing a video on YouTube as well as your website increases your brand's visibility and improves the likelihood that your company will appear in searches.
Moovly provides staggering statistics about just how important this is: A business is 53 times more likely show up first on Google if it has a video embedded on its website. Posting your video on social media ups the reach even more, thereby serving as a marketing powerhouse.
5. Video Performs Well on All Devices
As Internet shoppers turn to mobile with increasing frequency, it's important that website content is
mobile-friendly
. When a company's content doesn't perform well on mobile devices, it suffers with a decrease in conversions and customer satisfaction. Fortunately, video content displays well on any platform, including Smartphones, desktops, and iPads.
Since the third quarter of 2013, mobile video watching has grown more than 233 percent. YouTube reports that video viewing increases by 100 percent every year. Businesses that employ this marketing tactic see exponential gains in their audience, then.
6. Video Fosters Social Sharing
Sharing is caring, right? Approximately
92 percent of people who watch mobile videos
share them with others. According to
Simply Measured
, video is shared 1,200 percent more than text and links combined. This speaks to a massive crowd and has a potential reach higher than any other content available. For any brand that wants to expand its market and diversify its audience, video is the way to effectively do so.
As video marketing grows in scope, the only limitation is a company's imagination. From crafting explainer videos to generating Facebook promotions, the potential is limitless. For anyone on the fence about this powerful marketing medium, rest assured, the ROI is practically guaranteed.
A video marketing strategy is an important aspect of an overall digital marketing strategy, read our guide to learn more.