4 Characteristics of a Great SaaS Website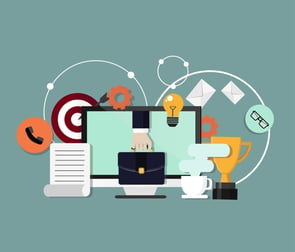 You've spent a great deal of time honing your product and/or service into something proven, reliable, and helpful. And since your website is your number one software marketing asset, it should be a reflection of your amazing product. Oftentimes your website is the first impression consumers have with your company and product.It may seem intimidating and overwhelming to create or redesign a website that is up to par with visitors' expectations, but I've compiled a list of 4 things that consumers look for in a great SaaS website. Keep these in mind and in plan the next time you consider tackling a SaaS website redesign.
1. Make your value clear.
Is your product the best on the market? What sets you apart from your competition? Let visitors know! Construct a one-sentence selling point to place in the hero section of your homepage. A visitor should be able to have a general idea of what your product does, how it will help them, and why you offer the best option before they even start scrolling.
2. Keep your conversion path simple.
The idea of the conversion path is simple: you want to lead your visitors down the funnel until they become delighted customers and promoters. Your actual conversion path should be simple, too. The best way to capture a visitor's attention and get them to perform an action is with a call-to-action (CTA). These buttons lead visitors right to a landing page form where they fill out vital information for your marketing and sales teams. If you offer a free demo for your product, have a "Request a Demo" button somewhere visible and easily accessible to visitors. The last thing you want is to have a visitor aimlessly navigating your site; this causes frustration for the consumers and may ultimately end up with them leaving your site and not wanting to return.
3. Showcase screenshots of your product.
Having screenshots of your product on your website validates your product and company for visitors. Everyone's trust levels are different, but not many people will buy into a product they've never seen. Show your visitors what your amazing product can do!
4. Use the power of testimonials.
You know your product already speaks for itself, but others rely on the reviews of other buyers before they make a decision. Think about your own purchasing decisions: are you more likely to buy a product with a 5-star rating, 1-star rating, or no star rating at all? You've done the hard work by turning your delighted customers into promoters—now let them do the talking. Feature testimonials on a visible part of your site so that visitors can see what the all the buzz is about.
With these 4 tips in hand, you'll be well on your way to creating a great SaaS website that visitors will find helpful, engaging, and convincing.