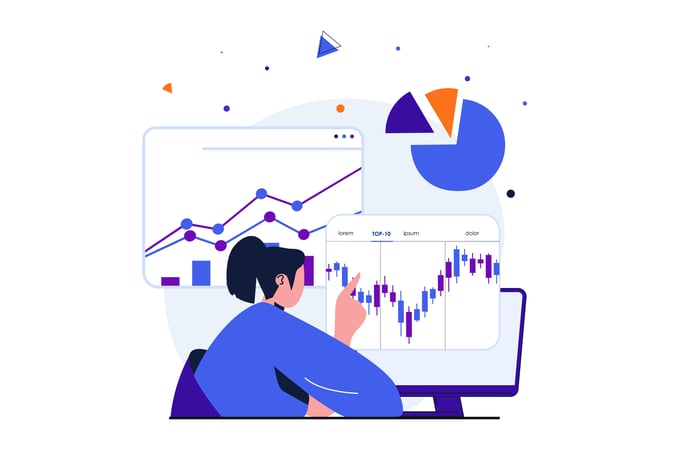 The healthcare industry is going through rapid digital transformation. Goldman Sachs predicted that the digital revolution can help the healthcare sector save $300 billion while Accenture found that the industry can save over $60 billion in the long-term by making the right technological investments today.
The increase in demand is great news for healthcare software providers, but competition is also getting tough. Vendors that invest in healthcare SaaS marketing services to capture high-quality leads and build relationships with prospects using effective inbound strategies are positioned to stay ahead of their competitors.
However, not all healthcare software marketing services are created equal. In today's fast-evolving business environment, you need to apply a data-driven approach so you can focus your resources on attracting high-quality prospects that are most likely to convert.
5 Essential Data-Driven Healthcare Software Marketing Services
Here are the must-have data-driven healthcare software marketing services you should look for when selecting a marketing agency:
1. Marketing Personalization
From email marketing and website experience to digital advertising and content marketing, personalization plays a critical role in any marketing strategy. In fact, 88% of U.S. marketers reported measurable improvements due to personalization and 94% of marketing professionals said personalization is important in helping them meet their objectives.
Your healthcare software marketing agency should leverage your customer database, as well as third-party sources and big data, to support your marketing personalization strategy. This will help you deliver the right message to the right prospects at the right time to generate leads, nurture relationships, and progress prospects down the sales funnel.
To monitor the effectiveness of your personalization tactics, your agency should regularly provide you with data on click-through rates, conversion rates, revenues, return on investment (ROI), and cost revenue ratio.
2. Omnichannel Engagement
Decision-makers want the ability to interact with healthcare software vendors via any channel wherever and whenever that's most convenient for them. Businesses that adopt omnichannel strategies achieve 91% greater year-over-year customer retention rates compared to those that don't.
Select a healthcare Saas marketing agency that has experience in implementing an omnichannel strategy that covers various direct and indirect channels, such as websites, emails, SEO, social media, mobile, etc. The agency should help you connect customer behavioral data, purchase history, and firmographic information across platforms to deliver a seamless user experience at all touchpoints.
Your agency should provide metrics on cost per impression and website traffic to show a campaign's impact on brand awareness and data on cost per acquisition to see how well you're turning prospects into buyers.
3. Search Engine Optimization (SEO)
With 89% of B2B buyers using the internet for research and 57% of B2B marketers indicating that SEO generates more leads than other marketing strategies, it's important that your website shows up at the top of relevant search results through content marketing, on-page optimization, backlinking, third-party reviews, and more.
Your healthcare software marketing agency should analyze your website traffic and customer data to identify keywords and create content that will attract high-quality traffic to your site. It should also implement various SEO tactics and monitor your SEO performance on an ongoing basis so you can respond promptly to changes in market trends and demands.
Make sure your agency is tracking relevant metrics to measure SEO success. For example, their team should provide weekly reports on organic sessions, keyword ranking, conversion rate, bounce rate, and more to monitor the effectiveness of your digital marketing efforts.
4.  Inbound Marketing
Healthcare software digital marketing services built on the inbound marketing model take the entire customer journey into account. It helps you leverage customer data to delight your clients so you can improve engagement, cultivate loyalty, build advocacy, and increase retention rates.
To measure client retention and loyalty, your agency should track data on customer lifetime value (CLV) and churn rate. The team should also gauge brand advocacy by using the Net Promotor Score (NPS) and monitoring online reviews and mentions.
It can cost five times as much to acquire a customer than to retain a new one. For healthcare software providers, this figure could be even higher due to the more complex systems you need to set up and the security protocols (e.g., HIPAA) that you need to implement. Therefore, your marketing strategy should also focus on client retention.
5. Online Advertising
Pay-per-click (PPC) ads allow you to deliver highly targeted marketing messages to specific audiences. You can also leverage user data and segmentation capabilities on social media platforms (e.g., LinkedIn) to reach the right audience at the right time to drive high-quality traffic.
Providers of healthcare software marketing services should analyze their customer data and leverage the information to target the right audience. The agency should also monitor the performance of various keywords while making sure that the entire buyer's journey is optimized for conversion.
Meanwhile, reports from your agency should cover click-through rate, quality score, cost per click, cost per acquisition, conversion rate, average position, monthly attainment, and more to make sure you're optimizing your budget.
Selecting the Right Data-Driven Healthcare Software Marketing Services
When you're considering healthcare software marketing service providers, make sure that they have a thorough understanding of the industry, as well as an end-to-end digital marketing process. They should stay ahead of the trend, establish clear client communication channels, and leverage data to help you make accurate decisions.
Look for a team that can help you track the right KPIs based on your marketing objectives and share reports regularly (e.g., weekly and monthly.) However, keep in mind that it's not just about the numbers. Working with a healthcare software digital marketing agency should help you understand the short-term and long-term implications of those metrics, then apply the insights to your specific clientele and processes.
At Spot On, our healthcare software digital marketing services are built on a proven data-driven inbound marketing process designed to help our healthcare software and healthcare SaaS clients optimize their online marketing budgets. Schedule a time to chat with us and see how we can help you achieve your 2021 marketing goals.