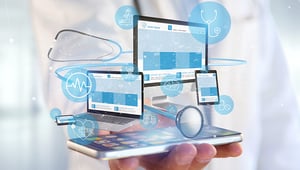 Creating a new website is a bit like an obstacle course. It has its challenges along the way, but the journey can be a blast if done correctly.
In the world of healthcare marketing, there are a few more obstacles to be had. First, the healthcare industry has been changing rapidly in recent years with more competition, options, and patient-centric practices. Secondly, websites on the whole require more strategic planning to meet user expectations.
However, this combination makes for a unique opportunity. This is your big chance to create a site that drives your healthcare marketing plan and exceeds the needs of customers.
To make navigation as smooth as possible, begin your design brainstorming session with these 5 questions.
1. How will we create valuable content?
You've probably heard that it's best to write for people first and search engines second. We'll let you in on another little secret: writing for people is the answer for valuable content. When you create content with the interests and questions of real people in mind, you're creating content search engines will love.
So, as you plan for your website, dig deep into your healthcare marketing strategy. To provide value, you'll need a solid content marketing plan and engaging ways to build your audience. Because many visitors will come to your website with specific questions, a top-notch content plan is a must.
2. How can we make a design that is accessible to visitors?
No one will make it to that valuable content if your website is inaccessible. A user-friendly site navigation and intuitive information architecture plan are two of the best investments you can make in the longevity of your healthcare marketing strategy.
When in doubt, keep it simple. Use visual cues and indicators to make finding the right page, link, or contact page a snap. Be sure to monitor bounce and drop-off rates on all your pages to determine where adjustments need to be made.
3. Does our site function as an educational tool?
Customers will head to your website to have their questions answered and validate information they've already received. Therefore, the primary purpose of your website should be to function as an educational tool.
Your content marketing plan will help you make this a reality. Take time to build pieces from your customer's perspective. What are the most common questions you receive? What about misconceptions? What do your healthcare providers wish every patient knew?
These questions add a few more to your list, but they're critical to building an educational tool.
4. Are we prepared to test and update?
These days, all websites need to be tested and updated on a regular basis. This is especially critical for healthcare websites where accuracy and performance matter most.
Of course, the realization that your website design is only just beginning after the launch may come as a surprise. However, shifting your thinking to a growth driven website design will make the process smoother. Treat your website like a garden that needs frequent nurturing and your visitors will thank you.
5. Does our website align with our marketing strategy?
This last one might seem obvious, but hear us out. There's a tendency to design websites in a vacuum, regarding them as add-ons to a marketing strategy. The truth is a website is a core element of a successful healthcare marketing plan.
Many of your visitors will get to know you first online. If your website follows your marketing plan, you'll have a much higher rate of success and conversion. That's certainly a way to knock out obstacles in one fell swoop!