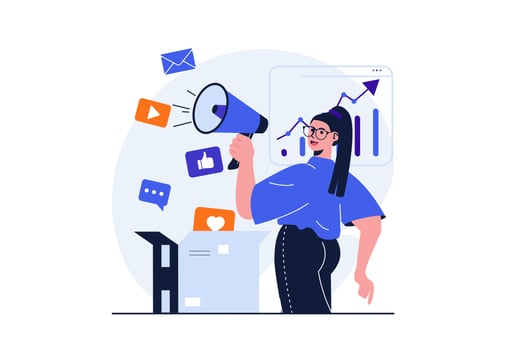 Anyone selling to the healthcare software industry is aware that it's a tough market – dominated by major brands with deep pockets, with long sales cycles and complex purchasing processes. To stand out as a healthcare software company, you need a digital marketing strategy that connects with your prospects, helps increase brand awareness, and delivers tangible results for your investment.
Long story short: When you decide to partner with a healthcare software marketing agency, you need to be sure that you're getting real value for money. Here are a few of the benefits of working with a healthcare SaaS marketing agency:
1) A Great Client Experience
When you work with a healthcare software marketing agency, it should feel as though you've found a trusted business partner, not just a service provider. An experienced healthcare SaaS marketing agency should have a deep understanding of your target market, your unique sales proposition (USP), and your overall business objectives. You need to feel that your partner is ready to help you pivot to respond to the rapid developments taking place in the healthcare sector, and to make sure that your digital marketing campaigns remain relevant to your prospects.
To know that you've found the right agency for your healthcare software business, look for indicators. For starters, determine whether the agency is taking the time needed to understand your products and what makes your company stand out. You should expect them to take a step back from the tactical details of marketing campaigns, to consider your whole online presence and how it could be working harder for you.
Another sign that you've got the partner is if they are able to respond quickly to strategic developments – for instance, adopting a content marketing plan in answer to industry events, or targeting new keywords as they become more salient to your audience.
2) In-Depth Knowledge of the Healthcare Software Sector
One of the most helpful benefits of working with a specialist healthcare software marketing company is that they have highly relevant experience in your sector. This cuts down on the time they'll need to understand your market and your products. Their familiarity with the healthcare SaaS industry means that they'll be able to suggest the best channels for reaching your audience or promoting your content because they are deeply familiar with the competitive landscape and the key players in your niche.
The less time it takes for your marketing agency to get up to speed, the quicker you should start to see results. You'll also waste less money experimenting to find out what marketing tactics will be most effective, and you should, therefore, see a higher return on your marketing investment.
Working with a healthcare software digital marketing agency will also mean that your business can stay up to date with the latest industry trends and respond with appropriate marketing actions. For instance, they should be familiar with how technology developments like AI, telemedicine, and big data are affecting your clients, and be able to suggest content strategies or product marketing tactics that can help position your company as the leading expert on the challenges facing the healthcare sector.
3) A Data-led Approach to Marketing
Another advantage of working with a healthcare software marketing company is that you'll get a handle on the marketing data you need to track. They will be able to advise you on which marketing metrics will push the needle, and which metrics are merely about making yourselves feel good. For instance, lots of web visitors can be great – but only if they are potential customers! Instead of merely looking at lead numbers, your marketing partners should be helping you track customer acquisition cost, customer lifetime value, qualified lead velocity rate, marketing qualified leads and sales qualified leads, among other useful data. By selecting, tracking, and optimizing key marketing metrics, the right agency can help you uncover substantial profit.
4) Useful Marketing Reports
Another great reason to partner with a healthcare SaaS marketing company is that you'll get regular reports, so you can monitor your investment. More than just flooding you with numbers, the right partner will be able to tell you what caused any changes or trends over time – for instance, pointing out how an improvement in your sales funnel has resulted in a higher conversion rate. With experience working with companies in the healthcare sector, they'll be ideally positioned to advise you on marketing automation software that might give your marketing campaigns an extra boost.
5) Relevant, Authoritative Content
We all know by now that content is absolutely vital for marketing to the healthcare software sector. Targeted, high-quality content, such as blogs, videos, guest posts, and webinars, are critical for increasing brand awareness, building trust, establishing your company as an industry authority, and engaging with multiple stakeholders during the long sales process.
However, it can be nearly impossible for small and mid-sized companies to create all of their own content, let alone find the time to effectively promote it. Promoting content is often neglected, but it is fundamental if you want to get any results from your inbound marketing efforts – no matter how good your content is, it won't matter if nobody knows about it!
A great advantage of working with a healthcare software marketing company is that they can help build a content marketing strategy to appeal to your market, and then create and promote your content in the most relevant channels.
The right marketing partners will treat your content as a product in itself, not a series of projects. To get outstanding results from content, you need to think about whether it provides value to your customers or targets – whether it's something that people really want. You also need to consider who your "content competitors" are, which sources your target audience is reading or watching at the moment, and how you can get them to switch to your content instead.
6) Increased Brand Awareness
Now, more than ever, consumers are looking for brands that have well-established values and a trustworthy digital presence. Nowhere is this more evident than in the healthcare SaaS sector. To appeal to healthcare software buyers, you must have a strong digital brand that speaks to your integrity, company values, and industry authority. Doing so gives you a competitive spot among larger and well-established competitors.
According to research by communications firm Edelman, trust is at a particular premium this year. Sixty percent of consumers reported moving their business to a new brand because they felt they could trust the company, and 71% preferred brands that were values-led rather than profit-led.
Building a strong digital brand in a highly competitive industry like healthcare will take a healthcare digital marketing company that understands the end-to-end marketing cycle, not just certain platforms or tactics. The right partner should be equally comfortable building your strategy as they are handling the tactical implementation. They should respond to your feedback and optimize their approach in response to key metrics. And they should be able to help you build a cohesive and appealing brand that stands out in every interaction with your customers, from your website to your social media presence, and from your inbound strategy to your outbound campaigns.
If you'd like to find out more about how Spot On helps our clients in the healthcare software sector to achieve outstanding results with their digital marketing strategies, check out this case study or click here to set up a free consultation call with a member of our team.