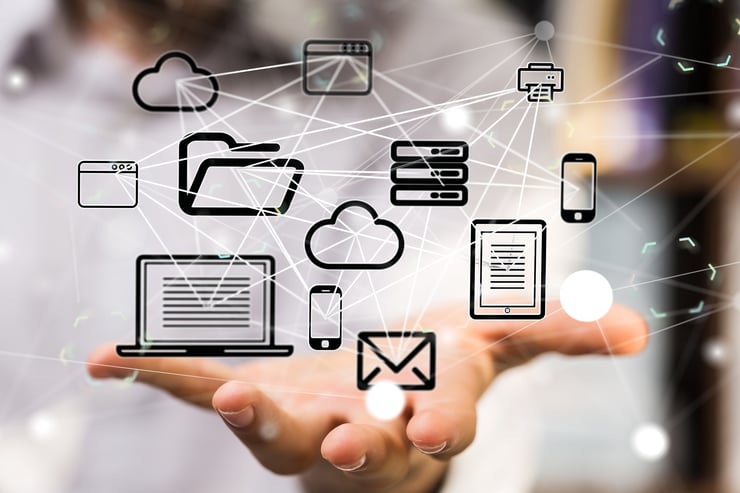 SaaS is a quickly growing field, constantly changing and evolving. As a result, that presents a host of challenges for marketers in the space.
Wondering how to reach the right audience in a crowded market? We created this guide based on our industry experience guiding SaaS clients like you to success.
Predicted to grow by $99.99 billion by 2025, SaaS is packed with opportunities. To reap the rewards, however, marketers will need to adapt to the constantly changing trends. In an industry that exists on the cutting edge of tech, being seen as behind the curve isn't an option.
In this article, we'll cover the main SaaS industry trends and what marketers can do to stay in tune with them.
1. Spending and Vertical Expansion
Overall SaaS spend per company was up 50% compared to 2018. According to Hubspot, even the smallest businesses are using SaaS products without any hesitation, be it a CRM, email marketing tool, or automation software. And for larger enterprises, SaaS continues to be an obvious choice for keeping your teams on track, both individually and collaboratively.
For marketers, this is an important takeaway, since it shows a significant direction in the market. Not only is it important to be aware of what other SaaS companies are doing, but as you focus on increasing sales, know that companies are willing to spend on software and determine which niches your company is focusing on, if you haven't already.
2. Artificial Intelligence (AI)
Artificial intelligence has progressed beyond its infancy, according to Enterprise Talk. The article explains that "AI has been generating major waves in the SaaS business since 2017, and the trend shows no signs of slowing down anytime soon."
For those working in the SaaS space — and indeed the marketing space — this won't be a surprise. It's already a key feature of many SaaS businesses like auditing software Appzen.
It isn't just AI-based SaaS platforms that can benefit from more automation and machine learning, though. Other uses of the technology include:
Building an AI chatbot into your SaaS site can help provide basic customer service and answer common questions around the clock, taking the strain off staff and providing users with a better experience.
Predictive analytics. Today, we're surrounded by more data than ever, and SaaS companies are on the receiving end of a wealth of valuable information. AI can analyze this data and make predictions to help tweak and optimize your company's marketing processes.
With SaaS, people have come to expect a certain degree of customization and user-friendliness. AI is a powerful tool here, allowing platforms to tailor the experience to each individual customer and build solid relationships.
These are all powerful tools for marketers if used correctly. In addition, you should be focusing on AI and showing potential customers the value it can bring to your service every chance you get. Failing to use, highlight, and promote this technology is missing a huge opportunity.
3. The Free Model is Everywhere
Offering freebies is a staple of SaaS. In fact, 44% of SaaS companies offer a free trial. Others offer variations such as freemium models and limited free versions.
This allows customers to try the service before they pay anything, removing friction and guiding them gently toward a decision. There are also many advantages to the free model which apply directly to marketers. Let's explore some of those:
You can reach more buyers. Free trials allow you to get more intimate with your customers, building a relationship and showing them what you can deliver.
You get valuable feedback. In return for the free use of your software, you can ask users to give feedback and tips on how to improve. This is a great way to get thousands of extra pairs of eyes on your platform and gather a broad set of opinions to help you improve and grow.
You gain a ton of qualified leads. After using your platform for the duration of a trial, your leads are as qualified as ever. At this point they're fully aware of what your software can do, they trust your service and product, and they have all the information they need to make a buying decision.
Conversion rates are impressive. Free trials in the SaaS space tend to yield a 15-25% conversion rate, and the best trials can even result in a staggering 60%.
The free model is perfectly suited to SaaS, and it's something all SaaS marketers should consider.
4. New Pricing Strategies and Payment Models
Pricing models in the SaaS space are always changing. The growing popularity of usage-based pricing: "Pay as you go" or usage-based pricing is becoming more and more popular, according to DevTeam.Space. Using this type of outcome-based pricing, you can grow your SaaS business significantly.
Updating your pricing model is rarely a bad idea, and usually yields significant growth. There are many types of pricing options for SaaS companies, from ongoing subscriptions to pay-per-use models.
It's not a one-size-fits-all system, and you'll need to do your own research to find out the best pricing model for your service.
5. Customer Approach is Changing
SaaS customers are changing the way they think about their customers. The focus has shifted to not just attracting and converting leads, but also to retaining them.
As a marketer, you want to retain customers as much as possible. Constantly needing to find new customers is a huge drain on resources, and it's far easier to focus on delighting the ones you already have and building lasting relationships with them.
One way to reduce churn is by prioritizing customer success. You should want to make things as easy and rewarding as possible for your users, and a good way to do this is by being available to walk them through the process of using your software whenever needed.
That means lots of ongoing education and support, continuing to deliver value long after they've become a paying customer.
6. Don't Forget Mobile
The number of mobile users worldwide surpasses six billion and is forecasted to grow by several hundred million in the next few years. Smartphones are one of the primary portals through which we access the digital world.
When it comes to SaaS, mobile functionality needs to be center stage and is being treated that way by the big players in the space. Marketers need to show their potential buyers that software will work smoothly on a phone as well as a laptop. Make this a key part of the marketing process, and don't let your prospects forget it.
The SaaS industry is not just about promoting and advertising your service, but also involves educating and informing your users to help them get the most out of the software and stick around. Paying attention to current SaaS industry trends and best practices is a great way to ensure your company and marketing will stay relevant for customers and future customers.
Working with a SaaS marketing agency that stays on top of industry trends can propel you toward your sales goals faster. You'll save time and money when your marketing partner doesn't have to play catch-up about your industry. Here at Spot On, we've helped several companies take their marketing strategy to the next level. If you'd like to learn more about how we can help, we'd love to talk.