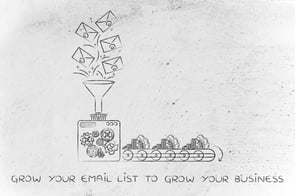 When it comes to email marketing, your efforts are only as good as your email list.
Sure, you can take the easy way out and buy or rent yourself a list. But that's a surefire way to put your IP address in the crosshairs of anti-spam crusaders. The truth is, successfully integrating an email campaign into your comprehensive inbound marketing strategy doesn't typically come to those who take the easy route. No, successful software marketing email campaigns come to those who build their email lists organically, methodically, and over time.
Here's a look at eight ways to organically grow your software marketing email lists:
1. Create Incredible Content
If you write compelling copy for your blog and e-newsletter, you'll likely have no problem getting people to subscribe (and share their email addresses), so they never miss a single word. In fact, if your copy is absolutely amazing, there's a good chance they'll share it with their professional contacts, who could also become subscribers.
2. Show Them How to Share
Equipping your incredibly compelling blog posts and e-newsletter articles with social media sharing buttons is an easy way to raise your copy's profile. So go ahead and show your audience how to share your content by adding "Email to a Friend" and "Share on Social Media" buttons.
3. Segment Your Subscribers
Nobody reads emails just for reading's sake. They can't; there are simply too many emails sent every day (over 200 billion, to be more specific). But your audience will be more likely to click through, read, and ultimately subscribe if your content is targeted to each individual. This means you're going to want to segment your subscribers and make sure your software marketing messages are tailored to each group.
4. Light a Fire Under Old, Under-Performing Lists
You know that old, decrepit email list you don't use anymore? It might still be useful. But you'll never know unless you fire it up and send out an engaging opt-in message. You might be surprised how many old friends are excited to hear from you again.
5. Become a Respected Resource
One of the best ways to get people to fork over their email addresses is to provide them with something in return. Offer up an eBook or whitepaper on a topic of interest to your audience. If it's good enough, your audience will surely offer up their email addresses to download it.
6. Cross-Pollinate
If you're really working to leverage the power of social media, you're probably on Facebook, Twitter, Instagram, LinkedIn, and a few other outlets. Your prospects are probably there, too. But just because people like you on Facebook doesn't mean they see what you've posted on LinkedIn. Make sure you're sharing your content across all social media platforms.
7. Learn to Love LinkedIn
Speaking of LinkedIn... it's a great tool for organically building a solid email list to enhance your software marketing efforts. Start an account. Build connections. Start a group. Then invite all of your connections to join your group – and encourage their contacts to do the same. Before you know it, you'll have more connections (and email addresses) than you ever imagined possible.
8. Ask
It should go without saying, but it doesn't: Always ask people to share their email addresses with you. Every page on your website should include a call-to-action. "Subscribe." "Stay Connected." Make the CTAs large and easy to find. Sometimes all you have to do to get people to share their emails with you is ask.
Remember, your email marketing campaign is only as good as your email list.