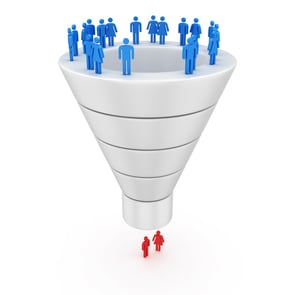 It's been said that necessity is the mother of invention. But innovation's family tree doesn't stop there. Necessity is also responsible for automation, which can be leveraged to create effective software marketing campaigns. Whether you are focused on SaaS or selling niche software applications, automation can make your job easier.
You know, like drip email?
A drip email campaign is a great way to move software marketing leads into and through the sales funnel – especially when you're using it to connect with prospects on LinkedIn.
Drip email campaigns allow you to deliver strategic, pre-written messages to your contacts on a consistent basis. Here's what you need to know about structuring LinkedIn drip email campaigns to convert your software marketing leads into customers:
It's all about the right information at the right time
If you are using LinkedIn as a strategic marketing tool for your service, software, or SaaS, you've probably got a robust profile, thousands of contacts, and a LinkedIn group that you manage.
The beauty of using a drip email campaign is that you ensure that all of the members of your LinkedIn group get the right information at the right time. For example, when a new member joins your group, you can send a well-crafted and automated welcome message right away. This confirms their membership and demonstrates that your group is active and relevant.
A few days later, you can follow up with an email highlighting some of your best content and discussions from the past. This gives your new members insight into what your group is about, pulls them into the conversations, and helps ensure that your messages aren't simply lost in cyberspace. You can keep sending messages at key times throughout the year – before industry trade shows, for example – to make sure your name, business, and LinkedIn group is always front and center.
And it's all automated, so you can be absolutely sure that your prospects are getting the right messages at the right time.
Pen your messages with purpose
There are billions of words written and emailed every day, and your tech-savvy audience is probably seeing a lot of them. So you're going to want to make yours stand out. That's why it's important to pen your messages with purpose. In an age where people are bombarded with words, you need to know why you're writing.
Drip emails are effective for welcoming prospects to your LinkedIn group, providing important updates and information, and nurturing leads. The simple route is to generalize with one version of an email message that can go to many contacts rather than doing the extra work involved in creating multiple, more targeted messages to smaller groups of contacts. Since this is the more commonly chosen route, your messages can stand out simply by committing to a process using personalized variations.
Plan your work and work your plan
At the end of the day, you're using LinkedIn as part of your software marketing strategy. So you need a comprehensive strategy.
You need to know how much information your audience needs (do they even know what SaaS is?) and then have a plan for delivering the right information at the right times.
You need calls-to-action and a structure that allows you to quickly respond, whether to a question or an inquiry about your software or services. And you're going to need to know how you plan to measure success, which will allow you to make changes when necessary and ensure that your software marketing campaign achieves its goals.
Drip email is a necessity
Drip email software marketing campaigns don't have to be complicated, but you do need to know your audience, which involves building a database from LinkedIn; managing a LinkedIn group; crafting effective messages; and having the right software of your own in place to deliver the right messages at the right times.