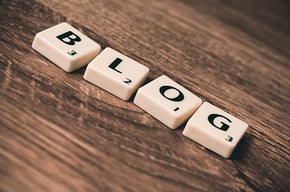 Even if you've only gotten a small taste of what inbound marketing has to offer, youprobably have an idea of how vast the world of inbound marketing really is. Businesses can have entire teams devoted to putting all of the moving parts of inbound into a succinct strategy. There's a lot to consider - from content management and blogging, to analytics and SEO, to community engagement and design, and more still.
It can be easy to get overwhelmed but don't worry! Though inbound marketing is as multifaceted as a prism, as long as you have these five main tools in mind, you'll be able to create an inbound strategy that delivers the results you want.
Search Engine Optimization
Having a good SEO strategy is critical to getting noticed and growing organic traffic. Search engines, like Google and Bing list and rate websites, links, articles, blog posts, and videos according to how well they match what users are looking for when they type keywords into search.
According to a Pew Internet survey, in 2011 92% of adults used search engines to find the information they were looking for, and 59% used search engines every day. That's huge! And adults are using search engines even more today.1
Here are some other statistics that will give you a bigger picture of the impact of search:
Every month 100,000,000,000 searches are conducted on Google.
70% of the links search users click on are organic - not paid.
46% of daily searches are for info on products or services.
75% of users never scroll past the first page of search results.
If your business is not ranking well for the keywords that describe your products and services, then you're not getting found for them by potential customers either.
Blogging
Blogging is one of the best ways to reach potential customers because it can be targeted to reach the right people. It can serve multiple purposes and add a more personal touch to your business message. Businesses are investing a lot more time and money in blogging than they used to and more team members are participating. A few years ago staff members were the blogging heavy weights, but the number of executives and guest contributors has risen markedly in the last year showing a growing investment in blog content.
Nearly 40% of US companies use blogs for marketing purposes.
B2C companies that blog generate 88% more leads per month than those who do not.
B2B companies that blog generate 67% more leads per month than those that don't.
Two-thirds of marketers say their company blog is critical or important to their business.
29% of consumers said they want to see more blogging content from businesses in the future.
60% of marketers are prioritizing blog posts this year.9
Prospects, customers, and search engines all love the content generated through blogging. Prospects, because it helps them understand what you do. Customers, because it helps them stay up to date with you offerings and thought leadership. Search engines because each post represents another page that they can index for a specific topic and feed to others searching that phrase.
Social Media
The number of adults using social media increases every year. According to a Pew Research survey, in 2015 65% of adults used social networking sites. In 2005 it was 7%. If you still think social media is primarily used by millennials, think again. The number of seniors aged 65 and above has tripled since 2010.10 Here's some more food for thought:
93% of US adult internet users are on Facebook8 and 2 billion people use Facebook to search for content everyday.
Marketers who spent 6 hours a week or more using social media and engaging or sharing content on it saw 52% more leads than those who did not.
Companies that use Twitter average double the amount of leads per month than those that don't.
Social media is an effective way to not only create exposure for your business online, but it is a proven way to significantly engage with prospects and generate leads.
Lead Nurturing
Lead nurturing through excellent customer service and consistency preserves customers and adds value to your company at the same time. In his book "Lead Generation for the Complex Sale" Brian Carroll outlines how lead nurturing can multiply your business' revenue by five. And Andrea Johnson of MarketingSherpa.com stresses that marketers "must have a relevant, consistent conversation" with customers if you want them to remain in your funnel.
According to an MIT study done with InsideSales.com, 78% of sales that start with a web inquiry go to the company that responds first.

According to a DemandGen report, nurtured leads produce - on average - a 20% increase in sales opportunities versus non-nurtured leads.
According to Forrester Research, companies that excel at lead nurturing are able to generate 50% more sales- ready leads at 33% lower cost per lead.
In case you're wondering what lead nurturing is, it's any tool you can use to build a relationship with a lead you already have, usually through the medium of email. By sending out a series of emails to the right leads at specific points in the marketing funnel you can ease them along their buyer's journey, while continuing to foster a relationship of trust and reliability with them. Lead nurturing campaigns can have a significant impact because they help you further educate and build relationships with non-sales ready leads in a scalable, effective way.