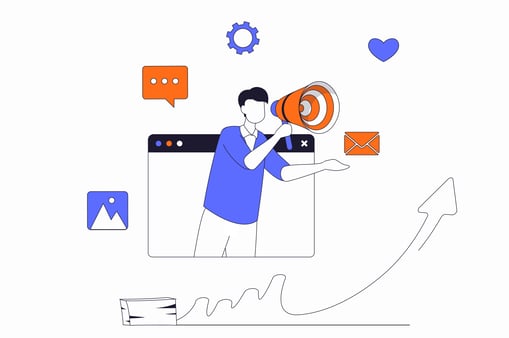 A healthcare software marketing strategy should mean more than finding new leads for your company – don't get us wrong, new leads are vital. However, while a marketing strategy can be applied in any industry, your company may not see optimal results without a partner who is experienced with digital marketing for healthcare software companies.
Healthcare software companies must find an agency with experience targeting their audience, including doctors, nurses, practices, ambulatory surgery centers (ASCs), and hospitals. The agency you partner with should not only have the experience and skills in the following digital marketing strategies, they should also be able share the marketing data that matters the most – and the meaning behind the numbers.
1. Develop a Website Strategy
For many potential customers, your website is their first stop. As a website visitor seeks a healthcare solution, it's important that they can easily navigate and find the necessary information. If your website has usability issues such as pages loading slowly or it doesn't use responsive design, a visitor may leave your site and move on to another solution.
A healthcare software marketing expert can direct your website strategy by partnering with you to determine who your audience is, topics they care about, and the problems that your company solves. Using a digital marketing strategy for healthcare SaaS companies, an agency can develop a website that's not only aesthetically pleasing and functional, but also delivers results based on your company's unique solution.
Once the right website strategy is in place, a marketing agency will deliver data that proves your strategy is working. An agency can share the number of visitors coming to your site each month, page views, the number of conversions on your site, and more. While Google Analytics or HubSpot are good sources for this data, an agency can deliver additional insights using a heat map tracking tool to understand how visitors are interacting with your site and where things are going right – and wrong. Beyond these numbers, an agency can delve into the data to discover whether or not you're reaching your visitors and leads goals, then deliver recommendations to improve your results.
2. Make Search Engine Optimization (SEO) Intentional
One study found that the first organic result on Google receives a click-through rate of 28.5%. Beyond the first search engine results page (SERP), the number of clicks decreases dramatically – which means that to be found in search results, your company's site needs an SEO strategy. It's not just ranking on the first page either; an agency can help you to optimize your pages so that they appear in the latest coveted position – Featured Snippets.
Working with a marketing agency that specializes in healthcare software will conduct thorough keyword research to determine which terms your ideal customer is searching for, including the terms that are low difficulty and have higher search volume. An intentional SEO strategy is crucial for many reasons, especially if your competitors are ranking for the same terms you want your pages to rank for. You must ensure that you're listed on the SERP right alongside (or above) them.
Once your strategy is in motion, an agency will review data about how pages are performing. For example, if you want to rank for the keyword, electronic health record (EHR), an SEO specialist with your agency can optimize your company's pages for relevant keywords. They can share analytics such as position ranking and traffic, and determine if your strategy needs improvement. You won't see results overnight, but it will pay off months and even years down the road.
3. Don't Overlook the Value of Pay Per Click (PPC)
While SEO is a long-term approach, a pay-per-click (PPC) strategy has the potential to deliver new leads quickly. An agency with expertise in digital marketing for healthcare software companies can develop a PPC strategy that will reach your audience at the top of a SERP. Targeting the right keywords, creating ad copy that entices a searcher to click, and guiding them to a landing page with information about your company and product will result in searchers requesting more information about your product.
To help convert casual clicks into leads, landing pages must be a combination of quality and quantity. In the past, landing pages were simple – a couple of paragraphs about your offer and a form to fill out to learn more. Now, searchers are seeking more information upfront, and it's not only the copy. Your landing page should be a mix of copy, informative images, and maybe even a video.
One benefit of PPC is that you can more easily align marketing dollars spent with the number of leads or customers that you received. Your agency will deliver data that correlates your PPC budget and strategy to the results. This includes cost per click (CPC), the number of impressions and clicks, and the cost per lead or customer.
4. Align Your Content Marketing Strategy with SEO
A content marketing strategy should be strongly linked with your SEO strategy. Keyword research will identify the most relevant topics that will guide future content.
One part of your strategy should include planning blog content that appeals to your audience. Using keywords, an agency can create a content calendar and create optimized blogs that attract the right visitors to your site. To guide visitors to the next step, an agency partner can also help you create content that's meaningful enough for a visitor to provide their contact information. This content can come in many forms, such as an eBook, case study, infographic, white paper, video, or even a webinar.
It's essential that you work with your agency to determine the types of content your audience will respond to best. Using A/B testing, they can deliver data that determines which content your visitors and leads are responding to the most, which may include the number of views and/or submissions.
As you move forward with your healthcare software content marketing strategy, you'll have real numbers to back up marketing budget decisions. For example, you may find that a healthcare audience responds best to case studies and video testimonials – because healthcare isn't transactional, it's about providers helping people. And ultimately, they'll want to partner with a healthcare SaaS company that understands that its end goal is to help patients.
5. Include a Video Marketing Plan
A video marketing strategy may be included with content marketing, but it also stands alone as a viable strategy that attracts and converts leads into customers. A healthcare software marketing agency can offer recommendations for video content that has worked for other clients. Videos can offer a valuable human perspective on your product, such as testimonials from healthcare providers who have been helped by your product. Testimonials are one way you can form trust with potential customers as they hear from a real person who has used and trusts your platform.
An agency should deliver key statistics about how videos are performing. For example, if you have a video embedded on your site, how are visitors responding? Are they watching the whole video? And are they responding to the call to action at the end of the video? Answers to these questions can help determine success in a video marketing strategy.
6. Make Social Media Count
With so many messages on social networks, it can be difficult to know if any of your posts are reaching your audience. Coupled with experience working with similar clients, a healthcare software marketing agency can dive into research about who your audience is and where they're spending time before developing a social media strategy. Once you know where your ideal customer spends their time, an agency can create a strategy that engages your audience by sharing all of your best content. This may include videos or testimonials, along with other posts that will engage your audience – both leads and customers. Social media can be the perfect place to request feedback and answer questions about your product.
How will you know if your social media strategy is successful? An agency partner can report key data such as the number of followers, likes, shares, comments, views, and clicks. They can also see the types of posts and networks that are performing best, so you can decide where to focus efforts moving forward.
7. Create Effective Email Campaigns
Everyone is bombarded by email marketing these days, so you have limited time to capture your recipient's attention, especially for a healthcare audience with limited time to read emails. An agency partner can work with you on an email marketing strategy, from gathering leads for email lists to determining the types of emails that will be the most successful for healthcare marketing.
An agency can set up segmented lists with leads in various stages, such as a list of unengaged leads, and another list for new or warm leads. Email campaigns may include a variety of content, providing recipients with industry information or your latest content. Email automation is another way you can nurture leads who may not be ready to make a decision about your product yet. An agency can strategize with you to set up a sequence of emails reaching out to these leads over time.
In order to measure how successful your emails are, a marketing agency can look at analytics, such as emails delivered, opens, clicks, and more, which will also help you to identify the content your emails should focus on.
Working with a HubSpot Partner Agency
Finding the right agency is half the battle – you need a partner you can trust, as well as someone who is familiar with digital marketing for healthcare software companies. You also can't ignore the importance of understanding the data behind every marketing strategy.
Whether you already use HubSpot as your content management platform or you're searching for a better solution, consider how a HubSpot partner agency can serve as a marketing strategy expert in your field, as well as someone who can implement and utilize a content management platform to the fullest.
Read more about how Spot On has successfully partnered with healthcare software companies or contact us to see how we can do the same for your company by scheduling 30 minutes or an hour with one of our team members.
Download our guide to learn more about best practices for a digital marketing strategy for healthcare software.