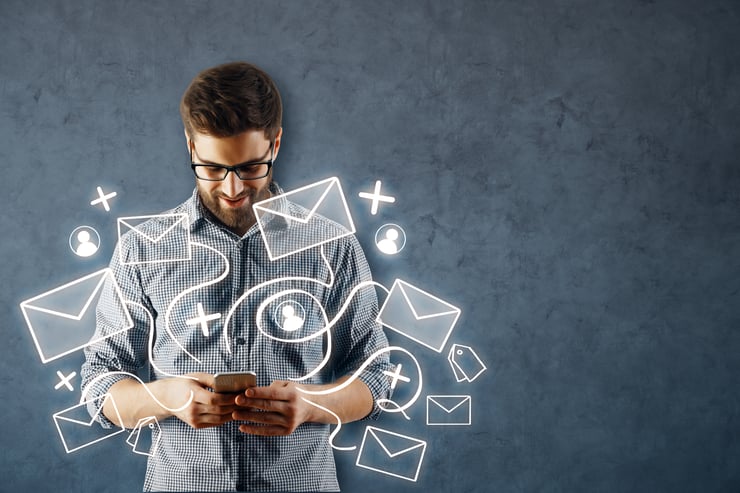 With all the buzz about social media, SEO, and CRO, you'd be forgiven for thinking that email marketing is yesterday's news. In fact, nothing could be further from the truth. When done well, email marketing can have a significant return on investment for healthcare software marketers.
Why Email is Perfect for Healthcare Software Marketing
So, what makes email marketing so effective for a competitive industry like healthcare software? For one thing, unlike social media, pretty much everyone uses it! According to Statista, the number of active email accounts has soared from 4.1 billion in 2014 to 5.6 billion by the end of 2019. Your target buyers are pretty much guaranteed to have email, and they are likely to spend a lot of time using it – the Harvard Business Review reports that the average professional spends 28% of their workday reading and answering email.
For another thing, email marketing is uniquely suited to the three most effective digital marketing techniques: segmentation, automation, and personalization. With an email marketing campaign, you control how and when you interact with your target customers. In the healthcare market, where building trust is particularly essential, being able to customize your interactions with your prospects is a very effective way to start building a relationship.
Finally, email marketing has proven itself to be highly successful. In the notoriously uncertain realm of content marketing, email marketing is consistently ranked as the most effective marketing channel, outperforming social media, SEO, and affiliate marketing. In the long buying cycles involved in healthcare purchasing, email can help you keep front of mind with multiple stakeholders over the weeks or months it can take to reach final sales closure.
What Makes a Great Marketing Email?
That said, not all email is created equal. Nothing will get you blacklisted faster than spammy, poorly written, or irritating email campaigns. Obviously, the first rule of engaging email marketing is to ask your contacts for permission before you send them anything. But once they've given you permission, there are still some guidelines to follow to keep your prospects happily subscribed to your emails and increasingly warming up for a purchase.
1. Mind your manners
As marketing expert Neil Patel puts it, "­­­Remember, you're a guest in their inbox." Healthcare buyers receive overwhelming amounts of information by email – pitches, advertisements, industry updates, information from colleagues. Regardless of the purpose of your email, the first function of email is to build a relationship with your prospect. This means that you have an obligation to be interesting, useful, and brief.
2. Get the subject line and preview right
This is perhaps the most important content of all. The email subject line is what tells the client if they should open your email or ignore it. As Optinmonster puts it,
"People open your emails if they feel they will benefit, if they're worried about missing out, or if you present compelling evidence about why they should."
Emails with subject lines like "[Your Software] 's October Newsletter" are therefore unlikely to make the cut. Even if you're sending a monthly news round-up, choose a subject line that reflects the most interesting or relevant content you're including.
Put careful thought into the preview text as well - the text that follows the subject line in most inboxes. You need your email to sound professional, friendly, and above all, not too heavy on the sales pitch – or they'll never get opened at all.
3. Go back to basics
To make email work for you, you need to head back to your marketing strategy and consider your buyer personas. What will they be most interested in reading? What will bring them value? What kinds of content will they be pleased to receive on a Tuesday morning when they open their inbox? You should also make sure that you're clear on the purpose of each email you send – and don't forget to include a call to action!
Tips and Tricks for Engaging Healthcare Software Emails
Okay, so you're clear on what needs to go into your emails – but you still need a plan to make email work for you. Here are five questions to ask yourself - whether you're starting out with email marketing or need to boost you campaigns:
1. Do you have permission?
We've mentioned this before, but it's worth revisiting. If your prospect does not want to receive email from you, they will perceive anything you send them – no matter how useful, well-written, or beautifully personalized – as an invasion of their space and a waste of their time. At the beginning of any email series or campaign, remind your readers of why they are receiving the email from you. Make your unsubscribe button nice and visible. Make sure that the people receiving your emails actually want them!
2. Are you being sensitive about data security?
On that note, any email marketing initiative must be sensitive about how data is handled – and this is especially true in the healthcare sector. In the words of healthcare marketing strategist John G. Baresky,
"Take maximum precautions to ensure your audience and your organization are as protected as possible. Likewise, always be cognizant and fully compliant with any privacy standards which apply. Security and privacy issues are at the forefront of our Internet society, and their significance is highly magnified in the healthcare sector."
3. Are you taking advantage of automation?
Email marketing works best when you plan out the journey your potential customer is on, then build a customized email series based on their unique set of interactions with your company. Today's marketing automation tools make it easy to create highly personalized email journeys for different customers. For example, you could send one email series to customers who have downloaded a white paper, going into more detail on the topic discussed. Another might be aimed at people who signed up for a webinar, and so on.
4. Have you thought about frequency and timing?
When it comes to email, more is not always more – bombarding prospects with emails can seem overwhelming and off-putting. 45% of people surveyed by Adobe said that they were most likely to unsubscribe from lists that sent too many emails. You may need to take a look at your open rate data to figure out how many emails you should send, and when people are most likely to look at emails you send.
5. Did you remember to include a call to action?
In most cases, each email should have only one purpose. Maybe you want people to set up a sales call, answer a question, read a blog, visit your website, or try a demo of your software. In every case, you must remember to make the ask – include a clear call to action in your email content that makes it easy for people to take the next step. You can only measure the success of your emails if you know what you were trying to do with them.
Email marketing can be a fantastic way to improve your conversion rates and generate more business for your healthcare software products – but only if you take the time to get it right. If you'd like to learn more about how we help healthcare software companies set up winning email marketing campaigns, please click here to set up a call.