You've mastered the first step of inbound marketing: increasing web traffic by using great content and a mixture of SEO tactics. Since blogs are often the entrance point to a website for organic traffic, you need to ensure your blog design has the ability to engage and convert visitors. According to Google Analytics, in 2015 blogs had the highest bounce rate compared to all other website pages at 70-98%. So how can you convince readers to stay once on your blog once they've arrived, and how do you move them further along the inbound process?

Here are 7 key elements to include in your blog design to help engage and convert visitors: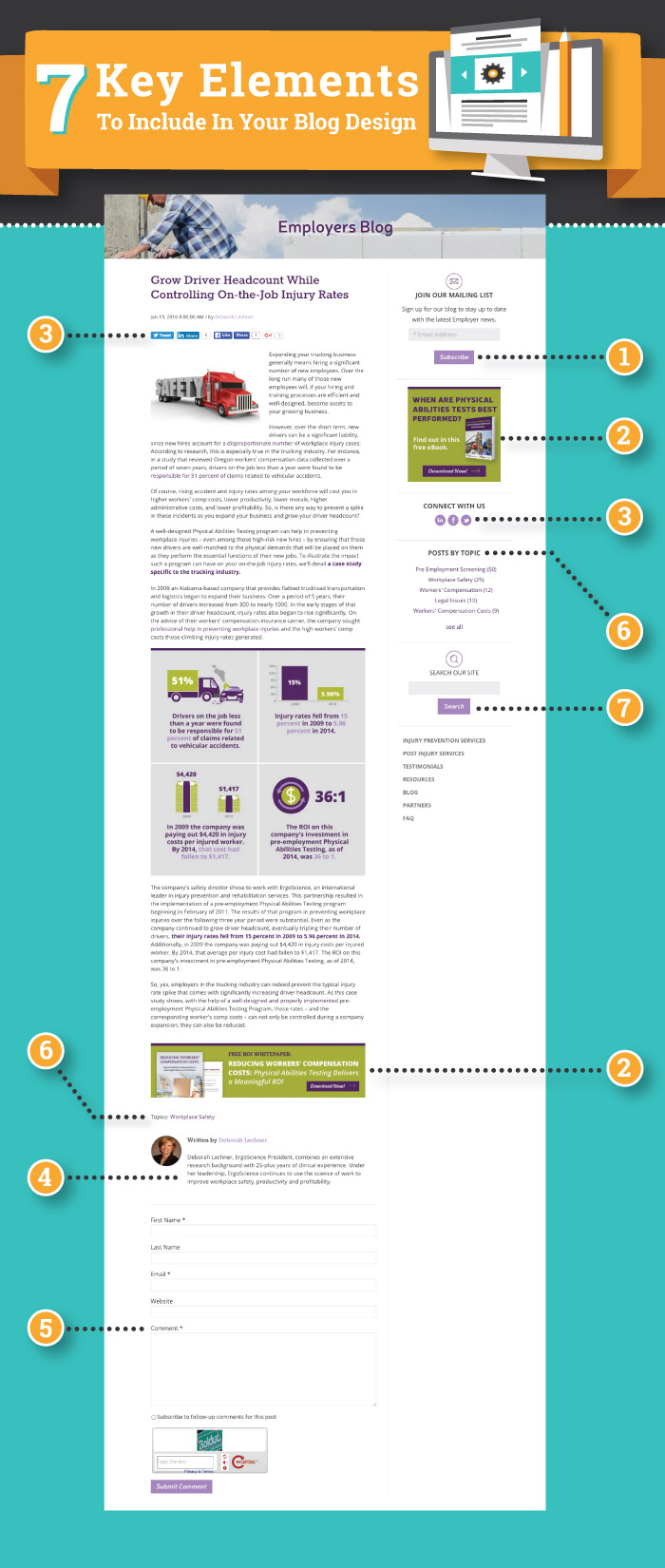 1. Subscribe Form
First and foremost, the main point of attracting visitors to your site is to convert them into leads. In order to do that, add a subscribe form to your blog post and listing pages so that readers can opt in to receive news periodically via email. This way you will not only capture their email, but you'll also remind them of your business each time they receive your latest posts. If you blog regularly, add a frequency option for selecting how often articles will arrive to a reader's inbox. Inundating your mailing list with emails can often deter your prospects and cause them to unsubscribe, so giving them a choice can help lower that risk.
2. Call to Action Buttons
Another way to snag that email address is by using calls to action, aka CTA buttons. CTA buttons link to landing pages. Landing pages offer something of value to the visitor (i.e. free consultation sign-up, eBook download, webinar registration, etc) in return for their basic contact information. There are a number of different ways you can incorporate a CTA into your blog post. The two standard places to embed a CTA on your blog is at the top of the sidebar and the bottom of each individual blog post. The CTA at the bottom of your post should relate directly to the content within the article. Slide-in CTAs are another great choice. They appear at the bottom of the screen once a reader is finished, capturing attention, but not aggravating visitors as typical pop-ups often do. Exit intent CTA's can work as a last ditch effort. They appear when a visitor is about to abandon the page. Finally, HubSpot has seen success with adding a plain text link CTA near the top of their articles, below the first or second paragraph. You can mix and match these options to see what works best for your audience.
3. Social Media Links
Social media can play an important role in generating awareness about your organization and keeping readers engaged. All blog posts should have social sharing capabilities. This way, if a reader likes what they see, they can choose to spread the word on their social channels. "Sticky social share" – where the icons stay fixed in a sidebar on scroll – is a nice reminder to pass along material that may be useful to friends or colleagues. Another must-have pertaining to social media on your blog is a "follow" module/widget. Follow links take the visitor directly to your social pages, where they can browse your history and "like" or "follow" your company to stay in the loop.
4. Author Information
Aside from displaying the author's name at the top of a post, allow the visitor to get to know each writer on a deeper level. Including a small photo, short bio, and personal social media links at the bottom of each post can help to build a personal connection and showcase expertise in your industry.
5. Comments Section
Comment sections let the readers' voices be heard, be it questions about a topic, opinions, or concerns. You can use this area to reach your audience directly, so make sure to monitor comments and reply to them in a timely manner. Don't forget to add a spam filter and email requirement to block out junk submissions.
6. Topics List
A visitor read your article and loved it, yay! What now? They may want to browse related articles, so include a topics or categories list to lead them to additional reading. Topic sections can also serve to prove that you have a vast amount of knowledge in your field beyond the initial subject. Last but not least, topic tags are recognized by search engines, so it's an excellent place to display your best keywords.
7. Search Functionality
Your personas have questions, and you the have answers. Lead readers to other useful content by providing search capabilities on your blog. Visitors can target keywords using a search bar to quickly find what they are looking for. Remember, a visitor won't need to leave your blog or website if they attain the answers they need within all of your valuable resources!
These blog design tips can be implemented when you first build your blog or after you start to gain momentum. It's the high-quality content that gets a reader to your site, but it's what they read, see, and click on next that can keep them there and convert them from visitor to lead.