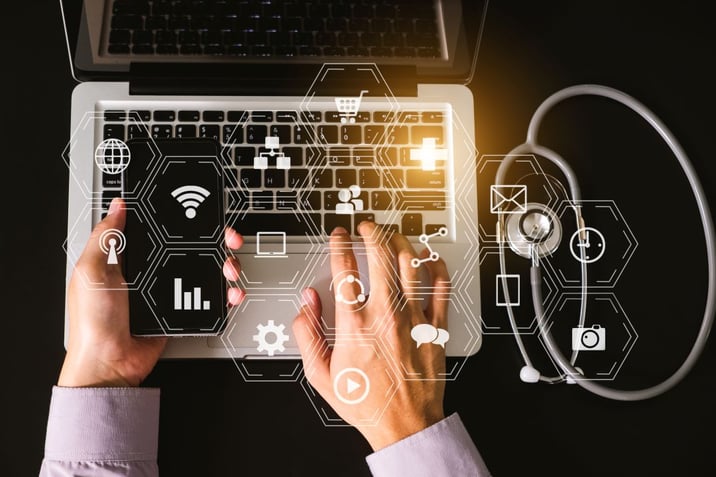 Any healthcare organization or company will tell you that marketing is one of their biggest challenges. As new issues arise every day, healthcare IT companies are working harder than ever to reach their ideal buyer.
It's essential to remember that digital marketing trends in healthcare will come and go, but nothing can replace a steadfast digital marketing strategy.
However, even more valuable than a strategy is an agency that specializes in marketing for healthcare IT companies like yours. A true partner is an agency that not only works with your company to create strategy, but one that can implement and pivot when unexpected challenges arise.
So, how can a healthcare digital marketing agency help your company? If we could count the ways, we would, but the advantages are extensive. Here we'll explore how partnering with a healthcare software digital marketing agency can position your company to reach the healthcare practitioners that need your platform the most.
Help Your Audience Find You with Search Engine Optimization (SEO)
No one knows your company's name, they can't find your website in search engine results, and you're not receiving enough visits or leads from your website. Sound familiar?
SEO often sounds like just another buzzword that marketers use, but the truth is that SEO isn't just a passing trend; it's a tactic that can help bring your company's website to the top of search engine results using the terms your audience is searching for and result in better engagement with your ideal customer.
While SEO can be completed using an in-house marketing team, many healthcare IT companies find they would rather dedicate their internal resources elsewhere, which means leaving the SEO to the experts – and those who are already familiar with optimizing for healthcare IT. In addition, SEO for healthcare can be highly competitive and difficult to navigate on your own. For the most part, there aren't really trends to follow with SEO, but rather ongoing changes to search engine algorithms and the way in which searchers find your company's website.
By partnering with an agency, SEO experts ensure your website is following the latest changes, do all of the keyword and competitor research, create an SEO strategy for your company, and optimize each page. This way, when healthcare practitioners are ready for your solution, they'll will have no problem finding your site.
Last but not least, SEO should never be a one-time job; as keywords and healthcare trends continue to change, so should your website. An agency skilled in SEO for healthcare will make decisions based on real data – rather than you having to guess what your future clients might be searching for.
Use Content Marketing for More Conversions
Once SEO is in place on your website, what's next? Just because you have visitors does not mean that they're taking the next step by reaching out for more information. Often, visitors might not be ready to take the plunge and purchase your product or service right away – this is why content marketing must come into play to nurture and convert the right visitors into leads – and eventually – into customers.
Really, SEO and content marketing should go hand in hand from the beginning, as organic search is one of the best ways to promote the content you create. In fact, it may be more important than ever that healthcare IT is utilizing content marketing – just with a shifted focus on the topics that are most important to your audience, such as telemedicine appointments, communicating and following up with patients remotely, and more.
While the types of content you develop will vary, an agency can serve as a priceless partner to not only create content but also promote it and help you to convert more leads. Content marketing trends are constantly changing, but some tried and true mediums include blogs, case studies, white papers, eBooks, videos, and infographics.
Video content has been trending for several years now – and it shows no signs of slowing down. It's the perfect medium for healthcare IT companies to share their story in a more human, personalized way. Testimonials from current clients are one of the best ways to communicate that your product or service is trustworthy and can nudge a lead who is almost ready to take the leap with your platform. Depending on your needs, an agency can arrange everything from interviewing your client to recording and editing to promoting your videos through the right channels.
In healthcare IT, your company may be targeting an audience who can afford to take their time searching for a solution because they already have a platform – but need something that better fits their organization's needs. Or perhaps they need a solution quickly with very little time to consume content. Either way, you should be prepared to create engaging content that can either nurture existing clients or easily convert potential clients.
This approach calls for a digital marketing agency specializing in healthcare that can help you to navigate creating content that reaches healthcare practitioners who face changing needs every day. It's crucial that your content marketing educates your audience with information about how your solution can make temporary challenges easier to navigate. Beyond helping you to create the right content, an agency can recommend the best channels for distribution, such as website placement, social media, and email marketing. In particular, email marketing can serve to perfectly deliver your content by nurturing cold or lukewarm leads into customers who are completely sold on your product.
Engage Future Customers with a Website Redesign
What is another problem healthcare IT companies often face? While their website may appear to have all of the bells and whistles, a beautiful website alone isn't enough to engage users. If your website is difficult for visitors to navigate, is not responsive to the device they're using, or loads too slowly, you'll run into trouble. In that case, you may find that you're receiving few to no conversions and far too many bounces across your website. Plus, consider that a web design that was completed several years ago may no longer be following best practices or focusing on the topics that are most relevant for your audience.
Much like SEO and content, a website should be constantly evolving to address the latest challenges healthcare practitioners are facing – and, of course, how your platform serves as the solution they need. For example, with most healthcare practitioners focusing on delivering the safest and best care for their patients, they may be looking for better ways to schedule virtual appointments as well as ways to better communicate with patients they're no longer seeing in person. If this is a problem your platform can help address, it should be prominently featured on your home page.
An agency can uncover where your website falls short and redesign each page so that it's optimized for the user experience as well as to reach your ideal customer and ultimately convert them into a lead.
In fact, a web redesign brings together the solution to some of the major pain points we already discussed. With SEO, a website that is no longer optimized or has a poor user experience won't perform well in search or bring the right visitors to your site. With content marketing, if you don't have the appropriate conversion points placed around your site, you may have enough visitors but no lead conversions.
Choosing a Digital Healthcare Marketing Agency
It can be difficult to know where to begin when it comes to choosing an agency. To start, take a look at our article with eight things to look for in a healthcare digital marketing agency.
How Spot On Can Help Healthcare IT Companies
As a HubSpot partner agency, Spot On has helped much healthcare IT companies improve their digital marketing strategy. But, enough from us, hear what they have to say about working with our team.
Jake from Cureatr, a medication management platform said:
"With an internal marketing team of four, it is impossible to focus on everything involved in executing a successful inbound strategy. This is where Spot On has really helped; they are incredibly responsive to any request, whether it is helping set up a workflow or campaign, making minor changes on our website, or developing new web pages, Spot On is on it. They are also very good at taking our feedback in design and executing our vision."
Dan Tash from Prevounce, a platform focused on preventive care, chronic care management, and remote patient monitoring, said:
"We spent a long time looking at different inbound marketing firms prior to Spot On. With each we talked to, we felt like they were either too big to give us the personalized attention our startup needed, or else too small to have the experience required to guide sales in our niche of the health IT/software industry. Spot On strikes a great balance of having extensive experience and knowledge while still being agile enough to give in-depth and personalized service. Since starting with Spot On around three months ago, they have drastically improved our marketing voice and strategy. They are currently overhauling our webpage, and each page that has come out so far has been a huge improvement. We are also starting to implement a new PPC strategy. Although it is still early, all signs point to it being much more effective than our prior paid advertising attempts. If you are looking for an approachable and experienced agency, you should definitely consider Spot On - especially if in healthcare IT."
If these results resonate with the solutions you're looking for, schedule a time to chat with us to learn more about how Spot On has helped other healthcare IT companies and discover how we can support you. If you're not ready to take the next step, discover how you can build a successful healthcare digital marketing strategy with our guide created specifically with healthcare IT in mind.