Looking for a digital marketing agency? The questions asked of you by prospective firms can be just as important as the questions you ask them.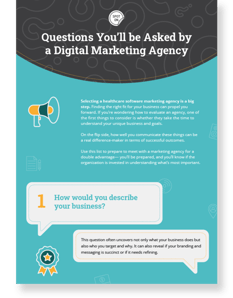 When performing research for a new service provider partner, a best practice is to approach firms under consideration with questions intended to help you learn more about potential partners and their services. But when it comes to evaluating healthcare software digital marketing agencies, equally critical are the questions that prospective partners ask of a company.
Why? The right partner agency will want to learn about your business and goals so it can better explain how its services and solutions can meet and exceed your needs. And if you choose an agency that has taken the time to learn about your company, you will be starting the partnership on a more solid footing.
Fill out the form on this page to download an infographic that provides 10 of the questions a digital marketing agency may ask of you and explanations of why each question is important. By using this list, you can better prepare for meetings with prospective partners. You will also put yourself in a stronger position to assess whether the agencies you are considering are likely to be invested in your success from the start of a partnership.