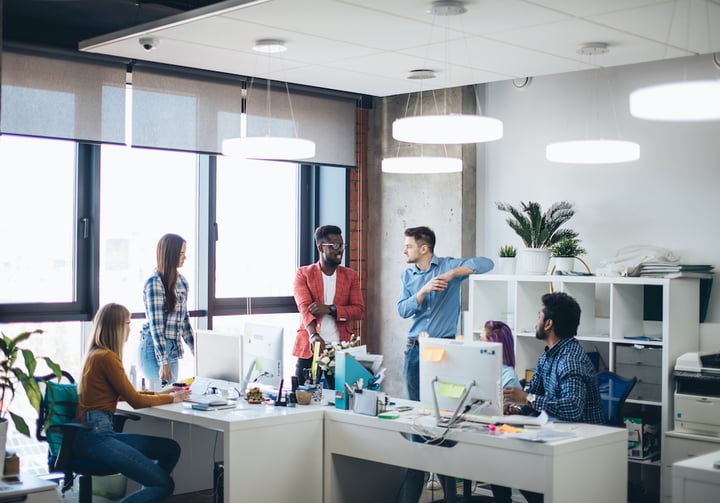 As you seek a marketing partner to help your healthcare software company, you may be torn between choosing to work with a freelancer, an agency, or even hiring someone to work for your team in-house. There are pros and cons to each, but most importantly, you should make the best decision for your company and ensure that whoever you partner with is the best fit for you and vice versa.
It's also tough to ignore the major challenges and changes that the events of 2020 brought for everyone in healthcare – from providers to software solutions. As we move forward, it's crucial to consider how this has required a shift in how marketing will be done for your company as well as how it will impact how much support you need in the year ahead. With that, let's take a look at some of the pros and cons of working with a healthcare software marketing agency vs. freelancer vs. in-house hire.
Freelancer vs. In-House vs. Agency
As a healthcare software digital marketing agency, we admit that we have some bias when it comes to choosing from these three options. However, even with all of the cards on the table, we believe you should ultimately choose the best option for your company.
Freelancer
Pros
Often more affordable than an in-house hire or agency
Available for short-term projects
Flexible for last-minute projects and fast turnaround time
Cons
Lack a diverse skill set as your company's needs change
Limited time to work on projects if they're juggling several clients
Less healthcare industry experience
In-House Hire
Pros
Fully dedicated to your company
Immersed in your business and culture
Can sharpen their skills according to your company's needs
Cons
Less flexible to changing strategy needs
Has a particular skillset and may be limited in what they can offer
Greater investment and risk if the person leaves for another job
Agency
Pros
Has industry knowledge and experience
Team of healthcare marketing consultants, each skilled with their own expertise
More time and resources to dedicate to your company
Cons
Typically costlier than a freelancer or an in-house hire
Works with many clients, so time dedicated to your account will be determined your investment
Keeping these pros and cons in mind, let's explore several reasons why working with a healthcare software digital marketing agency could be the best option for your company.
Reasons to Work with an Agency: Healthcare Digital Marketing for Software
Industry Knowledge and Experience
As a software company marketing a product to the healthcare industry, it's vital that the agency you partner with not only understands your product but also brings years of marketing experience working with healthcare software companies.
An agency focused on healthcare digital marketing for software will bring proven experience and should be able to demonstrate its expertise in the form of case studies and client referrals. Before you take the next step with an agency, ask to see a couple of case studies that show how they've helped other companies find success. And don't be afraid to ask for client referrals – a satisfied client won't be afraid to share their experience and can help you discover sooner rather than later if a certain agency is a good fit or not.
Marketing Experts
When you work with an agency, you immediately gain an entire team of healthcare software marketing consultants skilled in their area of expertise. On top of healthcare industry experience, your agency team will have marketing experts in every area, such as designers, developers, writers, editors, content creators, SEO strategists, and more.
While every agency is different, the idea is that one person shouldn't run the whole show. With an agency, you'll find that every person is focused on one or two specialties, and they excel at what they do. In contrast, you may find that working with a freelancer or in-house hire may have a limited skillset – which isn't always a bad thing, but if you're looking to make the most of your investment, an agency may be a better fit.
Time and Resources
By hiring a digital marketing agency, your company's ability to focus on marketing will immediately expand. You'll gain time and resources as your marketing strategy is delegated to a team of healthcare marketing consultants. For example, if you hired a freelancer or in-house, that person might have to juggle roles like social media manager, writer, and website manager – all in one day. But with an agency, you have several experts available to focus on high-priority tasks in a shorter amount of time.
As far as resources, you'll find that an agency has garnered an abundance from working with other clients. They already know where to find information or solve a problem. For example, if you want to add new technology to your website, such as a chatbot, an agency will already be familiar with available options. Other resources might include tools to improve your company's marketing, such as a content management system like HubSpot.
Ability to Create a Strategy
As healthcare continues to evolve, your marketing strategy should be shifting too. A team of healthcare software marketing consultants on your side is invaluable and will set up your company for success not just through the services they offer, but the strategy they create and implement.
Rather than simply delivering a list of services and checking a box on a to-do list, partnering with a healthcare software digital marketing agency means that they will work alongside you to create and fulfill the strategy that works best for your company. Whether that calls for a website redesign, creating more content, or increasing social media engagement, an agency that is experienced in healthcare software will consider every aspect of your strategy from the audience, to lead generation, to analyzing the results of a campaign.
Flexibility and Scalability
Flexibility and scalability go hand in hand, and both are other reasons that working with an agency can be beneficial. As previously mentioned, healthcare is only going to continue pivoting this year, so software companies may need to frequently shift how they're reaching out to their audiences.
Flexibility
An agency can be more flexible with the changing needs of your company. For example, you may want to initially focus on redesigning your website. Later, you may need to work on content creation. On the other hand, if you were to hire an in-house marketer or freelancer, their expertise may be limited to only one area, which can limit their ability to be flexible for different projects and your company's changing needs.
Scalability
In addition to flexibility, your company's marketing may require scalability. As your needs change, the support you require from an agency may ebb and flow. At times, you may be able to maintain your planned strategy; however, at other times you may need to lean on your agency for more help. Luckily, an agency is able to tap into its team's talent as needed. For example, an agency can expand its team to accommodate your company's workload, whereas a single freelancer or in-house marketer might not be able to handle the additional work or even have the needed skill set to support your company.
How Spot On Helps Healthcare Software Clients
In addition to being a HubSpot Partner Agency, Spot On has partnered with several healthcare software clients over the years. For example, one of our clients is Prevounce, a company that offers practice-specific, software-based programs for preventive care, chronic care management, and remote patient monitoring.
Not long after partnering with Spot On, Prevounce saw its website increase from zero organic search results to ranking for several high-volume keywords on the first page of Google, which ultimately led to a 1,600% increase in deals. Read our case study to learn more about how Spot On helped Prevounce.
If you'd like to learn more about how Spot On can improve your company's digital marketing strategy and results, schedule a time to chat with us.