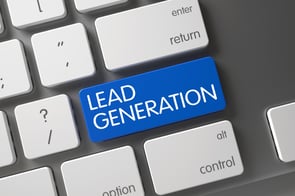 If you're hemming and hawing about the difference between inbound and outbound marketing, we have a quote for you:
"If you've got more money than brains, use outbound marketing. If you've got more brains than money, focus on inbound marketing." —Guy Kawasaki
While there are good reasons to utilize outbound marketing methods (also called interruption marketing), it's pretty expensive, and the results are not as easy to predict or analyze.
Inbound marketing, on the other hand, relies on the continuing evolution of brand development. Social media, including the use of LinkedIn, is a valuable tool for aspiring healthcare marketing teams.
Boost lead generation using effective LinkedIn strategies
There are multiple ways that expanding LinkedIn lead generation improves your inbound marketing strategy. If you don't actively use LinkedIn at this point in the game, stop here and read our blog post on the best tips for LinkedIn lead generation.
Otherwise, focus efforts on the following three strategies:
Pair LinkedIn with existing inbound efforts
First, have a clear understanding of how LinkedIn partners with current inbound marketing efforts. Sometimes healthcare entities and/or their employees' LinkedIn accounts operate in a vacuum, very separate from what the marketing team is doing with the website, blogs and social media accounts.
If this has been your M.O., it's time to:
Clearly identify your target personas
Be patient; like all SEO/inbound practices, it takes time for prospects to trust you're serious and not just hounding them for a quick sale
Curate those personas so you can build a database of well-qualified leads
Form the right LinkedIn groups (see below)
Use Drip campaigns (also see below)
Once you've done all of the above, you'll feel the cumulative effects of your efforts in the form of increased lead generation.
Drip, drip, drip into their consciousness
Sometimes "buy now" marketing tactics are obvious and in-your-face. Other times they reveal themselves via short, powerful bursts of information and requests that peter out quickly when prospects don't respond. Neither of these effects is considered nurturing.
When you use a LinkedIn drip campaign, highly targeted information is sent to just the right people every single day, weekly, monthly, and quarterly so your name is never far from their thoughts. Over time, you'll prove yourself to be a thoughtful, savvy industry leader. Plus, you get to control the flow of information, which gives you a weighted advantage.
Start a LinkedIn Group
While person-to-person connections are valuable for network building, there's only so much time to make those connections in person. Starting a LinkedIn Group is an effective way to reach dozens—or hundreds—of the healthcare professionals you want to rub elbows with.
Not sure how to go about starting a group? Read this first.
There is power in professional referrals. Your reputation among other specialists and healthcare providers matters because the more they know you, trust you and consider you an authority in your niche, the more likely they are to refer you to patients and others. Becoming the proud founder/owner of a LinkedIn group is a smart way for these powerful leaders, qualified leads and lead referrers to learn more about you while cultivating their trust.
An added bonus: since most healthcare professionals aren't marketing gurus, your LinkedIn group members will be grateful that your group has connected them with other important leaders in the field. You've just saved them a ton of time and energy.
Don't let a vacant, dry or barely-there LinkedIn account lie dormant. Revitalize it and see the difference it can make for your inbound marketing strategy.