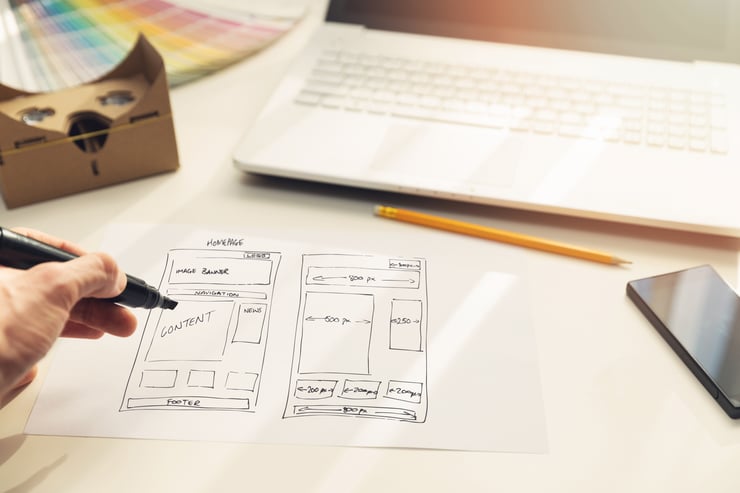 Your company's website is the most important marketing asset you own, which is why it's critical to ensure that it looks, functions, and performs exactly as needed. If your site falls short in one or more of these areas, you should re-evaluate your web presence.
Traditionally, the only way to improve your website was to scrap it and start from scratch. Now, there are new ways of updating your site using website improvement methods, such as data-driven design or a website audit.
Data-driven design is an ongoing process for website improvements that incorporates strategy and uses research and real user data to drive results. A website audit is a one-time deep dive into your site's strengths and weaknesses that concludes with a comprehensive report including actionable solutions to improve your website's performance, on both the front and back end.
So how do you decide which method is right for you? Take these five points into consideration:
1. State of Your Current Website
The most important aspects to consider when determining whether you need a new site or can improve upon your existing one, is the visual and structural state of your current website. If it's been a long time since your last full redesign it may employ an outdated look and approach, including, but not limited to:
3D design techniques
Dramatic text drop shadows
Full width banners with fixed width content
Generic, inconsistent graphics
A non-responsive or separate mobile site
Numerous pages with minimal content
Walls of text
No visual hierarchy
If these features sound familiar, it's likely time to implement a new website design and begin with a clean slate. For more information to help you determine if now is the right time for an overhaul, check out our article, 12 Signs It's Time for a New Website Design.
On the other hand, if none of this rings a bell and your site is clean and modern with easily digestible, user-friendly content, data-driven design or a website audit is likely a better fit.
2. Website Goals
Ask not what you can do for your website, ask what your website can do for you! Famous words by JFK, or am I getting mixed up? 😉 All joking aside, what is it that you want out of your website?
Is your goal to have a beautiful site that educates your audience and is a one-and-done project? If so, a website redesign is a great fit. Tesla recently redesigned their site with immersive design elements, allowing the product to speak for themselves. This kind of design is very engaging and keeps the users glued to the page.
Do you want a beautiful site that educates your audience AND follows best practices for the user experience and SEO, as well as increases the opportunity for website conversions? If so, a website audit is a great fit, and is also a one-and-done scenario.
Is your goal to obtain all of the above, as well as research and track real user data in order to make informed ongoing improvements that produce optimal results and turn your website in the ultimate sales tool? If so, a data-driven design retainer might be a great fit.
3. Timeline
The three types of website plans can be categorized into three time frames: average, agile, and accelerated.
Average

Depending on the size of the site you need, a standard website redesign is typically the biggest undertaking. When you take copywriting, design, revisions, and development for an entire site into account, it could take anywhere from three to six months.
Agile

Agile describes data-driven design in more ways than one. Not only is it a fast-moving process, it's also approached similarly to the agile method of software development based on sprint periods. After the set-up and strategy phases are complete, changes are guaranteed on a monthly basis. This is a completely different ballpark than a website retainer, where you could pay a monthly fee and get little to nothing in return.
Accelerated

By far the quickest way to improve your site is with a website audit. Depending on the plan you select, you will have all the information you need to take your website to the next level within two to four weeks.
4. Pricing & Payment
Two economic factors to take into consideration when determining a plan for website updates are pricing and payment. Pricing alludes to how much the service will cost, and payment refers to how often and in what increments you will be paying.
Websites redesigned by experienced professionals typically start in the $8,000 range and can span to $40,000 and beyond, depending on the functionality, number of pages, and the amount of customization desired. Payment is often divided into two installments, 50% up front and 50% upon completion.
Data-driven design pricing can range from $3,000 – $5,000 a month. Some agencies may require full year contracts, while others manage it quarterly. It's recommended to make the commitment for three months minimum in order to start seeing results. DesignRush recently named the best website design companies of 2020, read them here.
Not only is a website audit the fastest way to improve your site; it's also the least expensive. The basic level audit is a one-time fee of $2,400 and includes a comprehensive report along with SEO audit documents.
The audit with SEO boost adds on keyword analysis for you and up to three competitors, analytics review, survey set-up, meta data suggestions as well as a proposed new sitemap and costs $4,950. If you don't have the capacity in-house to make the edits yourself, your agency can provide an estimate to make all the changes come to fruition.
5. Internal Capacity
The last point to review is how much of a role you'd like to play in your website update.
Hands Off

For a new website design, agencies usually take full reign of the project, writing copy, designing and developing your site, freeing up your time to focus on your daily tasks.
Hands In

Data-driven design agencies function more as partners than simply a vendor. A data-driven design agency is dedicated to the success of your website and company. You'll meet either in person or online on a monthly or weekly basis and new ideas will be brought to the table by both parties.
At the beginning of each month you'll decide on a list of tasks to implement for the cycle. Tasks may include results-based site improvements and/or mandatory changes required by your company.
Hands On
When a website audit is complete, the information is handed over to your company to implement the changes yourselves. If you don't have the internal bandwidth or knowledge of coding to make the changes in-house, you can work with the agency to come up with an estimate to make the suggested changes for you.
Hopefully this information has helped to aid in your decision about which website path may be right for you, but we can't send you off without one last option to consider:
Why not get the best of both worlds and combine a new website design or a website audit with a data driven design retainer? Who says you can't have your cake and eat it too? If you'd like more information about our website services, please don't hesitate to reach out.