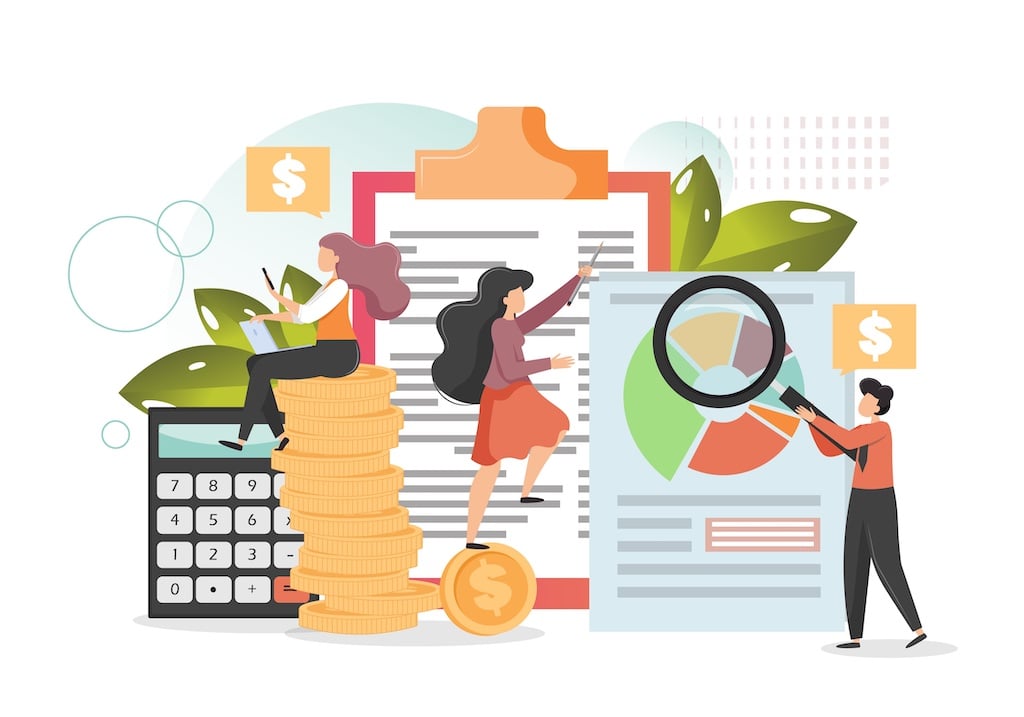 After you have decided to hire a marketing agency, you need to set a SaaS marketing budget. Your agency should know how much you plan to spend, so they can prioritize your marketing activities and create a strategy to optimize your ROI.
Download our ultimate guide on developing and implementing your SaaS healthcare marketing strategy.
Here are some questions you should ask your SaaS content marketing agency when planning your B2B SaaS marketing budget:
1. What percentage of our overall company budget should we allocate for marketing?
Your marketing budget must be proportional to your company's size, operating expenses, and revenue for it to be sustainable. Instead of giving you a one-size-fits-all answer, your agency should start by understanding your overall financial situation.
Product-focused B2B companies allocate 9.4% of their overall budget to marketing, and serviced-focused B2B organizations attribute 11.4%. Meanwhile, B2B companies typically put 15% of their total revenue toward their SaaS marketing budget.
Besides these rule-of-thumb numbers, your agency should help you fine-tune your budget. It can do so based on customer lifetime value (LTV) and customer acquisition cost (CAC) to ensure that you're hitting the sweet spot—spending enough to grow your business without eating into your profits.
After you have determined your overall SaaS marketing budget, your agency should guide you to define a content marketing budget. A general rule of thumb is to allocate 25% to 30% of your marketing budget to content marketing, covering content creation and promotion activities.
2. What types of marketing show the best ROI?
To get the most from your B2B SaaS marketing budget, your agency must select the type of marketing that's most effective for your target audience. They should focus your marketing spending on strategies and channels that can help you reach decision-makers in healthcare organizations.
There are many B2B marketing strategies you can use. These include email marketing, content marketing, direct mail, display and pay-per-click (PPC) ads, search engine marketing (SEM), social media marketing, webinars, conferences and events, word-of-mouth marketing, traditional media, and more.
For B2B SaaS companies, digital channels are often the most cost-effective. They're also trackable and yield quick returns. Your marketing agency should help you establish a budget that will allow you to deliver a seamless customer experience across various channels to facilitate the purchasing journey.
Many companies make the mistake of focusing most of their SaaS marketing budget on customer acquisition, overlooking the importance of customer retention. Your marketing agency should allocate a budget to every stage of the customer lifecycle. This ensures that the money you spend on lead generation and customer acquisition will pay off.
3. Should I have a separate budget for digital and social media ads?
When you work with a SaaS content marketing agency, most promotional efforts will focus on using digital channels to share your content, drive traffic, and generate leads. While online advertising is a critical component of this strategy, you'll also need to invest in other aspects such as content creation, website updates, email marketing, and more.
If you want to know whether your online ads are achieving the intended outcomes, you must track their ROI separately. By setting a dedicated budget for online and social media ads, you can accurately attribute your ad spend to traffic and conversions. The insights you generate can help the agency refine the strategy and improve results.
Having a dedicated online advertising budget can also give your agency well-defined parameters to explore different content formats, experiment with various platforms, and identify channels that are most effective to reach your target audience.
Additionally, a separate budget can help you tie the ad spending to specific goals for your online and social media ads. These can include building brand awareness, growing your audience, improving community engagement, driving website traffic, and increasing conversion rates.
4. How much additional content do we need to create?
Content marketing is highly cost-effective for SaaS companies. For it to work, you must dedicate a sufficient budget to create high-quality content that's relevant and attractive to your target audience. However, more isn't always better. The amount of content you need will depend on your content marketing goal and available budget.
Additionally, you probably don't have to create all your content from scratch. Your SaaS content marketing agency can help you take inventory of your existing content to identify pieces that have been performing well. It can help you revamp these articles, turn them into other content formats (e.g., infographic, e-book,) and find new ways to promote them.
Your agency can also use the opportunity to identify content gaps by conducting competitive analysis and keyword research so you can focus your budget on creating new content that can help you achieve top search engine rankings.
By taking stock of what you need to update, improve, and create, your agency can come up with a granular view of how to use your budget most effectively. The insights can also help you identify a budget to support an effective campaign.
Choosing the Right Healthcare SaaS Content Marketing Agency for Your Business
Working with a SaaS marketing agency can help you optimize your budget with the latest strategies and technologies. The specialized nature of healthcare SaaS marketing means you must find the right agency that understands what works for your audience and the industry.
Your agency should have well-defined internal and project management processes to ensure the timely delivery of high-quality content. It should offer analytics and reporting to make sure your budget is yielding the optimal ROI. It should also help you create an integrated marketing plan that leverages both inbound and outbound techniques while covering all relevant digital channels.
Here at Spot On, we help SaaS healthcare companies of all sizes make the most of their B2B SaaS marketing budget. Schedule a time for a chat to see how we can help you grow your business.