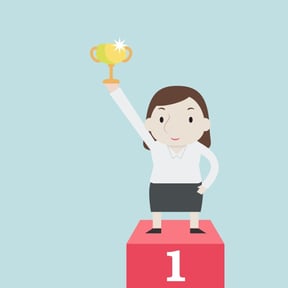 We all know modern day customers tune out of traditional outbound advertising and, instead, tune right into their web-enabled devices to read, share, and enjoy online content. More than just reading, people want to interact with brands and tout their favorite merchants to their friends on the world wide web. They no longer want to have advertisements interrupting their day only to shout messages at them from the TV, radio, or billboards.
"Yep, I know" is likely what you're thinking and it's likely why you're engaging in an inbound marketing effort. The problem is websites have often gotten left out of this line of thinking for the small to medium sized business due to the limitations of budget, time and know-how needed to produce a dynamic and constantly changing website. It's time to look around for a better way to manage the company website that include the ability for regularly updated content that walks hand-in-hand with all of your other investments aimed at recruiting qualified leads and new customers.
Lead Generation as a Total Online Strategy
Content marketing builds important bridges to a large pool of customers. This approach to inbound marketing is all about establishing key connections with potential new customers through a variety of online platforms offering useful content. So, why has it always stopped when it comes to the website? When it's time to update your website this time around, consider the latest approach and incorporate a growth driven design strategy that synchronizes with all of your other excellent online content.
Make a plan that includes posting regular updates to your website, including freshening up some of the design elements.
Leverage your fresh website content with your blog, social media and other online channels to build traffic to it.
Build intentionally using strategy that has your website at the hub of qualified lead generation.
Stop thinking of your website as a static piece of copy that stays put for a few years.
Be a nonstop source of fresh material to your carefully identified marketing personas.
Commit to firm decisions that sort the must-haves from the nice-to haves.
Make sure your goals for your website design have your business goals at heart
These are the important inbound marketing inroads that traditional website building practices have been leaving out. We know Inbound marketing is the overall strategy, and content is what fuels it, now all that's needed is a means to include a much more dynamic website into the formula.
Lead Generation is Your Goal
It is important to keep site of your primary goal when your developing content for your website and your overall online presence. It is very easy to have your content path going in many directions that are interesting and entertaining to your target audience but provide little value to your sales staff, who are eagerly anticipating sales qualified leads. To find success, incorporating a strategy that includes growth driven design principles will involve a clear focus on separating the must-haves from the nice-to-haves with business goals at the heart of it to set the benchmarks.
Plan for Perpetual Change
Once you have identified your immediate strategy you'll need to make sure you can keep it going. Now that the website will be needing frequent updates, planning all of your marketing content in advance is more crucial than ever. It means an end to the 30-day mindset and instead adapting a routine that is always looking two - three months out. Immediate needs can still be folded into the routine along the way and your not pressured to come up with high-value content with overly-intense deadlines.
As the Internet continues to evolve, the emphasis is on quality and a fantastic user experience that starts somewhere on the web where your content is first discovered and continues all the way through your website on the buyer's journey to becoming a customer. There must be value to all of your content that can stand alone versus sales literature that only has usefullness when someone is considering a purchase. If your content aims to solve your future customers' problems and offers consistency in every aspect of your online presence, you will be well on your way to a regular influx of leads worthy of your sales staff's time and effort.