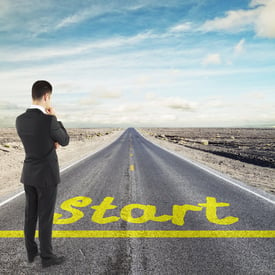 When you decided to add inbound marketing to your marketing mix, how did you determine what you would do first? Did you make a plan before you started, or did you just start checking off the boxes: blogging, social media, emailing, etc? It is really easy to become engrossed in the activities rather than making a plan first.
As with outbound marketing, you need to start with the basics to have the most success. Not to worry if you can't do all of this yourself, you can also use this as a reference when you're considering engaging an agency offering inbound marketing services.
The areas where we generally see companies need the most help are branding, personas, and goal setting. By spending the time up front to focus on these items, you can expect greater success from your efforts.
Branding
Branding means a lot of different things to a lot of different people. When asked, most people believe that they have it, but branding goes well beyond just having a company logo. Your brand strategy should include a brand positioning statement that creates a consistent and compelling foundation to tell your company's story to the world. Your brand positioning will influence
the tone of the words your company speaks;
the way it looks and feels both internally and externally;
and the personality it conveys to current and potential clients.
Can you see how this would impact your inbound marketing services if they are being delivered by an agency? Providing a branding document that covers the company "voice" will impact how website copy is written, the tone of your blog articles as well as your email campaigns and eBooks.
Personas
You have no doubt heard of personas if you're using HubSpot. If you haven't, you may refer to these as your "ideal client". Either way, if you haven't taken the time to sit down and identify who these people are, you're going to struggle with your inbound efforts. I can personally attest to the difference it has made for us as well as our clients.
There are several ways to go about defining them. HubSpot has a pretty great tool, makemypersona.com, that you can use to get started. When we are working with a client providing inbound marketing services, here are a few of the questions that we ask in addition to those asked by HubSpot:
Who are you typically talking to initially when you engage a prospective client?
Do you work in one industry more than another?
If you work in multiple industries, are there some that are a better fit for your service or product than other?
Which are more profitable for you?
Is there one that you simply like more than another?
This information directly relates to your content development. You can't develop offers or blog articles without knowing who you are talking to.
Goal Setting
Goal setting is critical to your success, yes. More importantly it is key to measuring your own success or that of the agency that is providing inbound marketing services to you. When setting your goals, remember to make them "SMART": specific, measurable, attainable, relevant and timely.
When we work with a client on goal setting we discuss not only what they would like to achieve, but where they are on that scale at present. For example, if your goal is to get two new clients per month through inbound marketing, then you must know not only what your current conversion rates are from prospects to clients but also from visitors to prospects.
Here's why this is important:
If your current conversion rates are 5% for visitors to leads and 2% for leads to customers, to get two customers per month your formula would look something like this:
2000 monthly visitors = 100 leads = 2 new customers
If your current traffic is only 500 monthly visitors, you need to focus first on the activities for increasing traffic OR significantly increasing your conversion rates if traffic remains the same. (I really hope I didn't just give you a math problem first thing in the morning.) Depending on your industry and who your target persona is, either of these might be a viable solution.
Do the work
If you can take a day with your leadership team and lock yourselves in a room to focus just on these items, you will be doing yourselves a huge favor. For the clients that we provide inbound marketing services on a monthly basis, we do just that. We spend a day with the team focusing on the items that will build a foundation for long-term success. It's hard work but the payoff is worth it in the end.