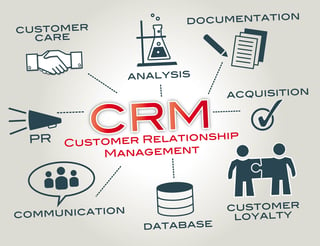 Are you on the fence about adopting a CRM system? You're not alone. We've found that most of our small and medium-sized business clients hedged for some time before finally taking the plunge - and that hedging makes sense. While CRM systems are touted for their ability to make sales easier - and more profitable - many business owners are wary.
We get it. If you're new to the CRM idea, it seems like an added expense (will it really be worth it?), it's something new (will the change be worth it?) and there is a learning curve involved (we're continuously wrapping our minds around trending inbound marketing strategies; will adopting a CRM system really be worth it?).
Top Benefits That Make Adopting a CRM System Worth It
Yes! It will be worth it. And, as usual, it's all about selecting the best CRM system for your business's needs. With the right CRM in place, your company will reap multiple benefits - all of which translate to more qualified leads, more consistent sales and an increased bottom line.
Here are some of the top benefits you'll experience by adapting this tool.
A better grasp of what leads and customers want
If your inbound marketing strategies are doing their job, your sales team has a rather steady stream of leads coming in. Unfortunately, there isn't time to really figure out what each and every one of these leads and customers is interested in or wondering about...or is there?
When a marketing automation system is integrated with your CRM system, you've got an intuitive match made in heaven. Now, sales people can respond very specifically - and very personally - to how leads and customers interact with marketing materials. That way, they can send more personalized emails, or have specific information at the ready before calling a client, addressing the pain points or information the customer was most recently checking out via website and online marketing materials.
More regular and consistent contact with prospects
There is a very fine line between slathering the attention on too thick and leaving prospects high-and-dry when they want a little love. Your CRM system will help you strike that perfect balance.
Experts say that it requires between six and 10 direct interactions with leads before you can make a sale, consider a lead qualified or determine it's time to let a prospect go. Keeping track of and scheduling those interactions is more complicated.
Once you have this set up, you will be able to time your outreach - and more expertly craft the content for those interactions - making a final sale more likely. Not only will your interactions be more personalized, you'll also have much better timing.
Expedite Sales and the Hunt for Qualified Leads
Thoughtfully designed CRM systems shrink the time it takes for marketing and sales to complete the sales cycle. They also make it easier and faster to find qualified leads. For example, HubSpot CRM can be synced with the entirety of your contacts and their information. This saves hours upon hours of data entry time as well as the inevitable mistakes that result from manual entries.
Additionally, when it comes to finding new prospects, HubSpot CRM will do much of the online searching and analyzing for you, giving sales reps data-proven prospects that fit your team's specifications.
When it comes right down to it, adopting a CRM system that's right for you company gives you the opportunity to provide the most accurate, timely, and personalized sales experience your leads and prospects have ever experienced. And, let's face it; that makes your company irresistible.