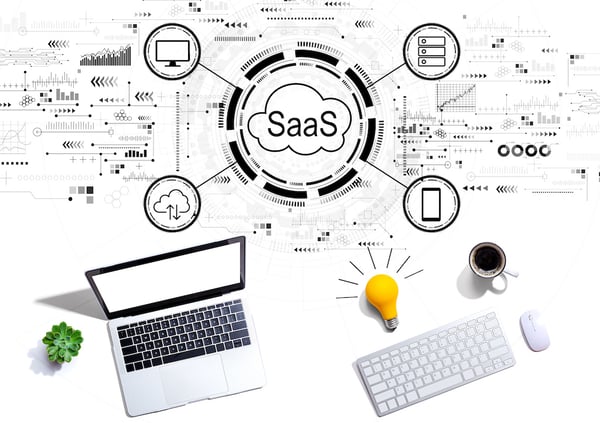 Developing a successful digital marketing strategy for SaaS companies in the healthcare space is a unique challenge due to the need for strong understanding of the buying journey and tactics specific to these solutions. The best SaaS marketing agencies in this space display four characteristics that set them apart from others.
Download our ultimate guide on developing and implementing your SaaS healthcare marketing strategy.
It is crucial that any company looking to engage with a B2B enterprise SaaS marketing organization be aware of these important characteristics, so they are well-prepared to ask the right questions before selecting a partner. To this end, this article will review traits of the best SaaS marketing agencies and also provide guidance for what to look for in an effective digital marketing strategy.
1. The Best SaaS Marketing Agencies Know How to Create Top-Quality Content
Content marketing is one of the most critical elements for any digital marketing strategy in the SaaS healthcare space. The SaaS sales cycle can be longer than is seen with many other industries, and there is often a higher need for building trust and credibility with prospects. Content marketing is often a successful way to engage and continue to strengthen relationships with buying teams. Top-quality content, whether it be blogs or videos or interactive tools, is used to not only attract prospects but also convert them into customers.
The best SaaS marketing agencies are extremely confident in their abilities to create meaningful, high-value content for their clients, and they understand the importance of content's role in any digital marketing strategy.
Pro Tip: When evaluating a prospective agency partner:
Request relevant industry samples of previous work
Ask about writers' audience knowledge and technical expertise
Participate in a trial project to determine the agency's ability to capture your unique offer
2. The Best SaaS Marketing Agencies Have Strong Knowledge of the SaaS Healthcare Market
Any B2B enterprise SaaS marketing organization that is worth its weight has incredibly strong industry knowledge and an intimate understanding of the market. There are many unique challenges when pursuing digital marketing strategies in the SaaS healthcare space, but these challenges can be effectively overcome when an agency knows how to properly and efficiently navigate them due to prior experience.
The best way to assess an agency's industry experience is to examine performance with previous clients. For example, the Spot On Agency regularly shares insights and measured success when showcasing past client work, such as seen in this Prevounce Case Study. Before engaging with an agency partner, be sure to review any case studies or examples of their past campaigns to gain a better understanding of their knowledge of the SaaS healthcare landscape.
3. The Best SaaS Marketing Agencies Understand Every Step of the Buyer's Journey
The healthcare SaaS buyer's journey is not only unique to the industry, but it is also unique to the use of the particular solution. The strongest SaaS marketing agencies understand the sales process of healthcare SaaS companies and also have the ability to adapt their perspective according to the company's specific role in meeting buyers' needs.
Having this understanding is important because a successful digital marketing strategy for SaaS companies needs to be in perfect alignment with the healthcare SaaS buying journey in order to maximize the effectiveness and ROI of a campaign. If a campaign is not well-aligned with buying needs and process, then it is easy for the effort to lose momentum or produce insufficient or poorly qualified leads.
Pro Tip: If you are unsure of your target customer's journey, then choose to work with a SaaS marketing agency that can help you define buyer needs and process in coordination with planning campaigns.
4. The Best SaaS Marketing Agencies Build Comprehensive Digital Marketing Strategies
To deploy a successful digital marketing strategy for SaaS companies, agency partners need to take a holistic perspective, assessing every marketing channel and developing a plan that supports each potential touchpoint with a prospect.
Launching campaigns piecemeal will diminish value, because leads will disengage if they experience substandard or missing marketing elements. For example, consider a campaign that is completely focused on blogging as an SEO strategy and where the overall website design is lacking. Even if search traffic is generated successfully, leads are likely to leave should they become frustrated or disappointed with the website.
The most successful campaigns consider every marketing channel available and coordinate each element to work toward the same goal.
The Right Agency Will Guide Your Digital Marketing Strategy
No digital marketing campaign is as simple as "do X to achieve Y leads and conversions." Campaigns need to be custom-built around the company's unique offer and target audience. The right SaaS marketing agency will understand this and work closely to strategize a digital marketing strategy for SaaS that meets the particular circumstances, audience dynamics and business objectives.
The Spot On Agency can help you determine the best direction for your campaign and guide you through the development of an effective strategy. Schedule a time to chat with us, and we will be happy to show how we can help your company.