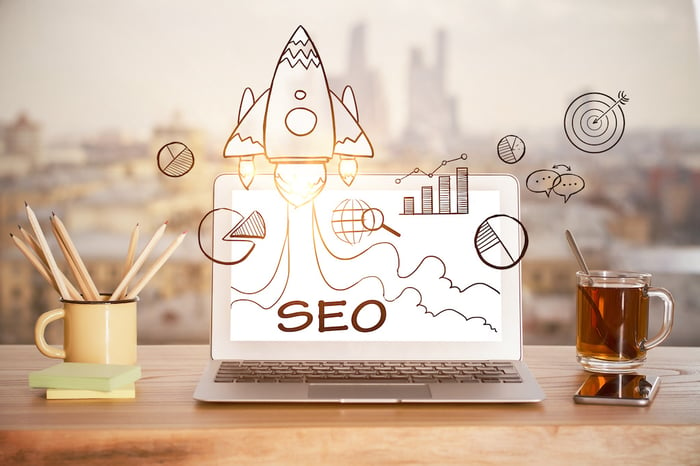 Did you know that the Software as a Service (SaaS) market is currently estimated to be worth $123 billion dollars? According to a report by Financial News Media, it's also expected to exceed $305 Billion by 2026.
Download our ultimate guide on developing and implementing your SaaS healthcare marketing strategy.
A large percentage of that market serves the healthcare industry, a field continuing to experience rapid innovation with the use of electronic health records and telehealth services. This kind of scale represents a tremendous opportunity for SaaS businesses serving the healthcare market. On the other hand, the sheer volume is also a challenge— SaaS companies vying to stand out as a preferred healthcare vendor must be highly strategic with marketing initiatives. One proven way to achieve this goal is to implement a search engine optimization (SEO) strategy with a digital marketing agency that understands the healthcare software market.
SEO is the process of strategically using words or phrases that are being searched for to help a website or piece of content rank higher on Google. The key difference between SEO and paid advertising is that SEO involves "organic" ranking, which means you don't pay to be in that space. Let's look further into SEO and the critical marketing role it plays in differentiating companies.
How does SEO help growth?
Healthcare web marketing that includes a streamlined process for SEO helps your website stand out amongst even the toughest competitors. Your business becomes more visible on the Internet by using popular keywords and phrases related to your brand and B2B SaaS marketing services.
More specifically, instituting a B2B SaaS inbound marketing strategy using SEO allows businesses to:
Improve rankings in search engine result pages. Getting to page one of Google search results should be your goal. Seventy-five percent of users don't even click past the first page.
Reduce spend on paid search. Forty percent of website traffic begins with a search query, making SEO a very cost-effective tool.
More website traffic = more healthcare leads = more conversions. It's as simple as that.
What role does SEO play in B2B SaaS inbound marketing?
B2B SaaS marketers can use many content strategies to be discovered by healthcare professionals searching for your products and services. Popular forms of content marketing include blog posts, eBooks, white papers, and infographics.
However, it's not enough only to publish content and hope the right audience stumbles across it. You need a B2B content marketing strategy that places emphasis on SEO.
SaaS content marketing without SEO is like starting a business with zero promotion and expecting a line out the door on opening day. While blog posts are focused on offering valuable content, SEO is the technical process that results in potential healthcare customers knowing it exists. The two cannot succeed without the other.
How can SEO help you save money and convert leads?
As with most aspects of the industry, marketing for SaaS healthcare companies can be a challenge. It's not easy to jump on the latest marketing trends because they don't always resonate with your target audience.
For example, we've all seen ads on YouTube TV. Let's say a medical device company is advertising products to audiologists. The company is probably paying thousands of dollars for the advertising spot, only to have their message apply to a few viewers.
Now imagine a different scenario where the medical device company invested in SEO instead. Not only would the company have saved money, but it would also have brought in more relevant traffic for years to come. Since SEO is focused on natural language search, the more focused SEO content you develop, the more traffic momentum you will gain. Once your content accumulates enough visits, it rises in Google page rankings, which leads even to even more clicks, creating a snowball effect. Essentially, SEO strategy builds strength with time unlike ads that eventually expire.
When healthcare organizations are looking for a B2B SaaS marketing company, a majority will start their search on Google. Let's put this into context. According to HubSpot's article, "The Future of Content Marketing: How People Are Changing the Way They Read, Interact, and Engage with Content," 7% of marketers agree that SEO generates more leads and customers for their business than any other marketing tactic.
Better yet, companies that prioritize SEO and content marketing are 13 times more likely to develop a positive ROI, according to a HubSpot blog, "How Often Should You Blog." These statistics clearly show how healthcare web marketing that includes an effective SEO strategy is a no-brainer.
What are some best-of-class SEO content strategies and KPIs?
To see the best outcomes of an SEO content strategy, don't just wing it. Driving lead-generating traffic to your website requires data-driven research, planning, and insights.
Here is a quick overview of the components that make up a best-of-class SEO content strategy for healthcare software systems:
Implementing both inbound and outbound marketing strategies.
Defining your buyer personas.
Creating a well-defined marketing calendar that outlines the details of your content deliverables.
Producing content for blog posts, social media, product pages, and more.
Optimizing your marketing strategy for SEO, including content clusters, responsive web designs, and keyword research.
Lastly, key performance indicators (KPIs) are among the most essential yet underutilized aspects of a B2B SaaS inbound marketing strategy. Without effectively tracking your business's growth, how will you know if your efforts are paying off?
Popular SEO content marketing KPIs to keep track of include:
Return on Investment (ROI)
Conversions
Keyword rankings
Organic Click-Thru-Rate (CTR)
Organic impressions
What role does knowing your brand persona play in SEO marketing?
As Neil Patel points out, SaaS marketing is unlike any other type of marketing. Therefore, marketers must create a strategy based on the unique healthcare decision-makers they're trying to attract.
Understanding your brand persona helps identify key factors that primarily impact the success of SEO marketing. To gain knowledge, answer questions:
What are keywords and phrases do healthcare professionals search when looking for a B2B SaaS marketing platform?
What challenges are healthcare professionals experiencing that your B2B SaaS marketing software could solve?
What channels are healthcare professionals most active on (i.e., Google, social media, email, etc.)?
What are the common objections healthcare customers have when considering a B2B SaaS marketing solution?
Ensuring your content resonates with your target customer takes more than a cursory analysis. In fact, 56% of companies have received higher-quality leads using brand personas.
Improve Your B2B Saas Marketing Strategy with Spot On
Building a successful digital marketing strategy for healthcare SaaS companies takes time and the kind of specialized industry expertise that comes from experience. Spot On partners with companies such as Cureatr and Prevounce Health to help them succeed and think strategically about their B2B SaaS marketing. If you are looking for a healthcare digital marketing agency that is relationship-focused and goal-obsessed, we could be your perfect match.
For more helpful resources like this, visit our blog, where we share tips and tricks to reach healthcare customers more effectively. To schedule a time to chat with us about how Spot On can help your B2B SaaS inbound marketing strategy, click here.