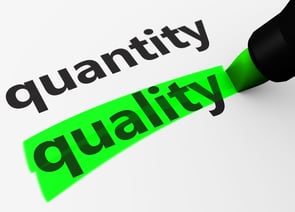 It's so tempting to see those whopper visitor metrics and celebrate. And you should! Those numbers say that your software marketing techniques are paying off....to a point.
On the flip side of that coin, if your page visits are high but conversion rates seem pretty low (less than 1% to 3% of those whopping visits resulted in qualified leads), it means there is some more investigative and content work to do.
Quality is Always Better than Quantity With Software Marketing
A good digital marketer knows that it's important to keep things fresh and updated to remain in the good graces of the web crawlers. That doesn't mean that you should just turn out haphazard blogs or spur-of-the-moment campaigns though.
For example, it's much better to publish one well-written, integrated blog a week than it is to write five short fluff pieces that keep you somewhat visible but don't write to the heart of what your clients are looking for.
Let's start there: what are your potential clients looking for?
Do you know them (as in, have you established specific and tangible buyer personas)?
Are you creating content to address prospects' needs at different points in the funnel (as in, do you have content targeted to first-time visitors, those who are thinking about your product, and those who are just about ready to spring for the sale)?
Are you optimizing social media connections in a way that is relevant without being obnoxious?
Your goal as a software marketer is to make things easy for your customers. Content creation is an integral piece of that puzzle.
What Does Quantity Versus Quality Look Like?
Think of it this way. You could blog three times a week about a variety of keyword oriented topics, and each blog would end with a Contact Us (bottom of the funnel) "CTA" of sorts. That could go on for months and months, and you'll be lucky to get a lead regardless of how many people read all those blogs. Even hundreds or thousands of hits might land you a single customer if you're lucky.
In that same span of months, your marketing team could strategize a serious campaign solely directed to a particular niche of your target demographic—one you know is out there but that hasn't taken the bait thus far. Since your company is small, you take more time to craft your strategy.
You publish just one blog a week, but you also publish a couple of eBooks geared to different levels of the sales cycle. You offer a whitepaper or two, so almost-qualified leads have something more to sink their teeth into to learn more about you. Of course, you're communicating via social media and responding to any comments or reviews that crop up. All of your content is interconnected, so customers always find what they're looking for, and it always links back to your acutely targeted campaign.
Assuming you have a pleasant website design, this quality-focused approach is going to be notably more successful at hooking and converting visitors to leads, and leads to sales, than all the keyword-optimized blog posts in the world.
Intuitive Marketing Instills Consumer Confidence in the Product
On a completely subconscious level, visitors, prospects, and qualified leads will make many assumptions about how well your software works by how well your content actually works for them.
If your content comes across as too pushy, too scattered, lacking substantial information, or disconnected, might that say something to them about about your product as well?
Creating quality requires patience, but we assure you that patience will win over quantity every single time.