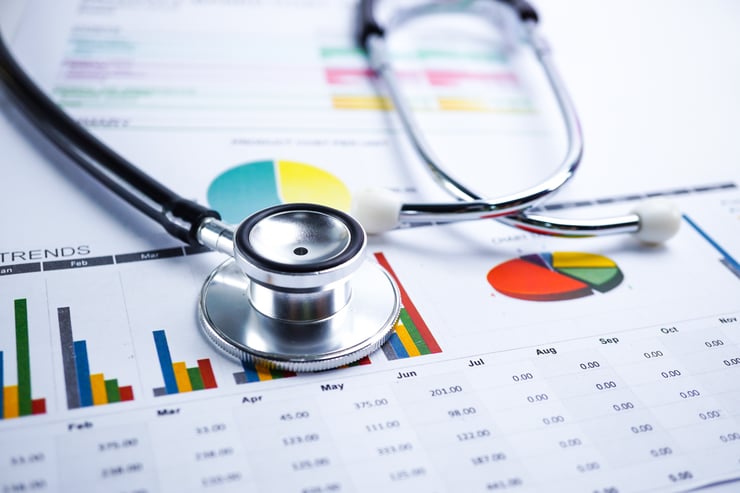 Marketing to the healthcare industry is notoriously tricky. Add in the challenges of selling SaaS in the healthcare industry, and you're looking at a whole host of potential pitfalls.
However, establishing your new healthcare software brand doesn't need to be a marketing quagmire – just make sure that you've put together a solid strategy, then deliver on it with consistency and patience. After all, with the healthcare IT market projected to reach $149.17 billion by 2025, the potential rewards are huge.
Healthcare Software & Marketing Challenges
What makes marketing healthcare software so difficult? First of all, you're in a deeply conservative market. Software glitches are painful for any business - but for the healthcare industry - they could cost lives. Your target market, whether it's CMIOs, clinicians or IT professionals of large health systems, understandably, tend to stick with what they know will work or cause them the least amount of problems with other systems they have in place. The highly regulated purchasing environment also adds another layer of complexity.
Secondly, the healthcare software purchasing process involves multiple stakeholders, sometimes with conflicting agendas. As Larry Levitt at the Kaiser Family Foundation puts it, "There are complex interactions between insurers, consumers, and health providers that you really don't see in other industries." Any marketing activities need to bridge the unique interests of all these groups.
What's more, your marketing campaigns also need to maintain engagement with all parties throughout the lengthy buyer's journey. The sales cycle for healthcare software is famously slow - so you need to build the kind of marketing processes that can sustain buyer intent for the long haul.
Signs That Your Strategy Needs Work
That being said, how can you tell if your strategy is working - or if you need to refine it? Obviously, if you're seeing leads flooding in, effortless converting, and coming back for more, you'll know you're doing something right - but how about if you're just starting out and can't tell if you're on the right path? What are the warning signs that you need to sharpen up your strategy - or risk full-on marketing failure?
1. You're not all on the same page - and it shows.
If I stop anyone in your company and ask them what makes your product different, who your target market is, and what your big goals are - will they all give me the same answer? If not, you should definitely consider going back to the drawing board.
Marketing software can be a complex process, especially in healthcare IT, but the basic premise is always the same; your target customer must understand exactly what value your offer has for them.
If you aren't all in 100% alignment on who your target is and what they get from your product, you're likely to run into difficulties pretty quickly. Marketing isn't an optional extra that can be tacked on at the end of the development cycle - rather, product-market fit needs to be baked into your product's DNA and work culture from day one.
2. You don't know what's working and what's not.
On its own, a marketing campaign that flops isn't a disaster. Used wisely, a failed marketing campaign can be a learning experience. A more serious problem is when you don't know why something isn't working - or even if it's working or not.
It's possible you aren't tracking the right metrics, for example, so you know that sales are dropping, but you don't know if lead numbers or conversion rates are the issue. Or you know you need to be tracking more data - but your tools aren't up to the job. You may not even be 100% clear which numbers are really important to your business - some marketing teams, especially for small companies, find themselves drowning in data but unable to find a way to use it to make decisions.
3. You're attracting the wrong audience.
You find that you're getting the traffic to the site - but no one sticks around. Your web visitors arrive - and bounce away immediately. Your sales team complains that the people they're talking to have no decision-making power, or don't really need your product. If this keeps happening, it's a clear sign you need to step back and look at the big picture.
Your marketing strategy needs to be built around your buyer personas. If the wrong people are finding you, chances are that you've either made a false assumption about who your product should be aimed at, or you've failed to build a marketing strategy that targets your prospects effectively.
Get your marketing and sales team to the same table right away to discuss - and agree on - what makes a good lead and what doesn't. This is a first step that almost everyone misses.
What a Strong Marketing Strategy for Healthcare Software Looks Like
If you see the signs that your marketing strategy is falling apart, what can you do? To compete in a tough marketplace like healthcare IT, you need to put together a solid, consistent, long-term marketing strategy that also has the flexibility to adapt based on changes in the marketplace. Here are some of the ingredients that will bring in the big marketing wins:
Defined Buyer Personas
Time invested in understanding your market is never time wasted. Any high-performing marketing strategy will start by building a clear picture of who you are selling to, what challenges your audience is facing, and how your product can help them.
Mapping the Buyer's Journey
Once you define your audience, it's essential to create content and a user experience on your website that will guide them down the funnel. It's crucial that this process not only involves marketing, but also the sales team. Your marketing team should have a solid understanding of the sales cycle for your company. For example, find out the questions that sales is usually asked by leads and prospects.
In each stage (Awareness, Consideration, Decision), you should consider what information the potential buyer might need in that stage, the types of content that would be most helpful, and the questions they're asking in that stage.
A Comprehensive Marketing Approach
Some marketers see inbound and outbound as either/or propositions - but for a complex, traditional industry like healthcare tech, you'll need to build a strategy that includes both approaches.
Once you've defined your buyer personas, you'll need to research the best places to reach them. In healthcare IT, outbound techniques with a high success rate include event attendance and sponsorship, advertising in industry publications (print or digital), sales calls, PPC, and direct mail.
Inbound tactics that are highly effective in B2B contexts include content marketing (particularly reports, white papers and thought leadership pieces that establish your business as an industry authority), search engine optimization (SEO), email marketing, webinars, blogs, and case studies.
Neither of these approaches work in a vacuum, however. There is cross-over between inbound and outbound strategies. Those leads that come from that event you attended? They can be placed into a similar lead nurturing campaign that you use with some of your inbound leads.
Create a Unique Marketing Strategy
Pioneering marketer John Wanamaker gets credited with the old joke: "Half my marketing dollars are wasted. I just don't know which half."
The problem with marketing without a strategy is that you have no idea where your return on investment is coming from or if you're getting any return at all. You are likely to find yourself just doing "stuff" - short-term, tactical actions, such as running ads or PPC campaigns that quickly become expensive, while making little or no impact on your bottom line.
If you find you're struggling to attract or retain the kinds of clients you need, feel like you're just "doing marketing" at random without seeing results, or have no real idea of what's working and what isn't, there's a good chance you need to spend more time and energy on your marketing strategy.
Building a thriving, prosperous healthcare software company requires putting together your strategy with the same care and attention to detail you put into your product development. If you'd like our help creating a healthcare software marketing strategy that will set you apart from the crowd, click here to schedule a free 30-minute consultation call.