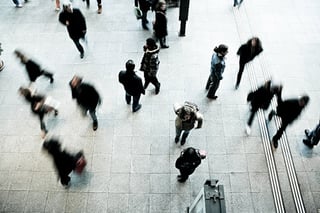 Getting to know your ideal clients is integral to the inbound and content marketing paradigm. Figuring them out is a process that results in buyer personas that guide every step of the marketing process.
Learning how to create buyer personas opens up space for more in-depth understanding of who your target markets are in a very specific way. This includes learning about what they want, as well as what they need to read, hear or see in order to choose you as their product or service provider.
How to Create Killer-Specific Buyer Personas in 8 Steps
If you're new to this process, we recommend starting with one, major buyer persona and beginning a slow-cooker style marketing campaign geared especially for that individual. After a few months of A/B testing and data analysis, you'll know what works and what doesn't. That information sends you back to the drawing board to create the next best buyer persona or two.
Creating buyer personas reduces down to eight simple steps.
Learn their demographic. Different demographics have different needs. Even core values vary across generations, income and other defining features. Getting a feel for your target demographic helps you strike the right tone, use appropriate language and pick relevant cultural references, so content energizes and inspires them to learn more.
What role does the person play? We all play various roles in life - mother, teacher, marketer, concerned child, non-techie Luddite, etc. Getting into that role from an intuitive marketing perspective strikes a more powerful chord.
Walk in their shoes for a day. What does their day look like from start to finish? These professional and personal insights lead to content that includes that just-right joke, pop culture reference, social media post, etc. For example, those of us in the 40+ bracket may prioritize Facebook, but if your demographic spends most of their time in high school or college, Instagram and Snapchat may be more up their alley.
Learn their goals and aspirations. When products and/or services align with buyer personas' goals and aspirations the conversion process is quicker and more streamlined. If you lack awareness of their ultimate goals, content won't communicate the same sense of authority or solution-centric energy that inspires further engagement and sales.
What's preventing them from achieving those goals? Once you've nailed down their ultimate goals, you can begin deconstructing them to hone in on their acute challenges. Blogs, social media posts and videos can now focus on specific pain-points, using words and text that explain exactly how your product eliminates or reduces those challenges - clearing the way for short- and long-term goals.
Learn more about their target resources. Where does your target persona go to find out more or to learn? Do they search online? Do they like to download and perhaps even print long-format content? Are they quick to follow their peers' social media shares and posts? Learning where prospects go to learn, grow, and do their research allows your compass to zero in on the places you need to show up so they find you easily - optimally across multiple platforms.
What's the experience they're looking for? This one's so easy...in theory. The end result of the buyer's journey (aka The Sale) is largely dependent on visitors' user experience. By creating the experience they want, prospects naturally land right where you want them. If you've successfully completed Numbers 1 through 6, you're well on your way. Create content for every stage of the cycle so each ensuing search directs them to a page that meets them where they're at.
Honestly face and honor your target market's objections. Finally, it's essential to take an honest and objective assessment of personas objections to your products and services. In some cases, you'll provide new education or insight that counters what they believe or heard elsewhere. Other times, you might agree with them but have additional information that puts their fears to rest. In any case, content should address the negatives as well as the positives. This step also provides valuable insight into how future products and services can better meet the target market's needs.
When you learn how to create buyer personas in a methodical and insightful way, content reflects it and acts like a magnet - attracting just the right guests to your table.