Q&A sessions - via both content and personal interaction - are a powerful way for site visitors and qualified leads to get the information they need to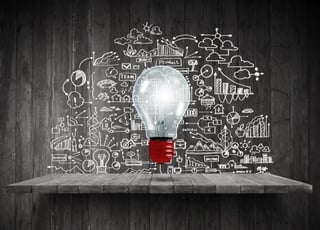 make their next move. That makes sense, right?
So, why is it more marketing teams don't give themselves the benefit of internal Q&A sessions when it comes to developing the next phase of their inbound marketing strategy?
The best solutions are found by asking the right questions. Otherwise, any idea you come up with is really just a shot in the dark, and any efforts spent implementing those ideas are a potential waste of time and energy.
Ask Critical Questions Before Implementing a New LinkedIn Strategy Phase
Optimizing LinkedIn interactions and engagement is a smart inbound marketing strategy, but it requires asking critical questions that will provide sharp answers that forge the way ahead.
Who are our true, most high-value prospects? Hopefully, in the past, you compiled detailed marketing personas from which you created offers and content. Use this Q&A time to re-evaluate these personas. Do they still resonate with you? Or, are marketing and sales stats showing something a little different? It might be time to re-vamp set idea(s) about your highest-value LinkedIn prospects, honing in on precisely who they are and what makes them tick. High-quality prospects will engage more organically with your improved messages and content.
Are we reaching people who don't know they need us? Often, B2B marketers have a client niche that isn't aware of a product or service they need because the solution is so innovative. In this case, you'll need to focus on inbound marketing strategies that let this elusive population know you're out there.
Have we done our best to fill our prospect coffers to the max? You may be proud of your 200 high-quality LinkedIn contacts, and you should be. However, that's not nearly enough. Today's successful marketing teams - even those working for small- to medium-sized businesses - have active LinkedIn networks of more like 1,000 to 2,000 contacts. LinkedIn's built-in searches will help you get to that same level of LinkedIn prowess. Use the advanced features to create ultra-detailed searches for this purpose.
Do we prioritize quality over quantity? The above being said, you must still prioritize quality over quantity in everything you do. This idea should begin with the way you curate LinkedIn contacts and groups, continuing on to offers and content creation. If you're a leader of multiple groups, but the groups aren't active, it's not doing you any good. In this case, scale back and re-configure things so messages land where they're most welcome.
Are you a leader worthy of gaining authority in the industry? If you want to be a leader in the industry, you'll need to own it to inspire action in LinkedIn groups. By positioning yourself as an expert, you'll begin to reap the benefits of LinkedIn's more desirable stats - like the fact that 80% of B2B leads happen through LinkedIn, or that 86% of conversions take place inside discussion groups. It's right to assume those successes are the result of strong leadership and relevant messaging.
Is content consistent? An inbound marketing strategy including LinkedIn should practice quality (addressed in #4) and consistency. LinkedIn drip messaging achieves both. This saves you from crafting copious amounts of content. Instead, messages can be short, sweet, targeted and even shared from other relevant authorities. Your messages become easier to digest, and they keep you in the forefront of prospects' minds.
Answering these six critical questions about your LinkedIn inbound marketing strategy will pay off in better-quality prospects and easier lead-sales conversions.